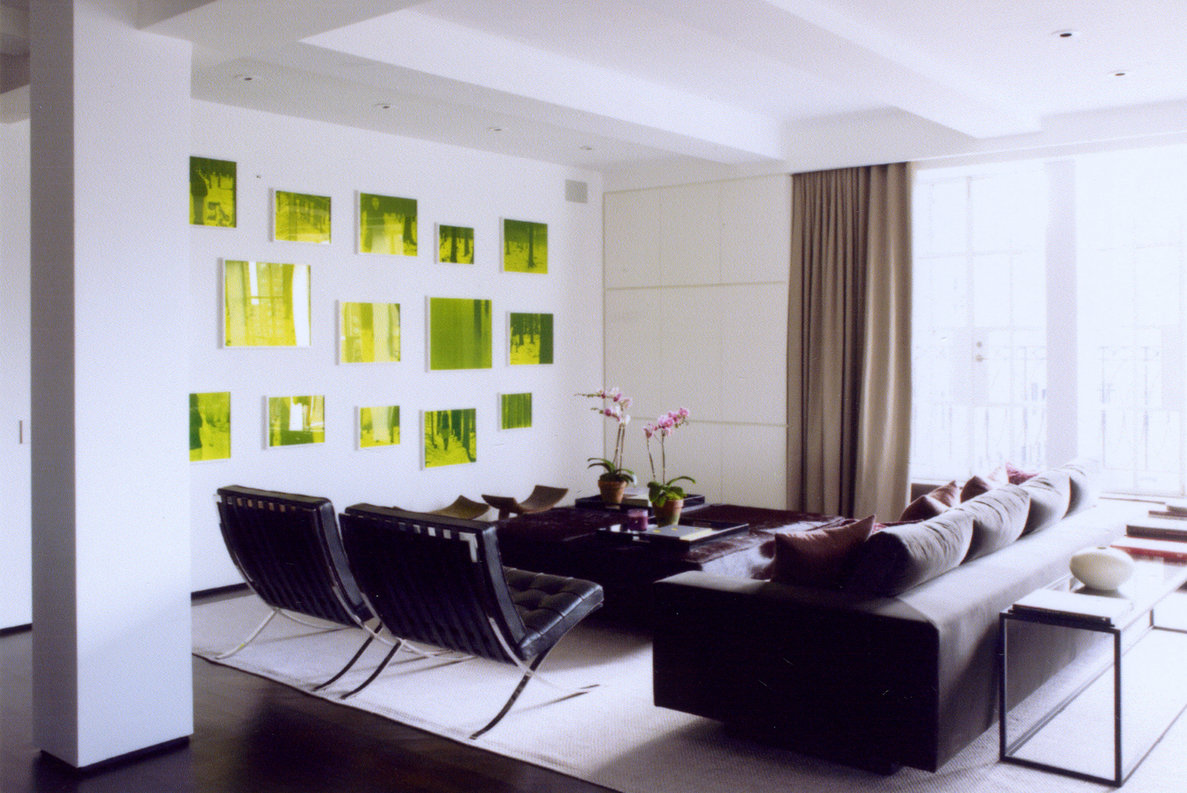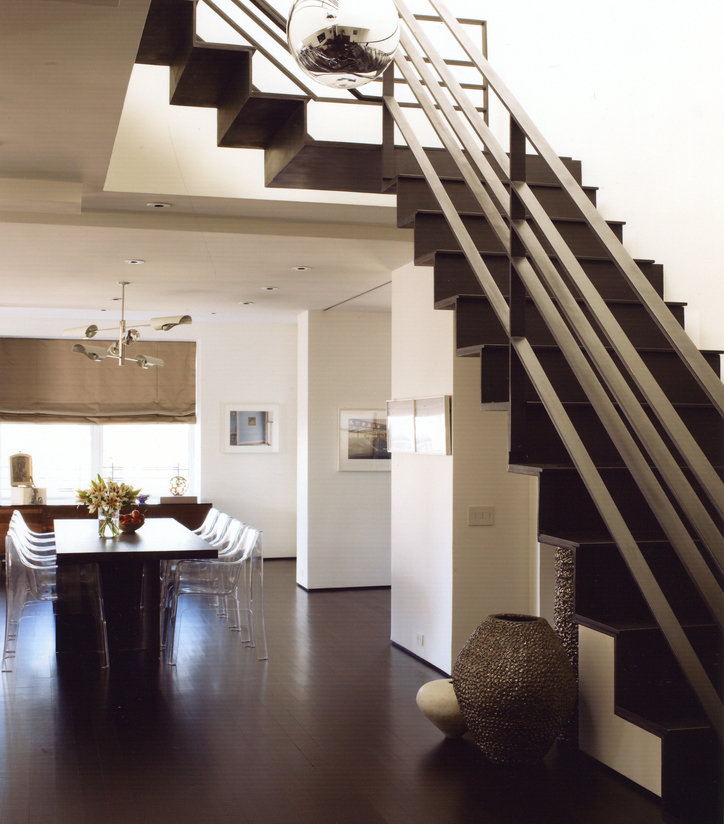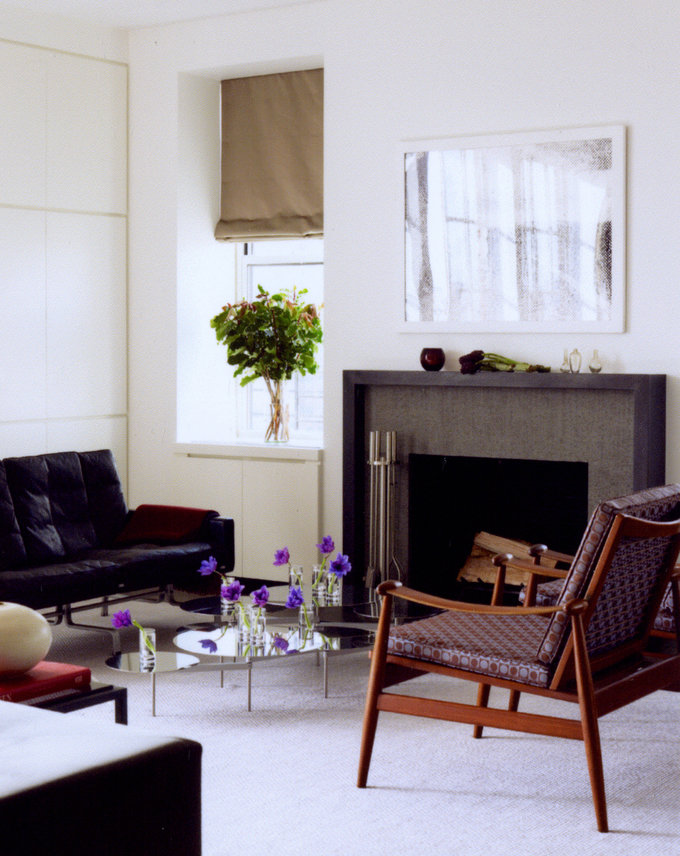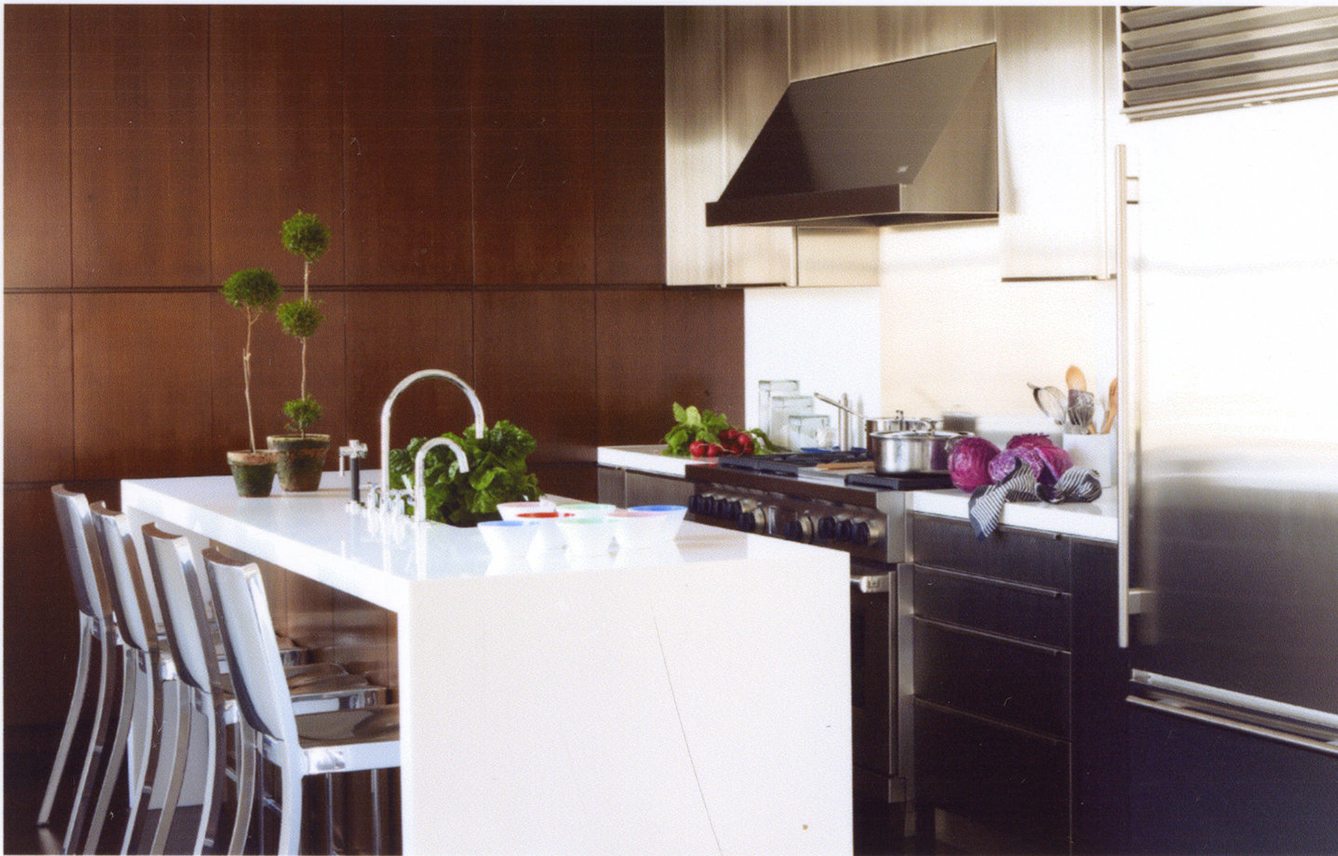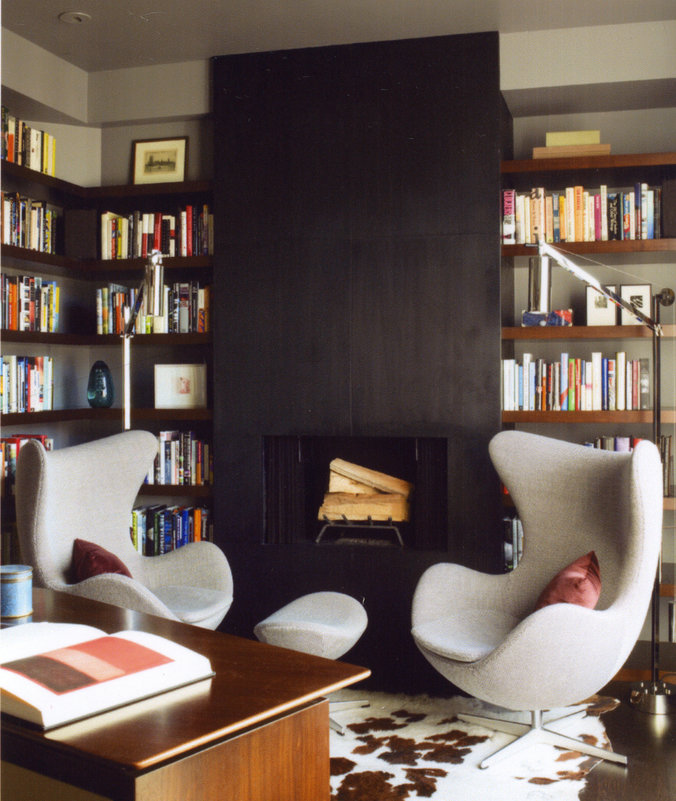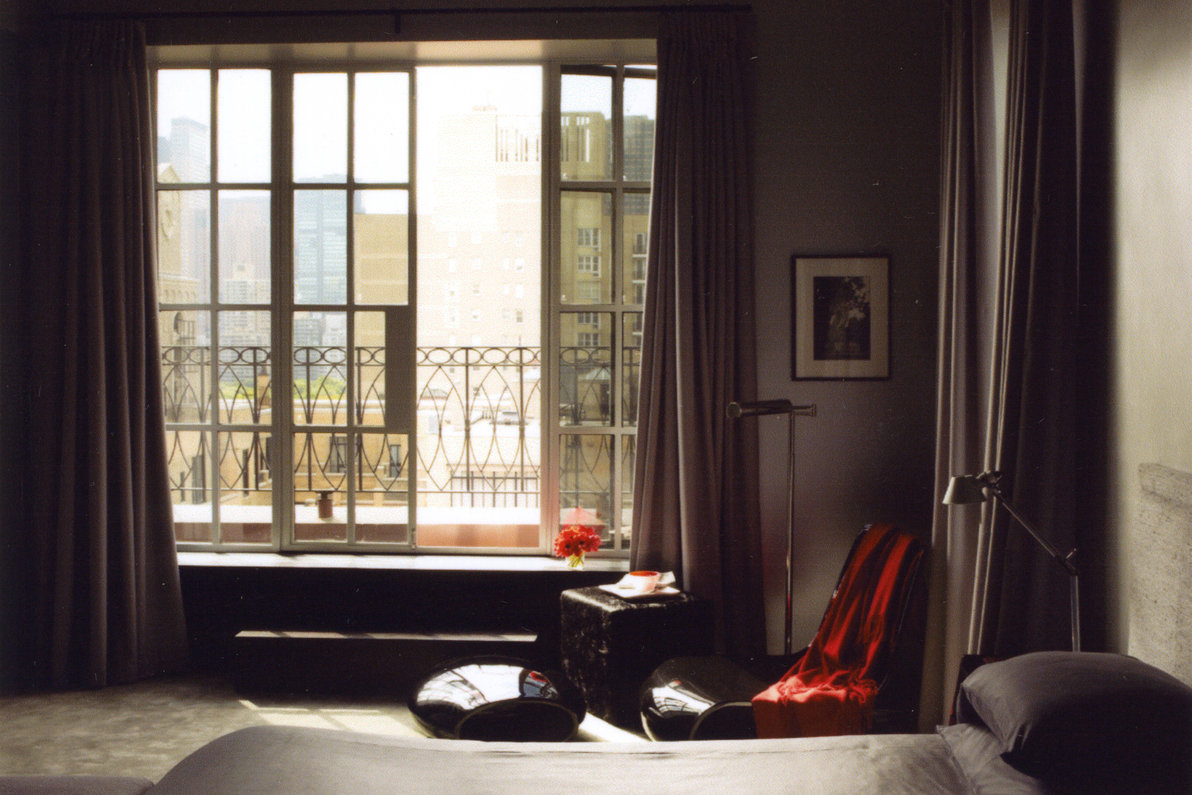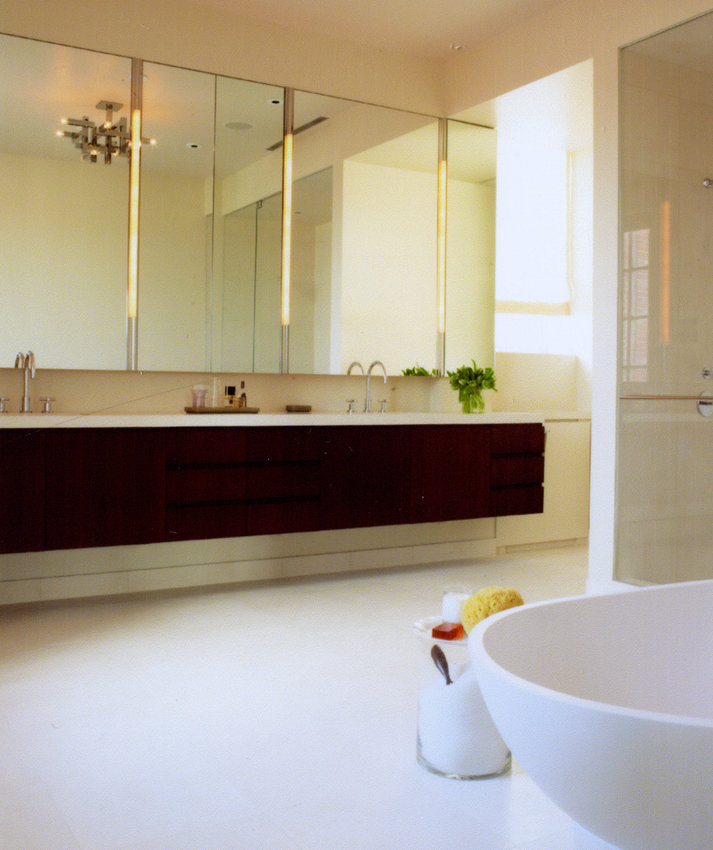 THIS PENTHOUSE APARTMENT, LOCATED ON CENTRAL PARK WEST BELONGS TO A YOUNG FAMILY. THEY HIRED MR TO CREATE A HOME THAT WOULD BE COMFORTABLE FOR EVERYDAY LIVING, BUT ELEGANT ENOUGH FOR OCCASIONAL ENTERTAINING. TO BEGIN, THE WALLS ON THE MAIN FLOOR WERE TAKEN DOWN, CREATING A LARGE OPEN SPACE. THE ENTRY IS SPARE WITH A HIGH CEILING; FURTHER INTO THE APARTMENT, THE SPACE BECOMES COZIER. THE LIVING ROOM IS SEPARATED INTO A FORMAL SEATING AREA THAT IS CENTERED AROUND A FIREPLACE AND ANOTHER THAT IS MORE CASUAL, CENTERED AROUND AN ART WALL—THE CLIENTS BEING SERIOUS COLLECTORS—WHERE THE FAMILY RELAXES. AN OVERSIZED RUG CONNECTS THE TWO AREAS. A WALKWAY BETWEEN THEM LEADS TO THE TERRACE.
THE DINING ROOM IS THE MOST CENTRAL ROOM OF THE HOME, WITH AN EXPANDABLE TABLE THAT CAN BE USED FOR LARGE DINNER PARTIES AS WELL AS FOR SMALL FAMILY MEALS. THE KITCHEN, TO WHICH THE DINING ROOM OPENS, HAS HIDDEN POCKET DOORS THAT CAN BE USED TO CLOSE OFF THE SPACE WHEN ENTERTAINING. IN ADDITION, ONE WALL IS PANELED MILLWORK WHERE APPLIANCES ARE STORED.
THE PUBLIC ROOMS WITHIN THE HOME ARE PAINTED OFF-WHITE, BUT THE PRIVATE ROOMS, MEANT TO BE SPACES FOR RETREAT, ARE PAINTED DARKER. THE LIBRARY IS A MEDIUM WARM GREY, COMPLEMENTED BY RICH WOOD FURNITURE AND SHELVING. THE PRIMARY BEDROOM IS PAINTED IN A METALLIC SILVER WHICH SHIMMERS SLIGHTLY, ALONG WITH THE HAND-KNOTTED SILK CARPET ON THE FLOOR. OVERALL, THERE IS A BALANCE BETWEEN REFLECTIVE AND MATTE SURFACES WITH MIRROR BALL LIGHTS AND HIGH-SHEEN FLOORS IN THE FOYER AND VELVET AND WOOL IN THE LIVING ROOM. IN THE KITCHEN, THERE IS STAINLESS STEEL WALNUT AND MANUFACTURED STONE. THE END RESULT HAS A FEELING SOMEWHERE BETWEEN UPTOWN AND DOWNTOWN.
PHOTOS: WILLIAM ABRANOWICZ