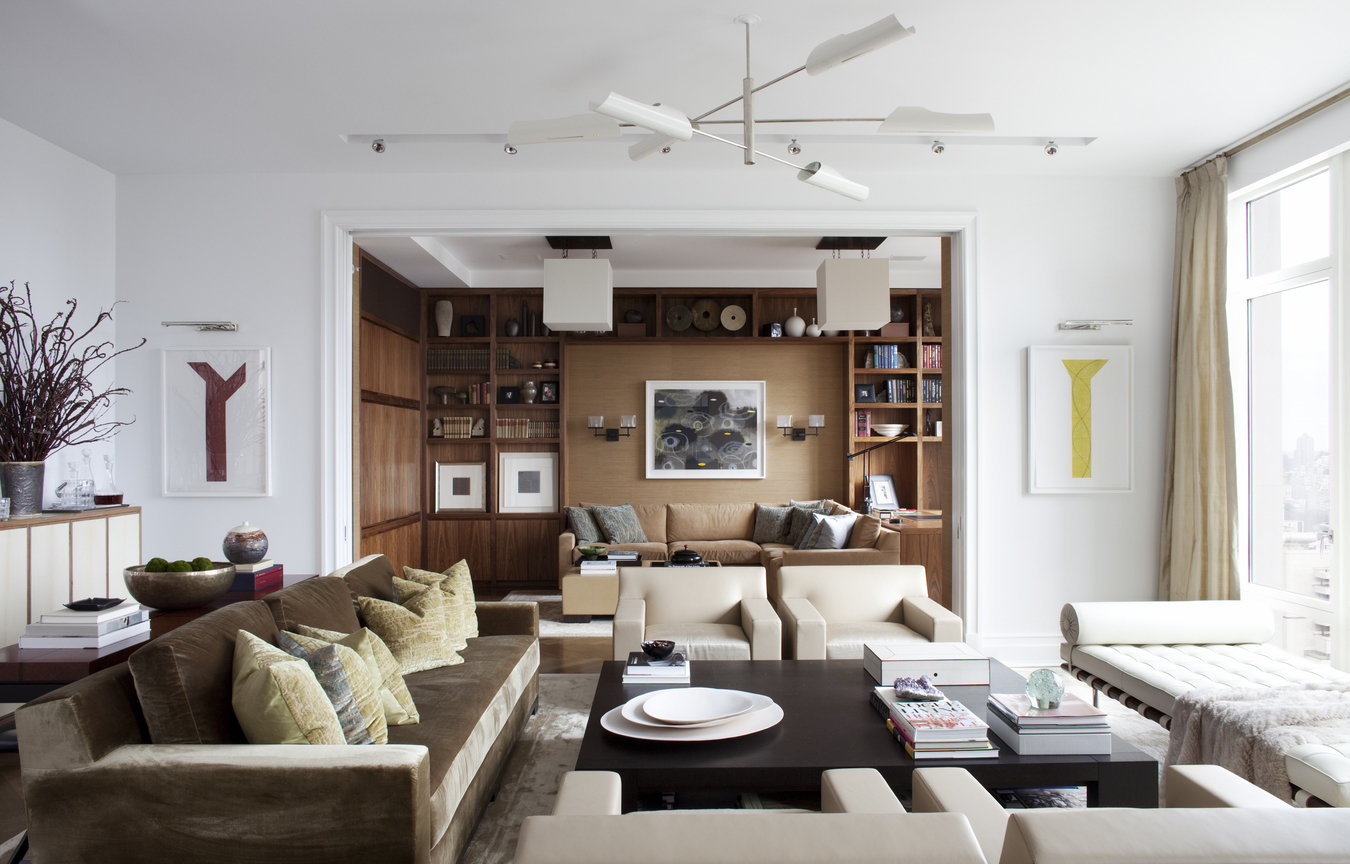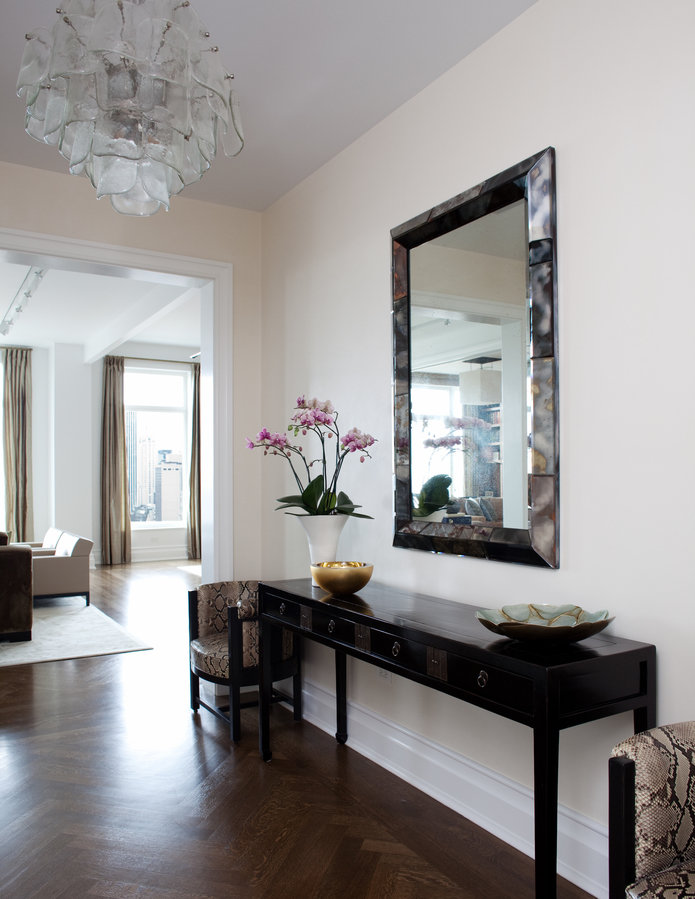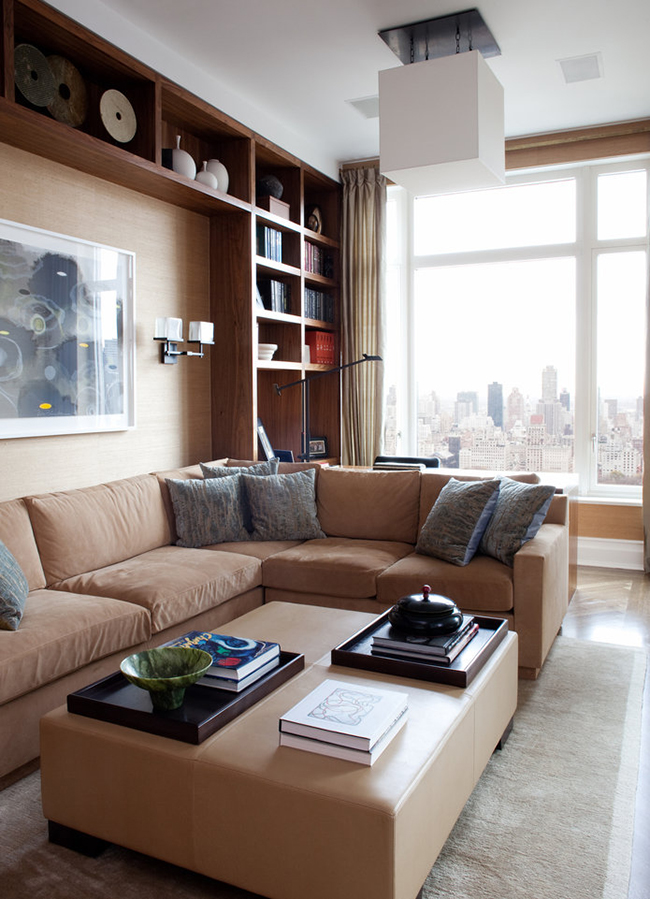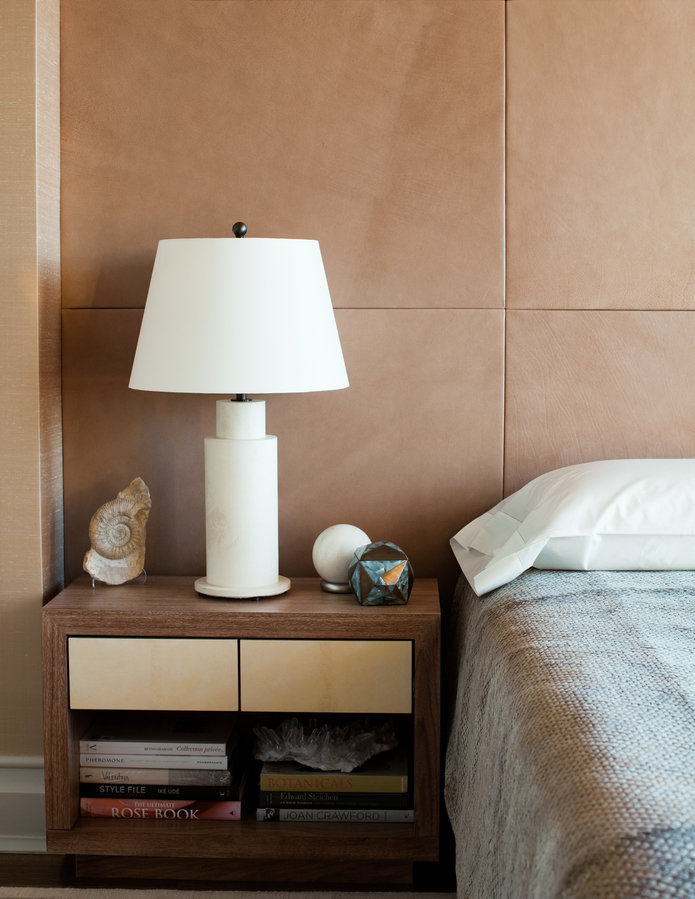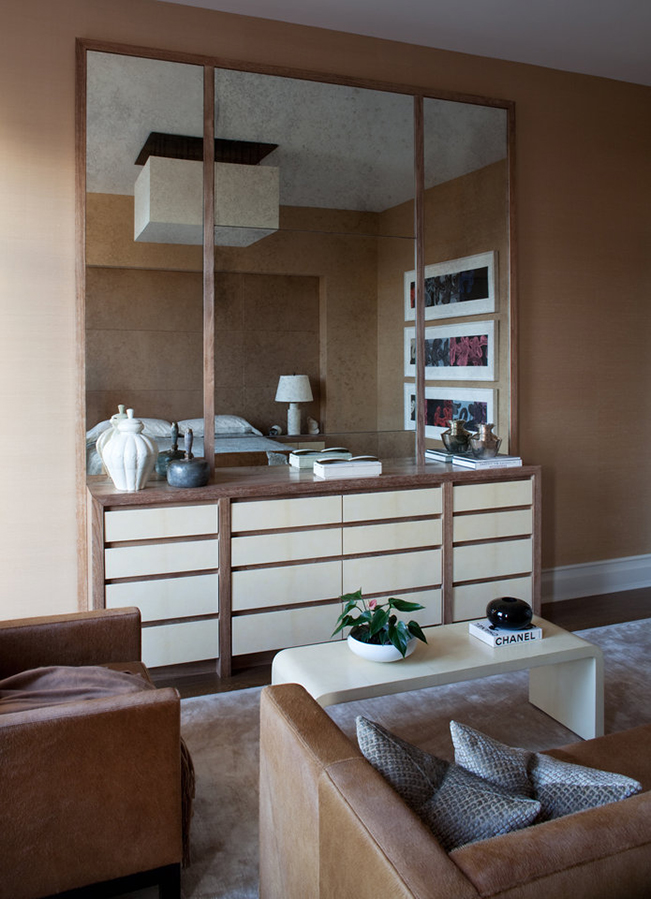 THIS APARTMENT IS LOCATED IN THE BUILDING AT 15 CENTRAL PARK WEST THAT WAS DESIGNED BY ROBERT A.M. STERN ARCHITECTS AND OPENED IN 2008. THE CLIENT IS AN ENTREPRENEUR FROM MIAMI WHO PURCHASED THE PROPERTY AS A PIED-À-TERRE FOR HIMSELF AND HIS WIFE AND YOUNG DAUGHTER. THE FAMILY WANTED THE SPACE TO MATCH THE LUXURY AND ELEGANCE OF THE BUILDING, BUT TO ALSO BE A PLACE WHERE THEY COULD RELAX AND ENTERTAIN, AND MOST IMPORTANTLY, CALL HOME.
THE DEMOLITION PHASE OF THE PROJECT INCLUDED THE REMOVAL OF SEVERAL WALLS ON THE EAST END OF THE APARTMENT SO TO CREATE A MORE OPEN SPACE FOR LIVING AND DINING. DIRECTLY TO THE LEFT OF THE FORMAL ENTRY, THERE IS A CENTRAL LIVING AREA WITH GENEROUS SEATING. ON ONE SIDE, IT IS OPEN TO THE DINING ROOM, AND ON THE OTHER SIDE, IT OPENS TO A SEMI-PRIVATE DEN/OFFICE SPACE. IN CONTRAST TO THE WHITE WALLS, FURNITURE AND FURNISHINGS IN NATURAL WOODS AND TEXTILES IN BEIGE, GOLD AND TAN HUES OFFER A WARMTH TO THE SPACE. THE FLOOR-LENGTH CURTAINS INSTALLED ON THE EAST WALL WINDOWS ARE OFTEN LEFT OPEN, TO TAKE ADVANTAGE OF THE ABUNDANT SUNLIGHT DURING THE DAY, AND A SPARKLING CITY VIEW AT NIGHT.
AT THE OPPOSITE END OF THE APARTMENT, THE PRIVATE SPACES ARE DIVIDED BETWEEN THE CHILD'S BEDROOM AND BATHROOM, AND THE PRIMARY BEDROOM AND BATHROOM SUITE. CUSTOM MILLWORK WAS ADDED TO ALL SPACES, PROVIDING AMPLE STORAGE WITH CLEAN, MINIMAL LINES. THE WARM COLOR PALETTE USED IN THE LIVING AND DINING AREAS WAS CARRIED INTO THE PRIVATE SPACES AS WELL. IN THE PRIMARY BEDROOM, LEATHER PANELING WAS USED IN THE BED NICHE, AND COORDINATING GRASS CLOTH WALLPAPER WAS USED ON THE SURROUNDING WALLS. A SEATING AREA AT THE FOOT OF THE BED INCLUDES A LOVESEAT UPHOLSTERED IN HAIR ON HIDE, AND A DARKER-TONED LEATHER CLUB CHAIR.
PHOTOS: BJÖRN WALLANDER