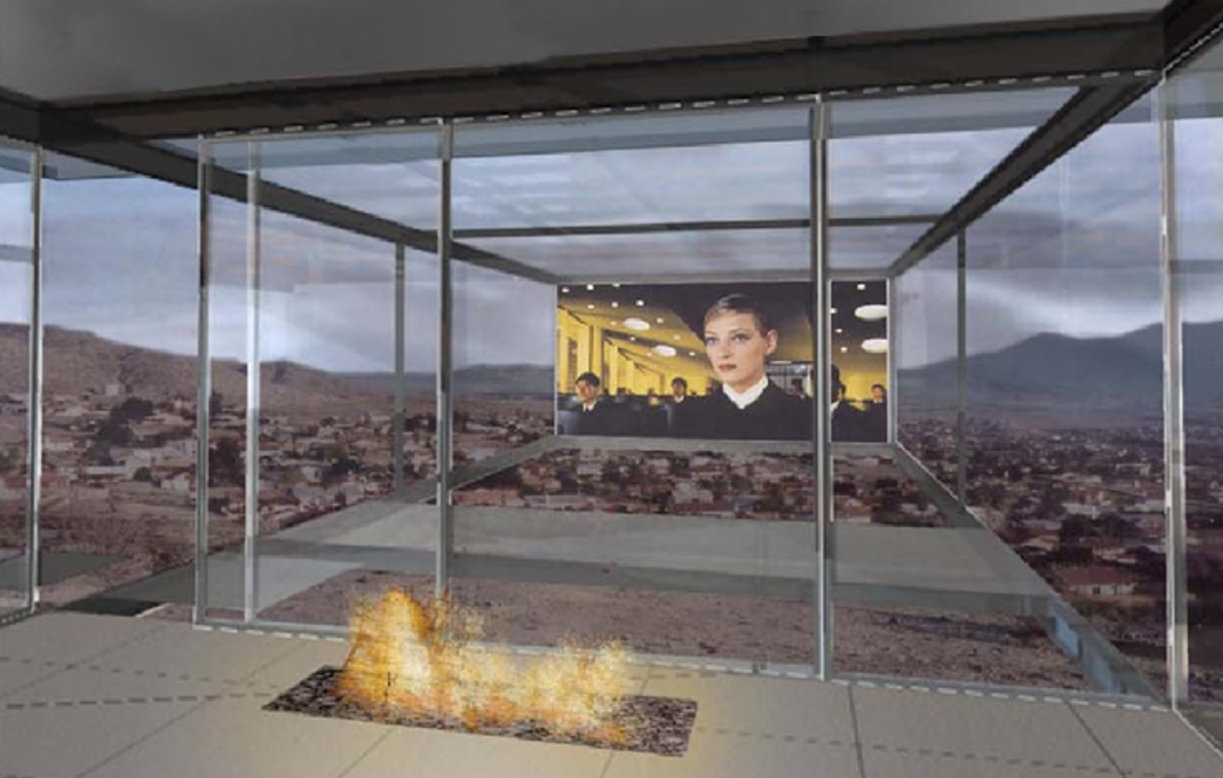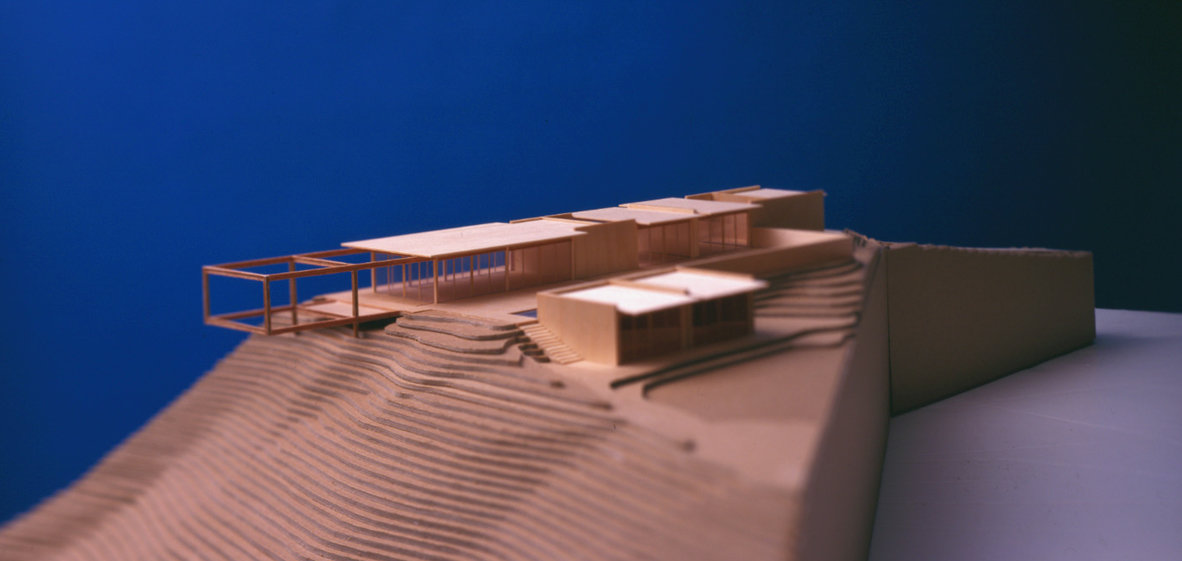 THIS UNREALIZED HOUSE WAS DESIGNED AS A VACATION RETREAT IN A DESERT HOT SPRINGS LOCATION ON ONE OF THE HIGHEST BUILDING LOTS WITH 360 DEGREE VIEWS. THE SITE IS AN IRREGULAR SHAPE, FORMED BY A LONG, STEEP DRIVE, AFFORDING ACCESS TO THE STREET BELOW. THE PLAN CALLS FOR A GREAT ROOM (LIVING, DINING, COOKING) FOUR BEDROOMS, FIVE BATHS, A TWO-CAR GARAGE, PRIVATE AND PUBLIC TERRACES, AND A LAP POOL.
THE MATERIAL PALETTE CONSISTS OF CONCRETE, GLASS, STEEL, AND INSULATED CONCRETE PANELS, WITH EACH MATERIAL EXPRESSED IN ITS RAW, UNADULTERATED STATE. TRADITIONAL BUILDING COMPONENTS SUCH AS STUD FRAMING PARTITIONS AND GYPSUM DRYWALL SURFACES ARE NOT UTILIZED IN THIS DESERT HOUSE. AN ACTIVE SOLAR SYSTEM LOCATED THROUGHOUT THE ROOFING PROVIDES YEAR-ROUND ENERGY PRODUCTION WITH HIGH EFFICIENCY DUE TO THE LOCAL CLIMATE.
DESERT HOUSE IS DEEPLY INSPIRED BY A TIME AND PLACE WHERE BRAZEN, NEW ARCHITECTURE PROMISED A BETTER WAY OF LIVING. THIS IS A SIMPLE STRUCTURE THAT HAS BOTH THE PERMANENCE AND STRENGTH OF A BYGONE ARCHITECTURE, AND THE LIGHTNESS AND OPENNESS OF ARCHITECTURE OF TOMORROW.
THE HOUSE HAS A MORE DILUTED SENSE OF HIERARCHY WITH A NON-TRADITIONAL POINT OF ENTRY, LACK OF A PRIMARY BEDROOM, AND MINIMIZATION OF INTERIOR PARTITIONS. MOST OF THE BATHROOMS HAVE NO DOORS AND ARE FULLY EXPOSED TO THE VIEW BEYOND. ROLLING SHADES RETRACT FROM THE CEILING FOR A MORE TRADITIONAL SENSE OF PRIVACY.
RENDERINGS: MR ARCHITECTURE + DECOR