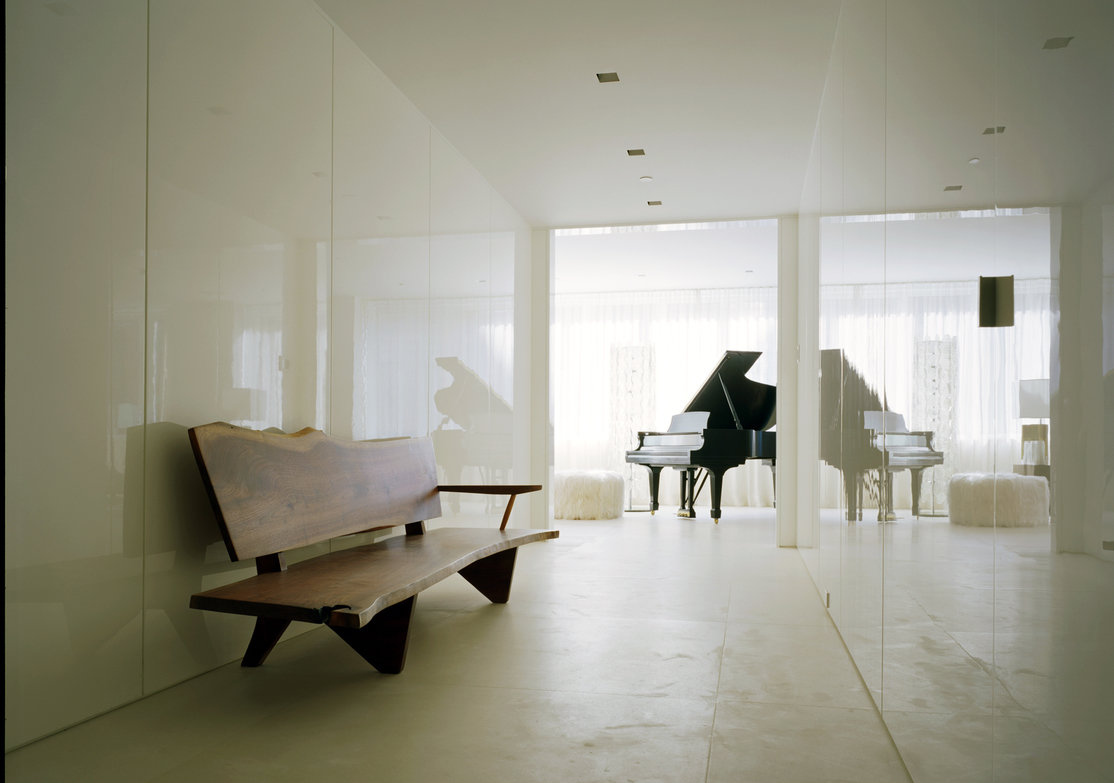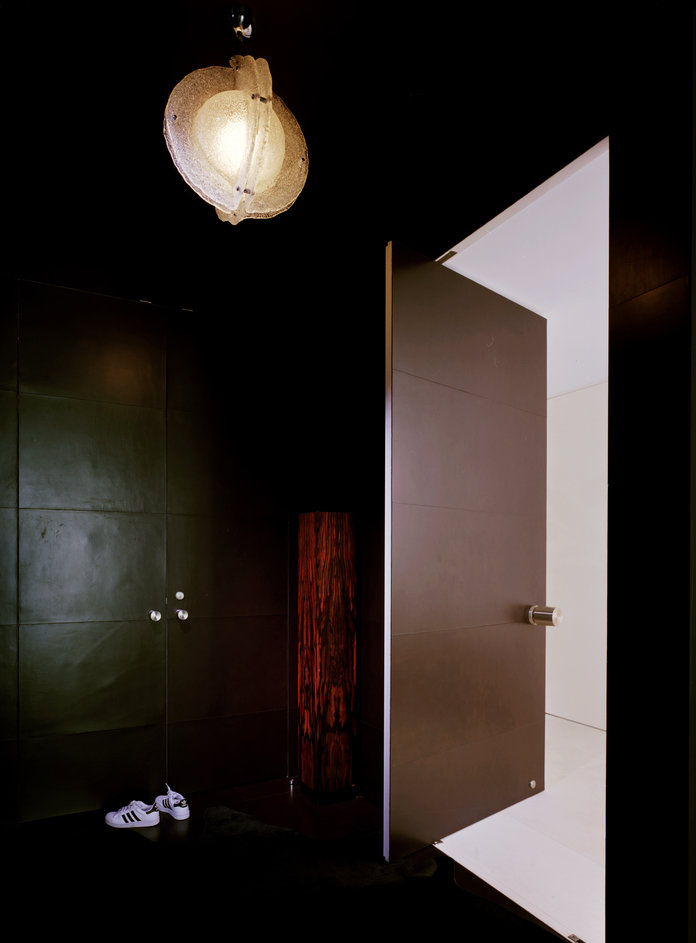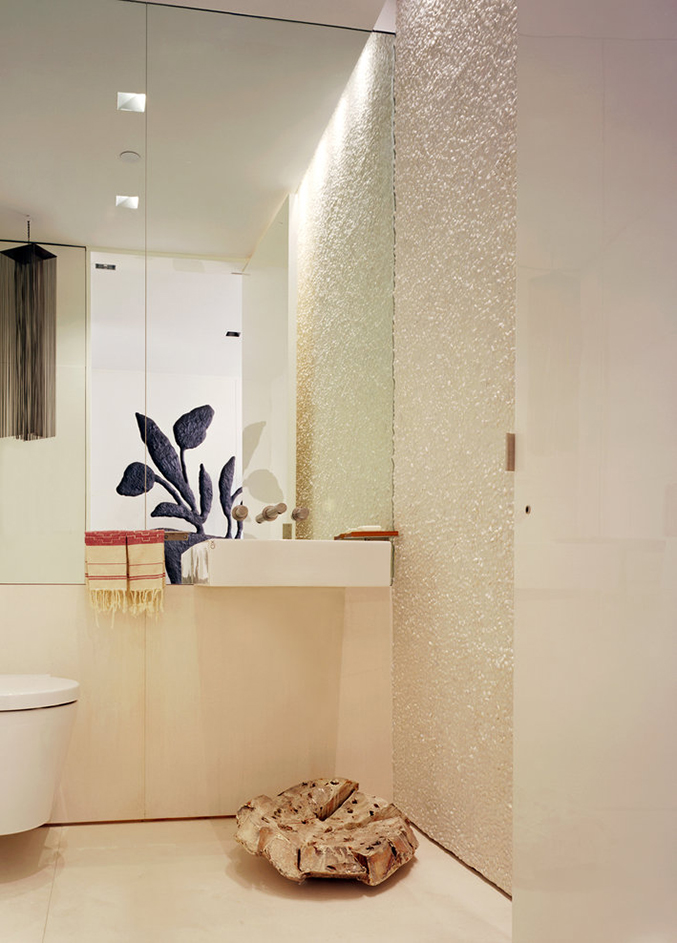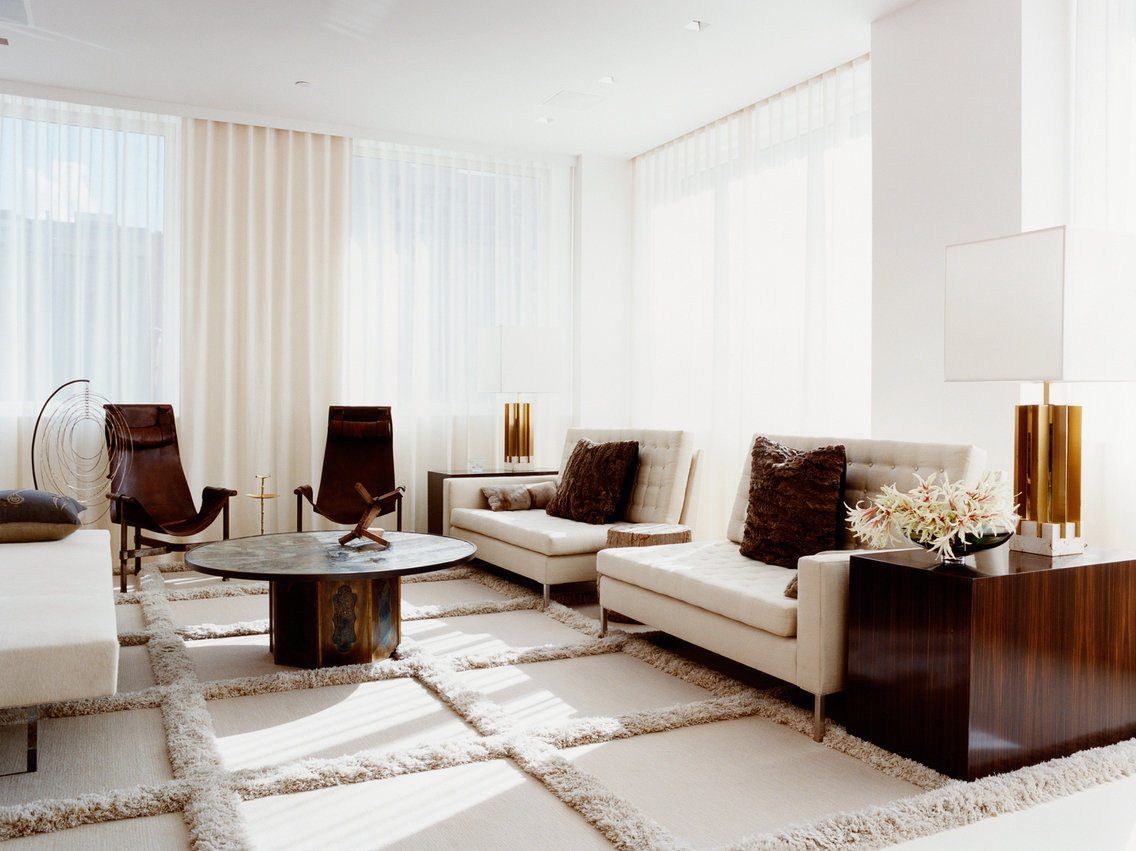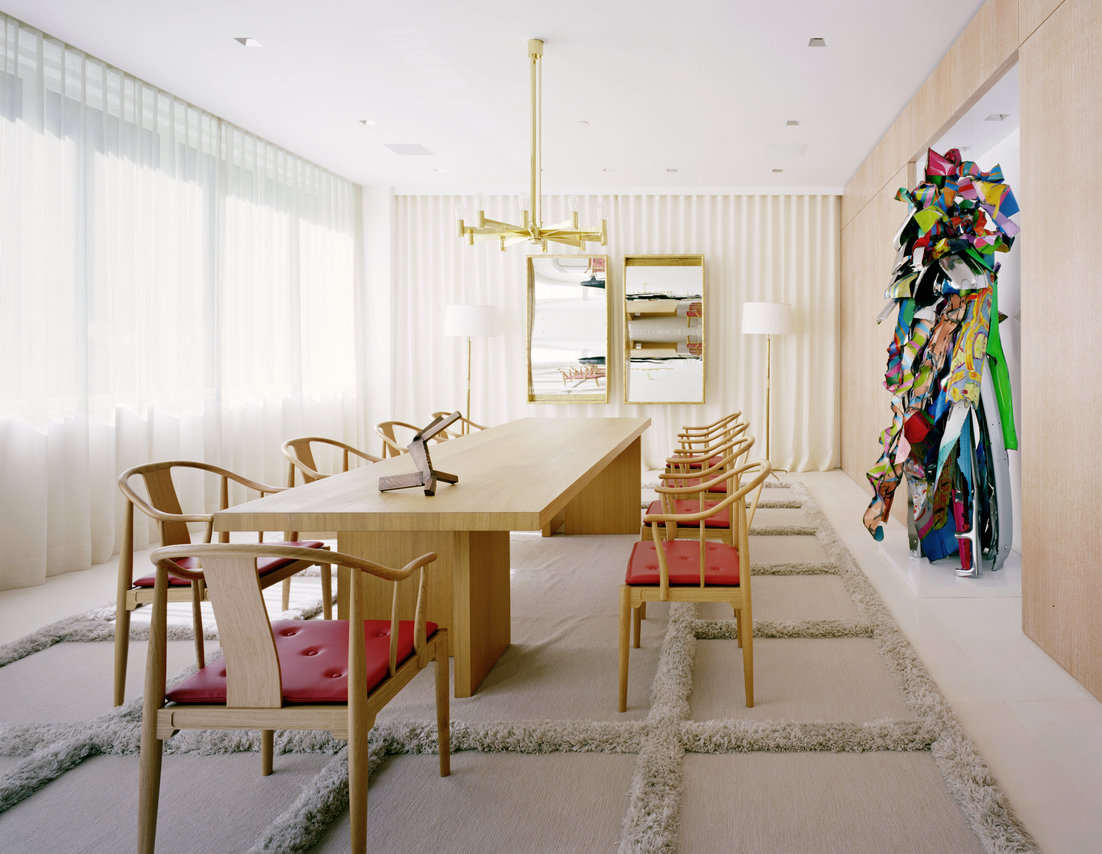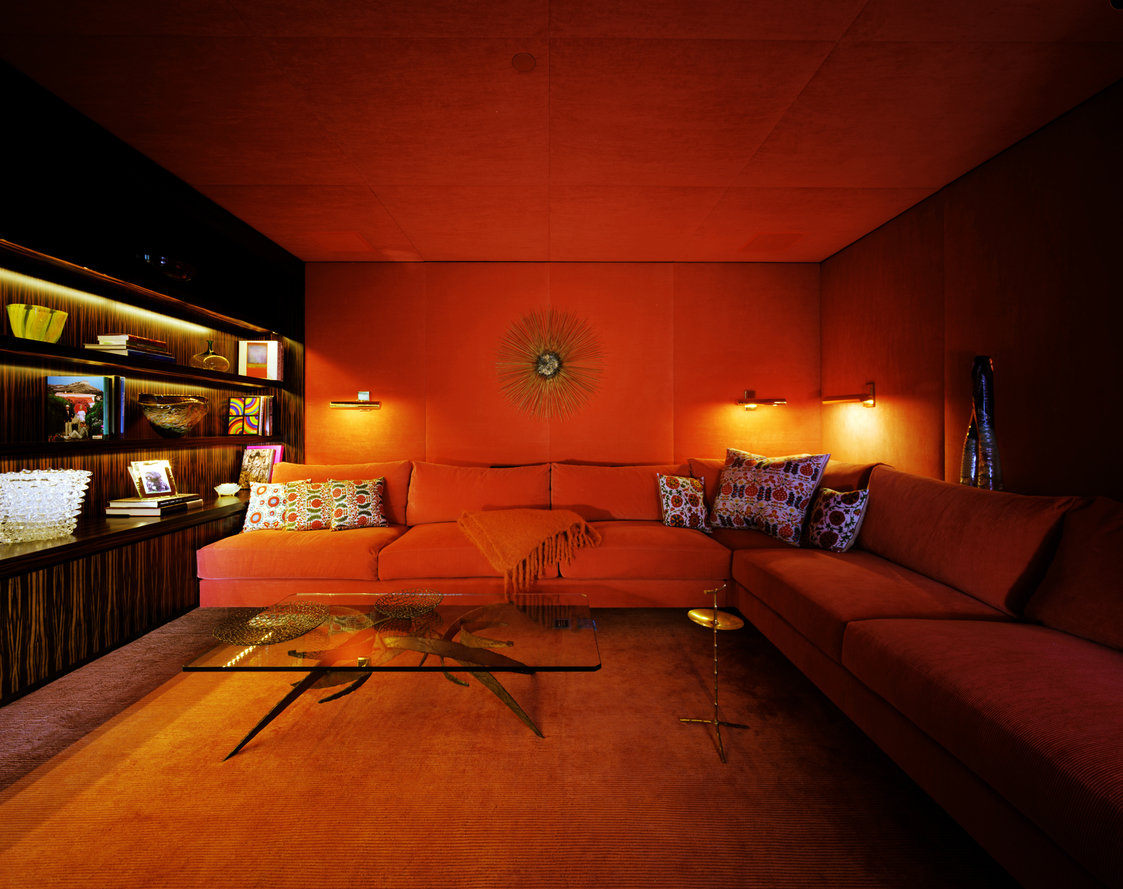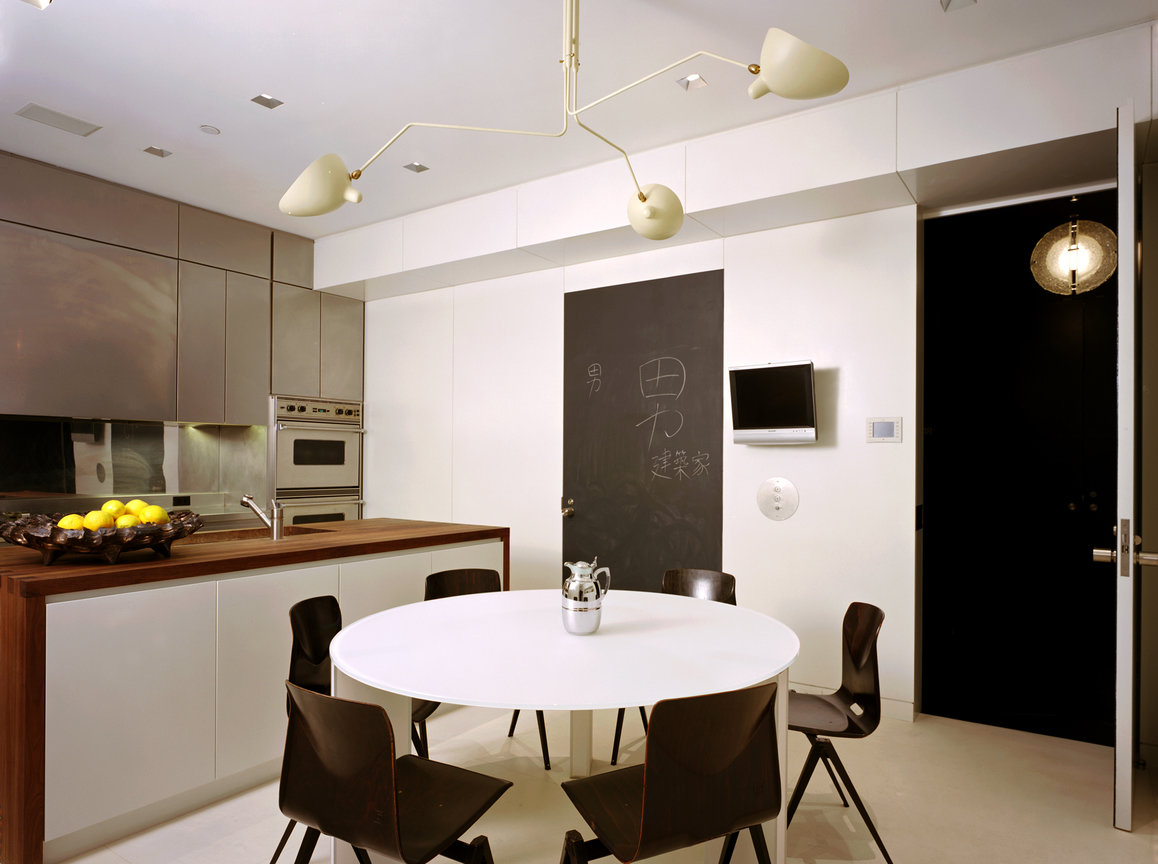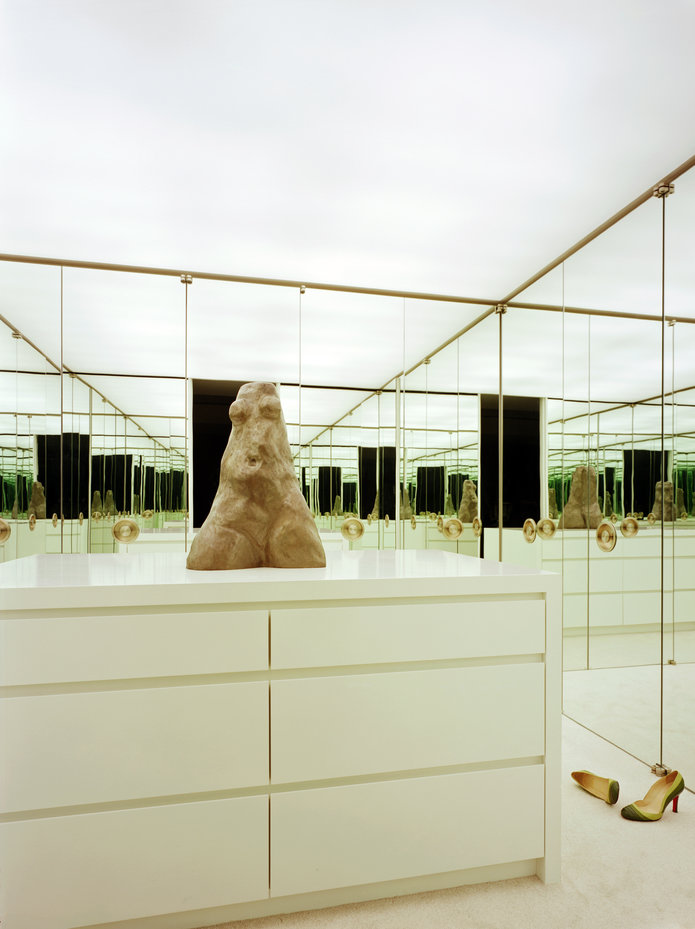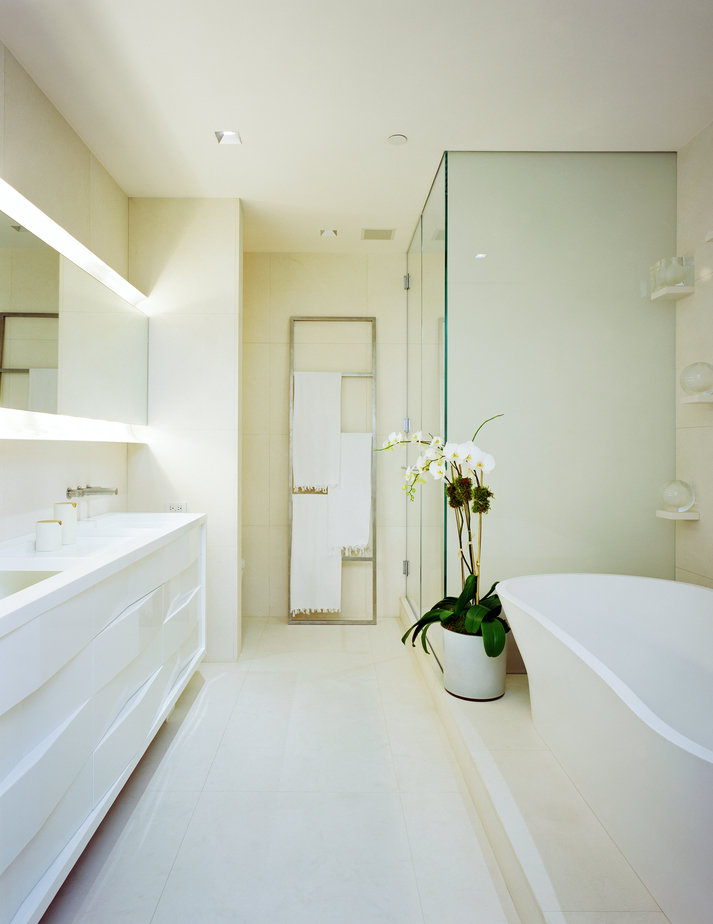 THIS 4,400-SQUARE-FOOT SPACE IN AN OLD WAREHOUSE ON THE UPPER EAST SIDE BEGAN AS A BLANK CANVAS, CONSISTING OF FOUR WALLS, AN ELEVATOR ENTRANCE, AND A FIRE STAIR. WHAT IT DID HAVE WAS PLENTY OF SPACE—AND ROOM FOR THE IMAGINATION. THE CLIENT, A DESIGN ENTREPRENEUR AND ART COLLECTOR, WAS MOVING HERE WITH HER TWO TEENAGE DAUGHTERS FROM AN UPPER EAST SIDE POSTWAR APARTMENT DOORMAN BUILDING. SHE WANTED A HOME THAT WOULD NOT ONLY BE PRACTICAL FOR DAY-TO-DAY LIVING, BUT COULD BE A BACKDROP FOR EXTRAORDINARY FURNITURE AND ART.
THE LAYOUT IS FAIRLY CLASSIC, WITH A LARGE ENTRY FOYER LEADING TO THE HOME'S PUBLIC SPACES AND WITH THE PRIVATE AREAS, INCLUDING THREE BEDROOMS, TUCKED INTO THE QUIETER REAR. THE ROOMS ARE FORMALLY FRAMED WITH DOORS AND WALLS, BUT THE PROPORTIONS ARE GENEROUS, WITH HIGH CEILINGS AND UNINTERRUPTED VIEWS. THE COMBINED LIVING AND DINING ROOM SEAMLESSLY SPANS THE ENTIRE FRONT OF THE BUILDING.
THROUGHOUT THE PROJECT, THERE ARE CONTEMPORARY MATERIALS WITH A QUIET ELEGANCE. THE FOYER PANELING IS A DURABLE WHITE POLYESTER, WHILE THE LIVING ROOM AND DINING ROOM WALLS ARE PLASTER AND CERUSED OAK, OFFSET BY A LIMESTONE FLOOR. THE VESTIBULE IS CLAD TOP TO BOTTOM IN BLACK LEATHER, WHILE A POWDER ROOM HAS A WALL COVERED IN TINY WHITE PEBBLES THAT CATCH AND REFLECT LIGHT. INSIDE A DEN, THE WALLS AND CEILING ARE COVERED IN A RICHLY-HUED RED- ORANGE CORDUROY. ONE OF THE LOFT'S MOST STRIKING SPACES IS HIDDEN TO ALL BUT THE HOMEOWNER: HER DRESSING ROOM IS A MIRRORED BOX WITH A LUMINOUS CEILING THAT CAN BE ADJUSTED FROM FLATTERING LOW LIGHT TO STADIUM BRIGHT. THE ROOM HAS A WARDROBE ISLAND THAT SERVES AS A PLINTH FOR A LOUISE BOURGEOIS SCULPTURE. THIS HOME COMBINES ALL THE AMENITIES OF AN UPTOWN ADDRESS WITH THE AIRINESS AND MODERN BENT OF A DOWNTOWN LOFT.
PHOTOS: FRANCOIS DISCHINGER