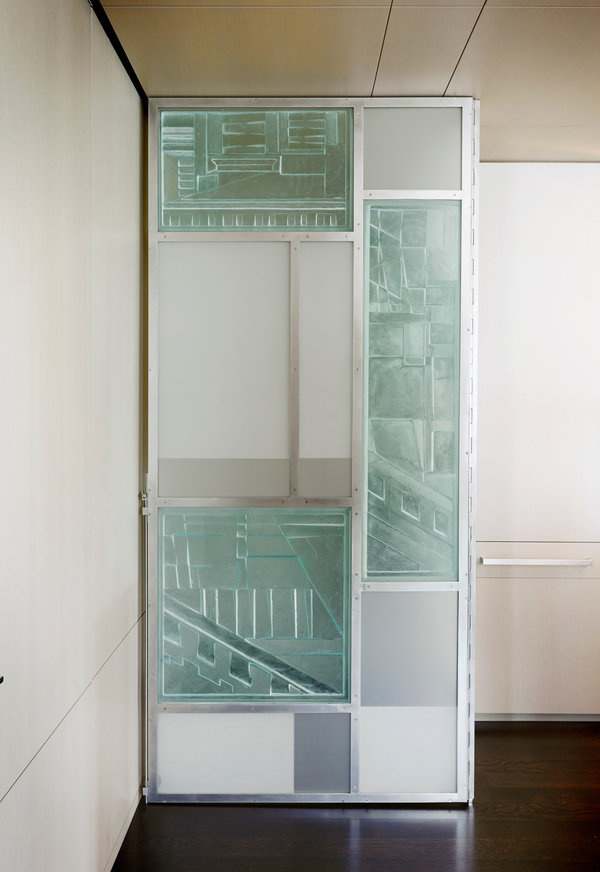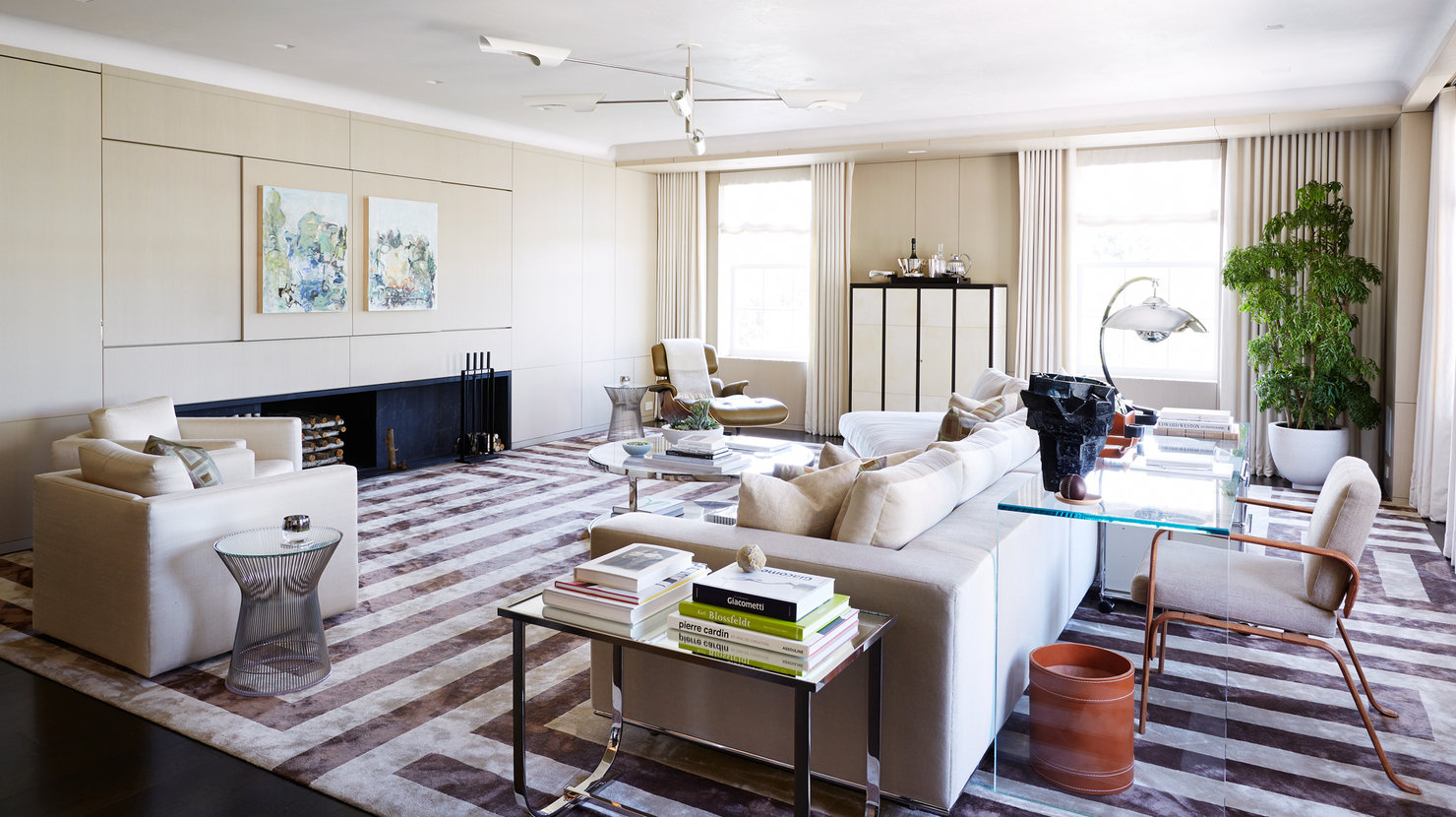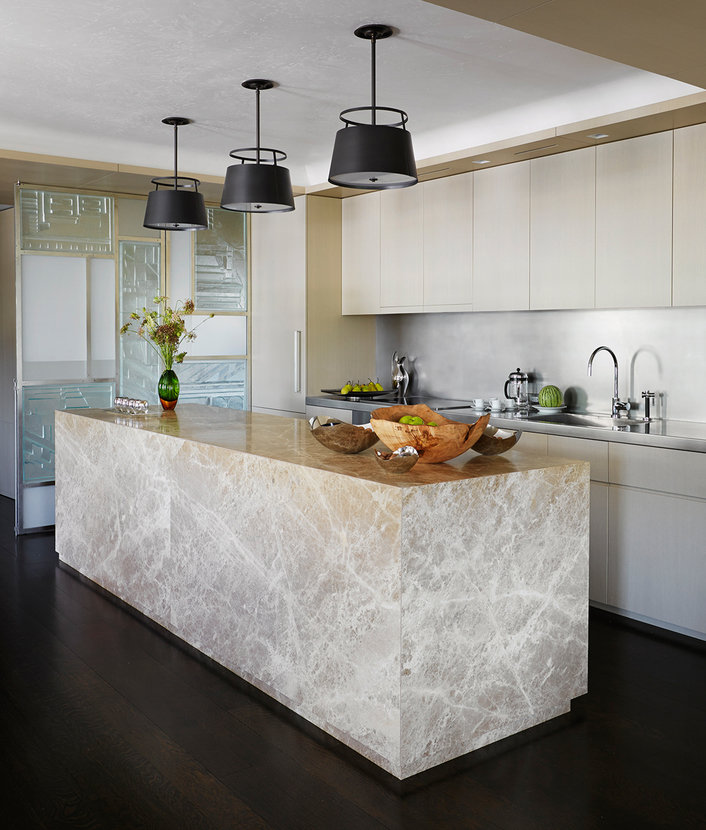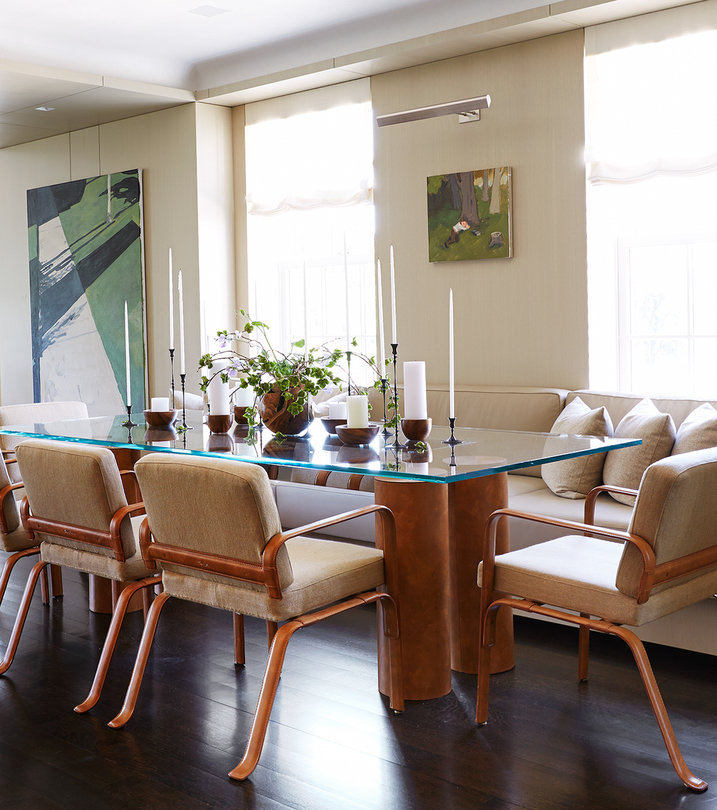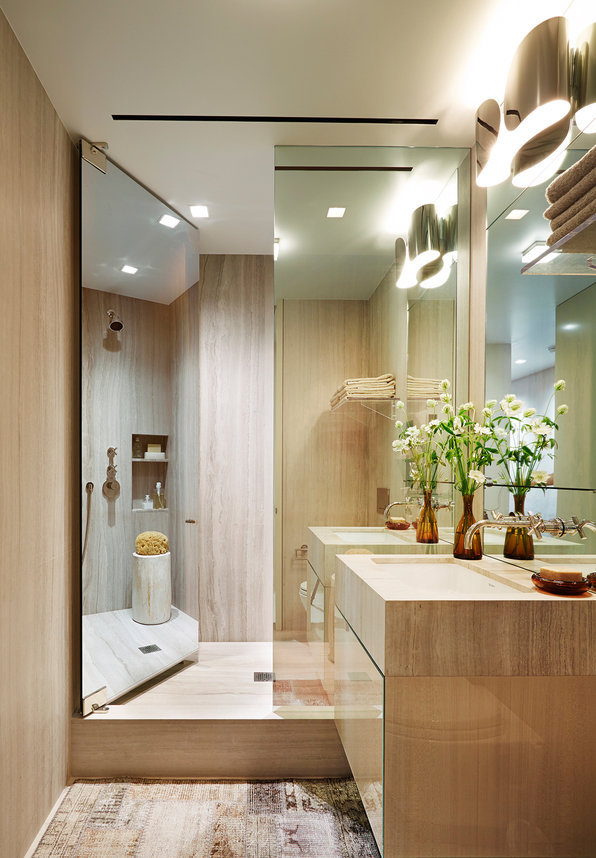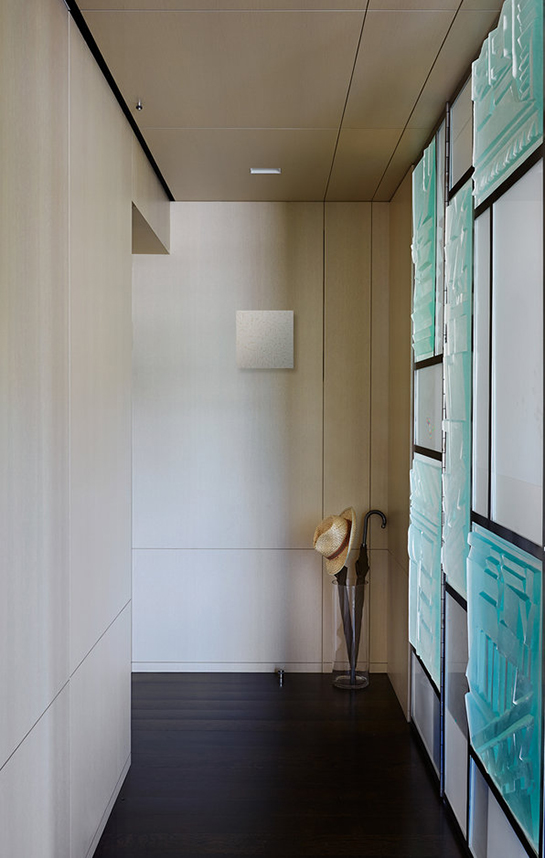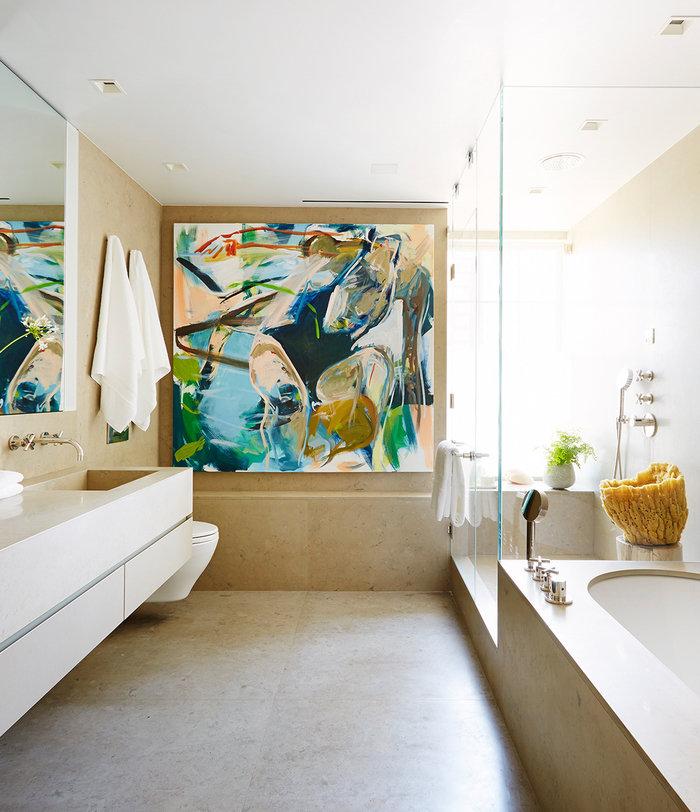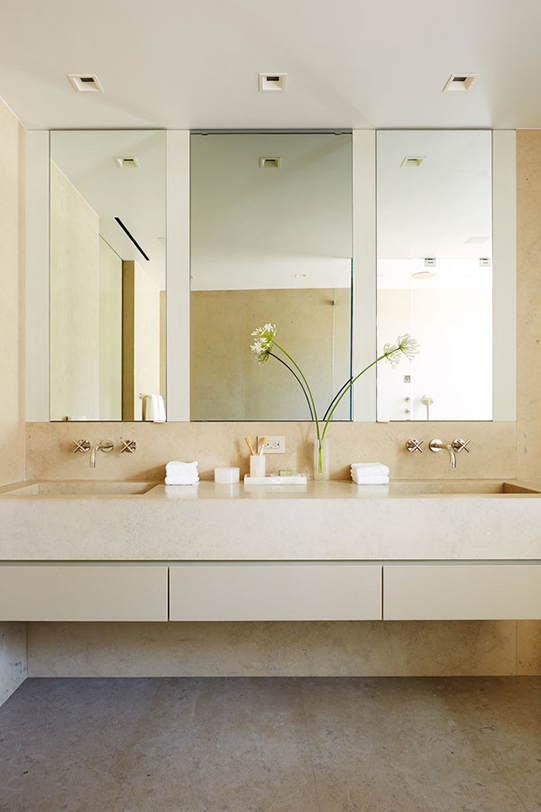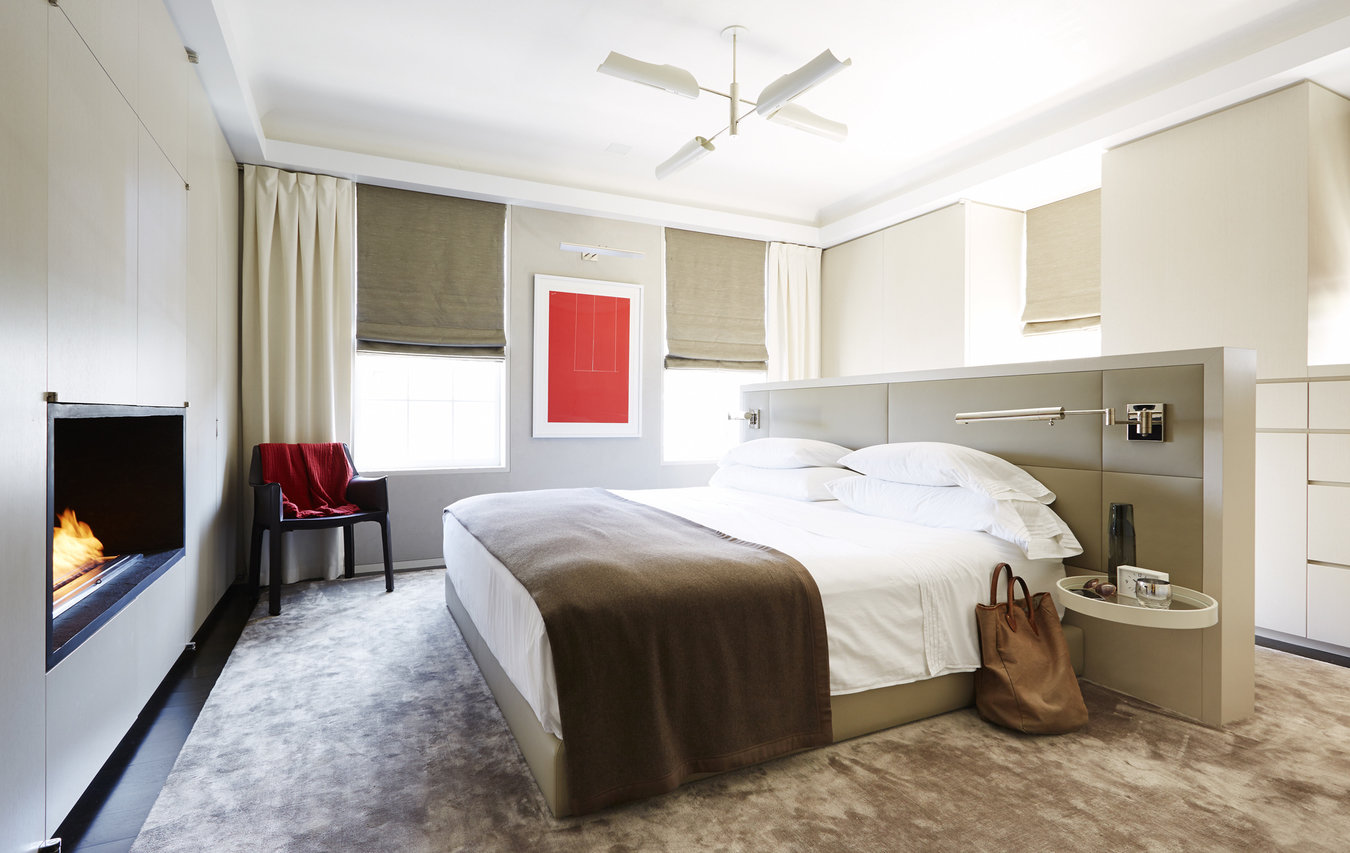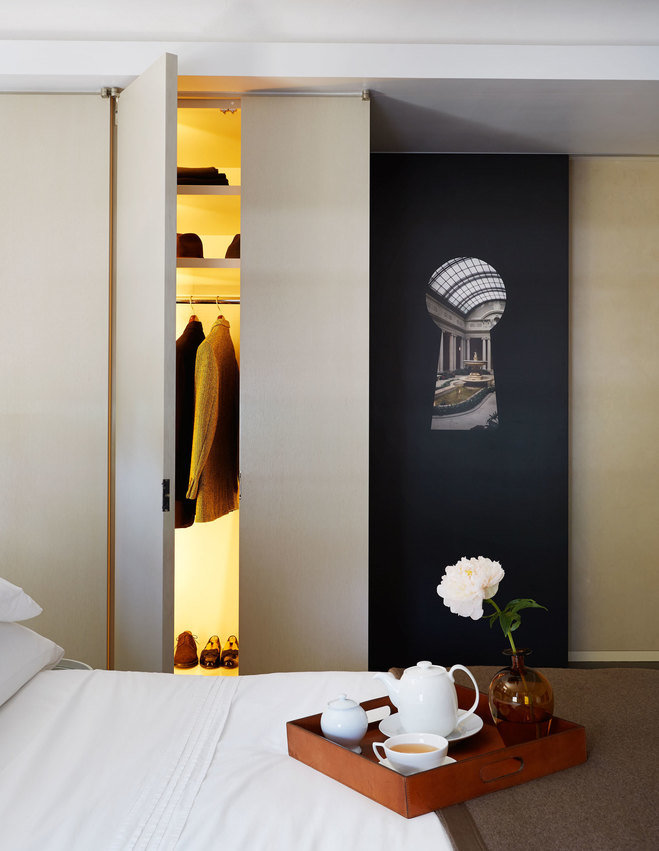 THIS RESIDENCE IS THE PRODUCT OF A GUT RENOVATION TO A FULL FLOOR APARTMENT IN A BEAUTIFUL PREWAR BUILDING LOCATED ON FIFTH AVENUE, OVERLOOKING CENTRAL PARK. THE OWNER, A RETIRED FASHION INDUSTRY EXECUTIVE, WANTED A COMFORTABLE YET SOPHISTICATED SPACE WITH ROOM TO ENTERTAIN.
ENTRY INTO THE APARTMENT IS THROUGH AN ENCLOSURE OF CUSTOM CAST RETRACTABLE GLASS PANELS THAT EXPAND AND BECOME A WALL. THE PANELS ARE PATTERNED WITH ARCHITECTURAL DETAILS TAKEN FROM NEIGHBORING BUILDINGS IN VIEW FROM INSIDE THE RESIDENCE. MOST OF THE ORIGINAL INTERIOR WALLS WERE REMOVED TO CREATE ONE LARGE SPACE AND DISTINCT AREAS WERE CREATED FOR DINING, LIVING AND ENTERTAINING. IN THE LIVING ROOM, THE TELEVISION IS MOUNTED ON A WALL AND CAN BE HIDDEN BEHIND MOVEABLE PANELS. UNDERNEATH IS A BUILT-IN FIREPLACE WITH ADDITIONAL SPACE CARVED OUT FOR WOOD STORAGE. IN ONE CORNER OF THE MAIN SPACE THERE IS A DEN/GUEST ROOM THAT HAS A RETRACTABLE WALL TO MAKE IT PRIVATE WHEN NEEDED. THE SECOND BATHROOM HAS A TWO-WAY MIRROR SHOWER ENCLOSURE, THAT UNDER THE CORRECT LIGHTING CONDITIONS MAKE THE SHOWER INVISIBLE, AS THE ROOM FUNCTIONS MOSTLY AS A POWDER ROOM.
THE PRIMARY SUITE FEATURES A BED WITH A CUSTOM UPHOLSTERED HEADBOARD FLOATING IN THE CENTER OF THE ROOM WITH A HIDDEN TELEVISION AND FIREPLACE ON A PANELED WOOD WALL OPPOSITE IT. THE PRIMARY BATH INCLUDES A DOUBLE VANITY, A STANDING SHOWER AND SOAKING TUB, AND A NEUTRAL PALETTE OF LIMESTONE AND LEATHER. MANY OF THE WALLS, AND SOME AREAS OF THE CEILING ARE PANELED TO GIVE A WARM BUT CONTEMPORARY CLUB FEELING. GENTLE LAYERS OF FABRICS AND FURNISHINGS WITH THE OCCASIONAL PATTERN ALL INFORM A LIVABLE YET SOPHISTICATED HOME.
PHOTOS: THOMAS LOOF