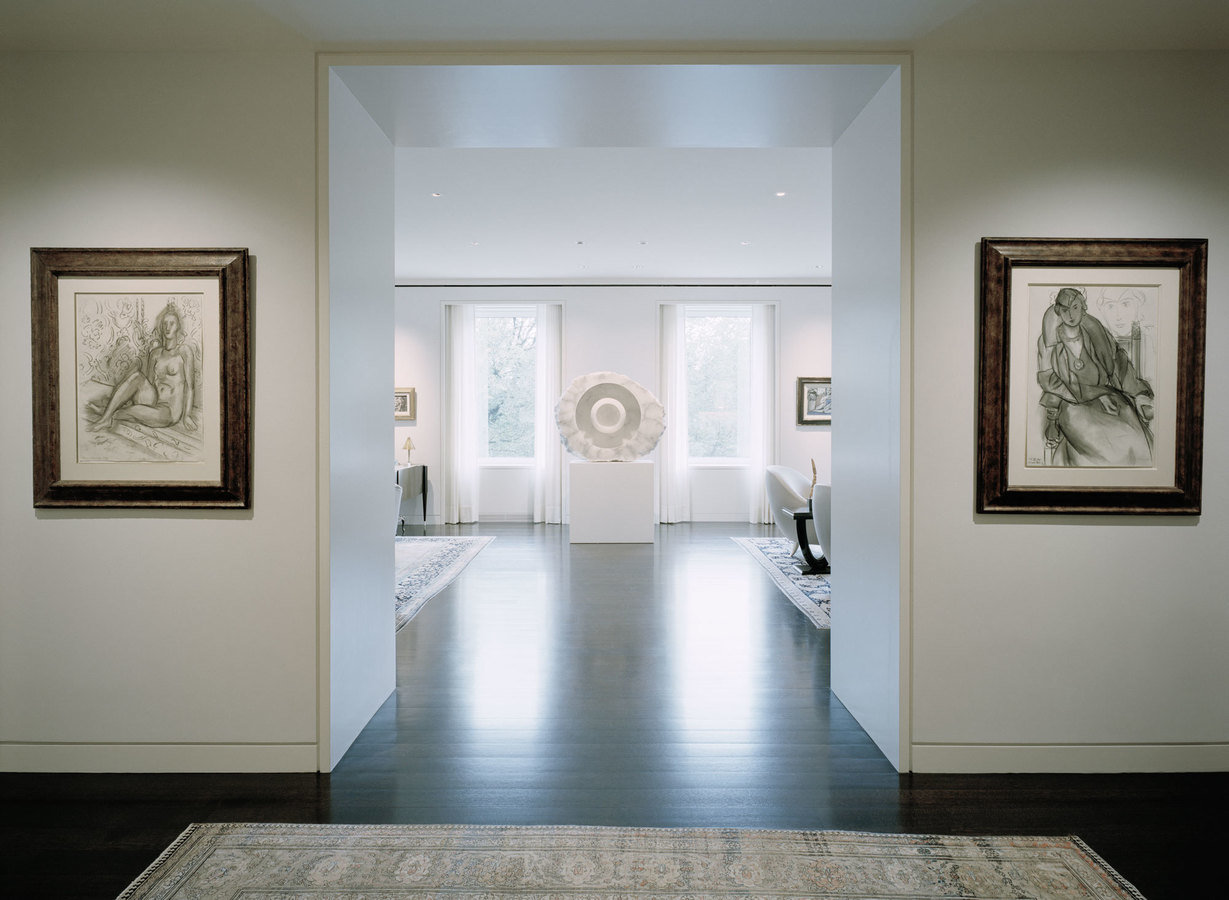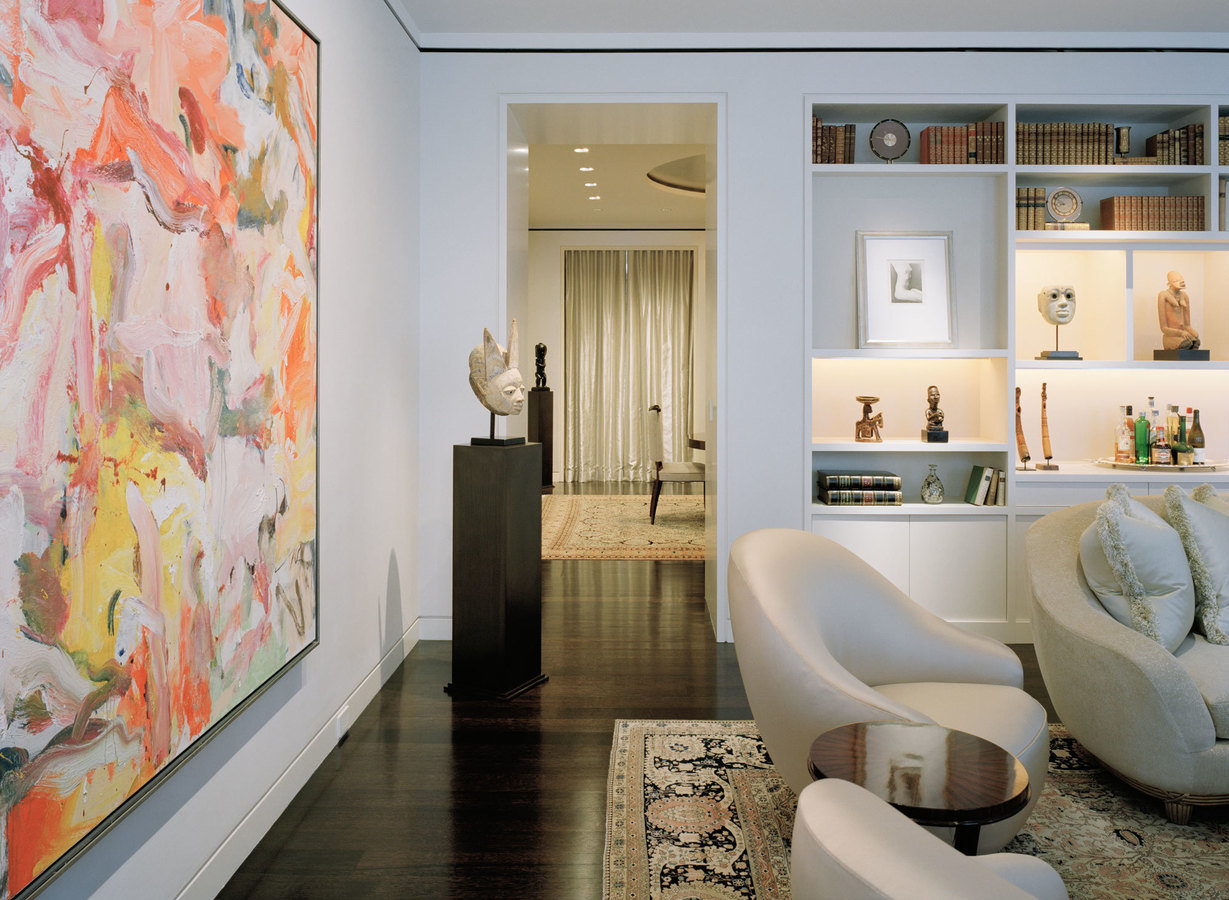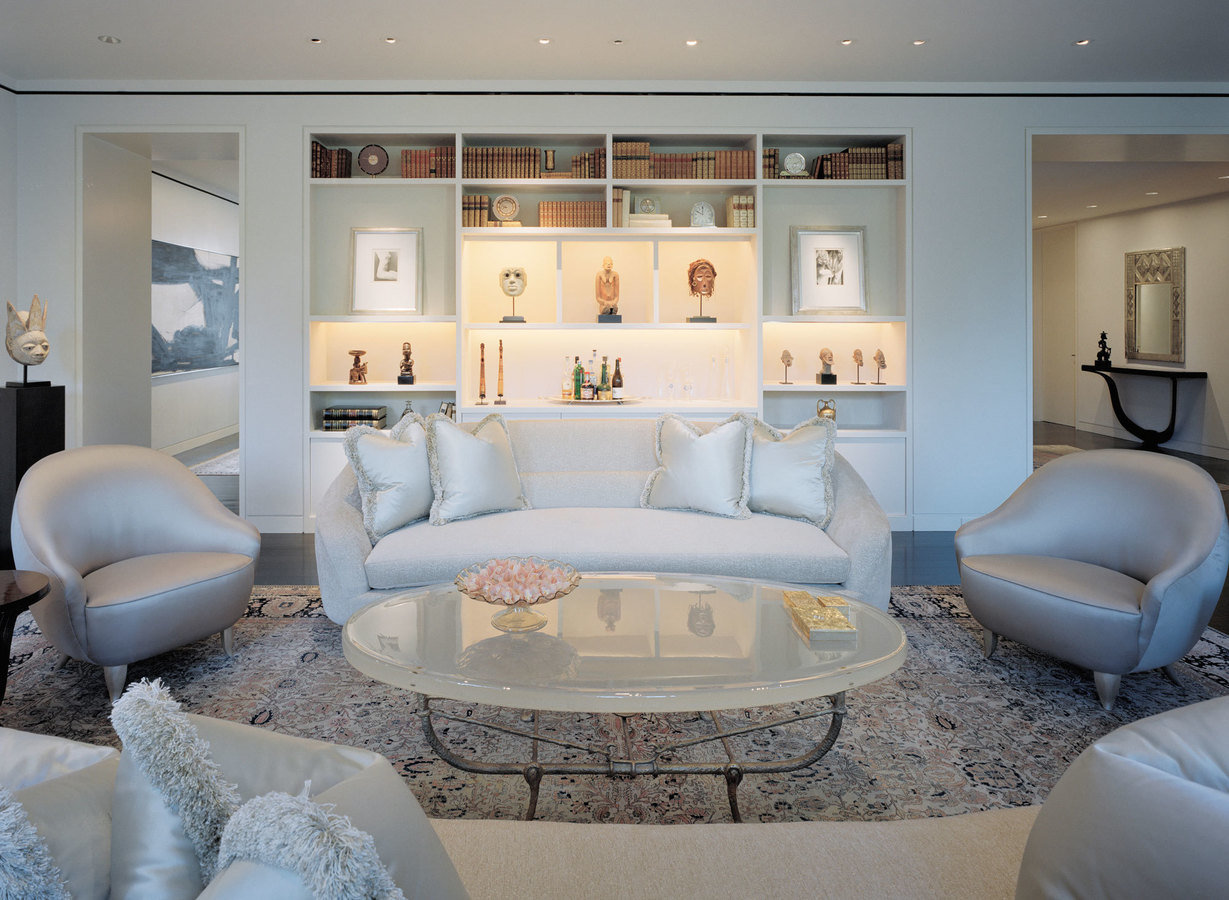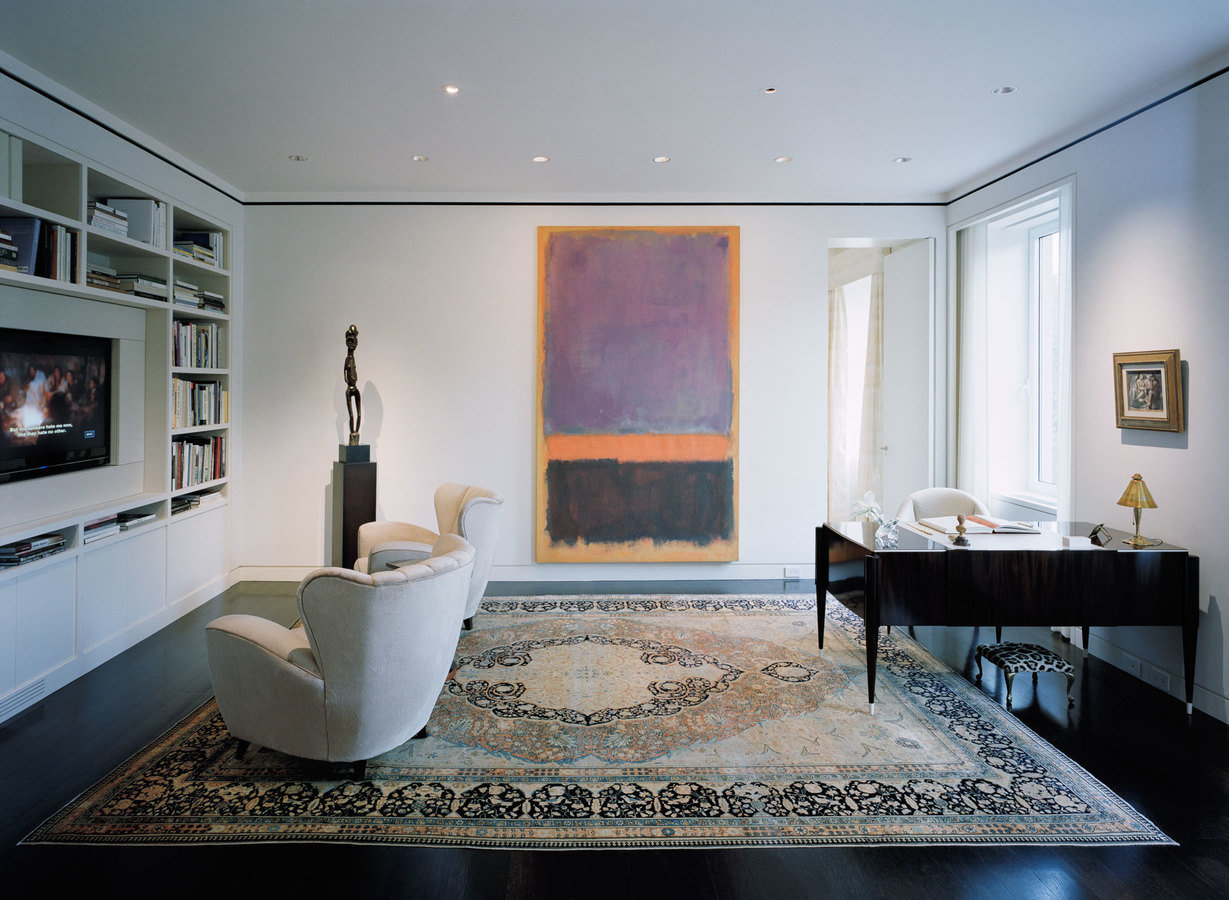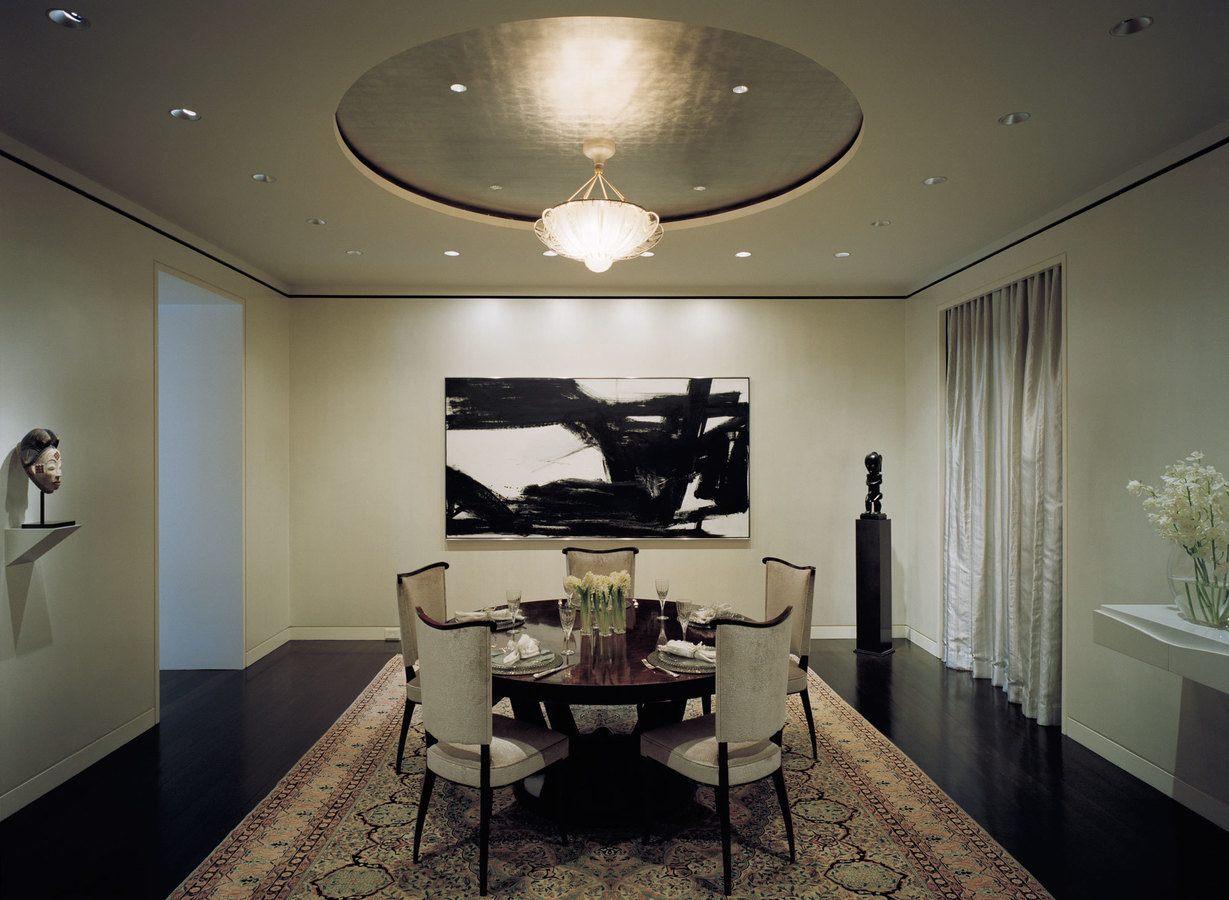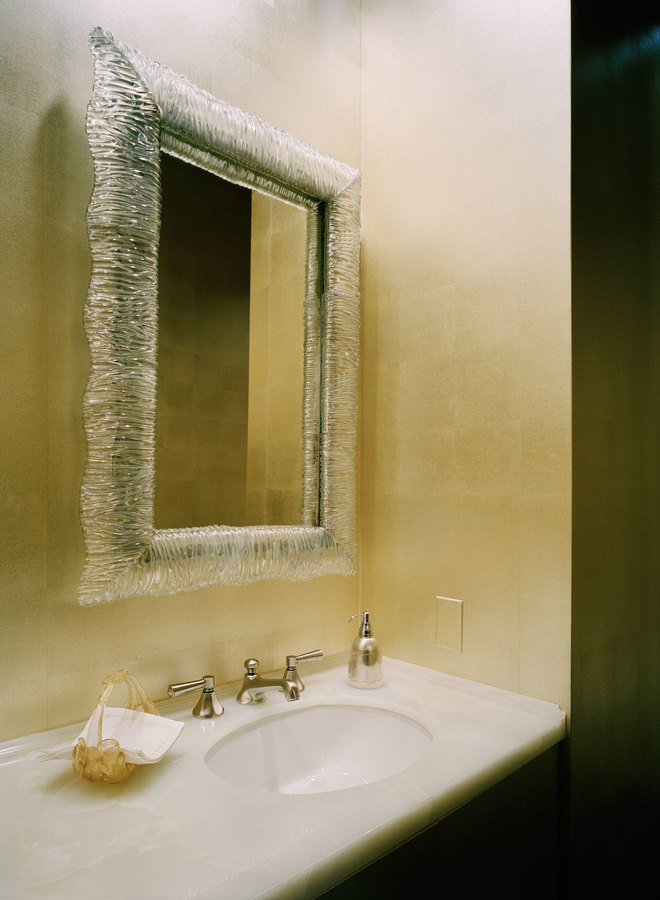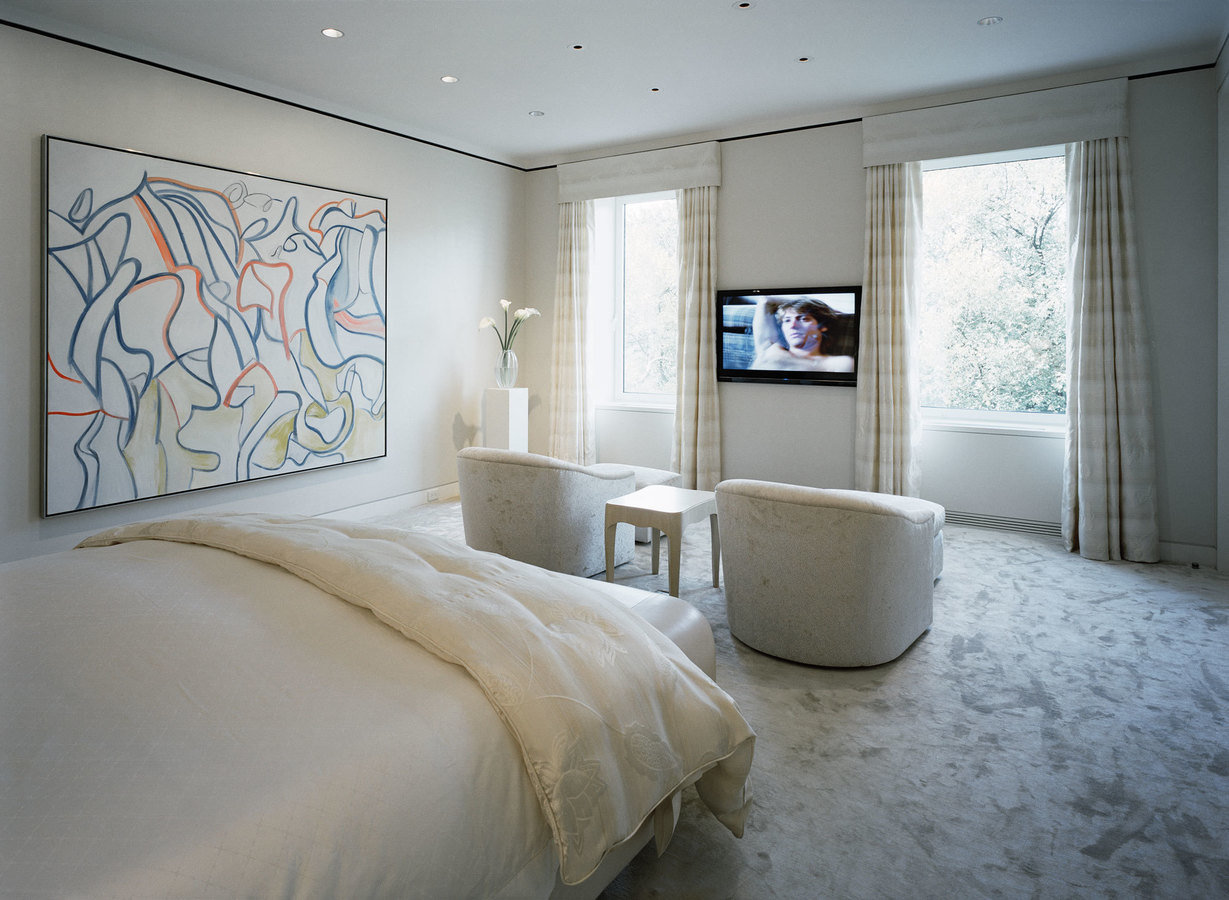 THIS RESIDENCE, LOCATED ON A FULL FLOOR IN A PREWAR BUILDING ON FIFTH AVENUE, IS HOME TO A WELL-KNOWN COUPLE IN THE ART WORLD WHO WANTED A SPACE WHERE THEY COULD LIVE COMFORTABLY, ENTERTAIN, AND MOST IMPORTANTLY, SHOWCASE THEIR EXTENSIVE COLLECTION OF ART.
THE APARTMENT'S ELEVATOR OPENS ONTO AN ENCLOSED OVAL ENTRY VESTIBULE WITHIN THE FOYER, WHICH LEADS TO THE PUBLIC SPACES. DARK STAINED OAK FLOORS CONTRAST WITH LIGHT WHITE WALLS THROUGHOUT. TO THE LEFT OF THE ENTRY IS A FORMAL DINING ROOM WITH A GILDED SILVER INSET CEILING. TO THE RIGHT IS A GRAND ROOM WHICH IS DIVIDED INTO TWO SPACES THROUGH THE USE OF COORDINATING ANTIQUE AREA RUGS. ONE HALF OF THE ROOM IS FURNISHED WITH CUSTOM SOFAS AND ARMCHAIRS TO ACCOMMODATE A LARGE GROUP; THE OTHER IS FURNISHED SPARINGLY, WITH AN ANTIQUE WRITING DESK AND A PAIR OF ARMCHAIRS FACING THE MILLWORK WALL WHICH HOUSES THE TV. WINDOWS THAT SPAN THE ENTIRE WEST WALL PROVIDE ABUNDANT LIGHT IN THE ROOM, THROUGHOUT WHICH A NUMBER OF SCULPTURES AND PAINTINGS ARE DISPLAYED.
THE APARTMENT'S PRIVATE AREAS INCLUDE TWO BEDROOMS WITH ENSUITE BATHROOMS, AN EXERCISE ROOM, AN OFFICE, A LAUNDRY ROOM AND A PRIMARY BEDROOM WITH A DRESSING ROOM AND A MARBLE BATHROOM WITH A VANITY COUNTER, SOAKING TUB AND GLASS-ENCLOSED SHOWER. IN PUBLIC AND PRIVATE AREAS ALIKE, A NEUTRAL PALETTE WITH SUBTLE PATTERNS AND TEXTURES WAS USED, TO ALLOW FOR THE ART AND THE VIEW OF CENTRAL PARK TO STAND OUT. THE END RESULT IS A STREAMLINED HOME WITH A GRACEFUL FLAIR.
PHOTOS: ÅKE E:SON LINDMAN