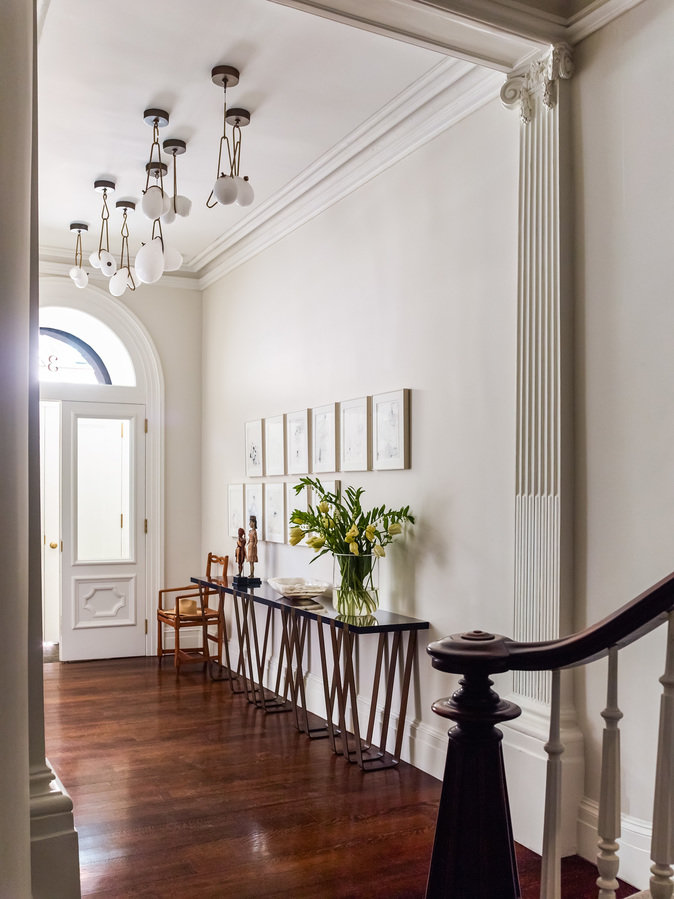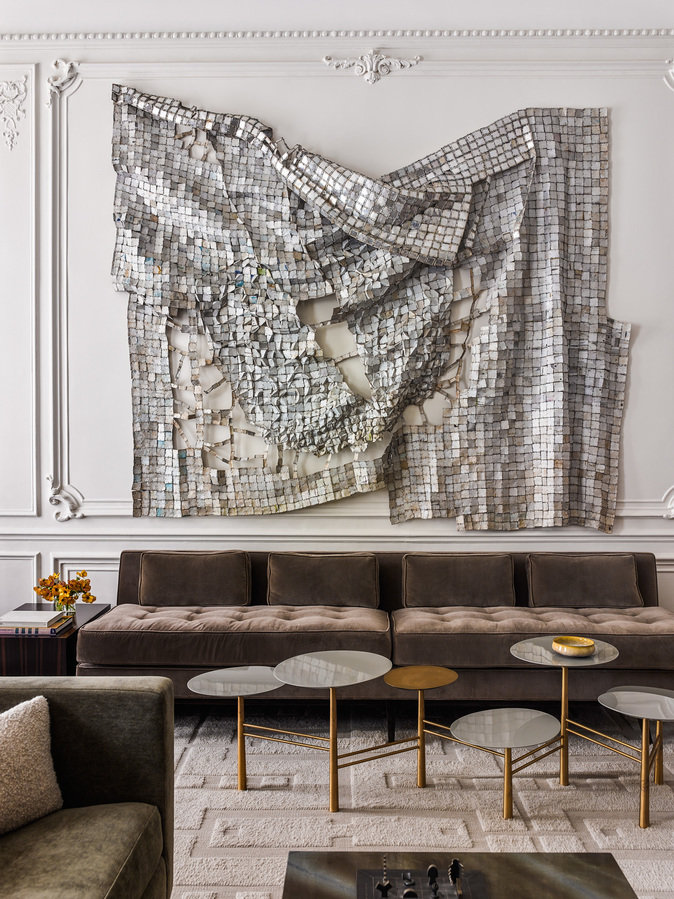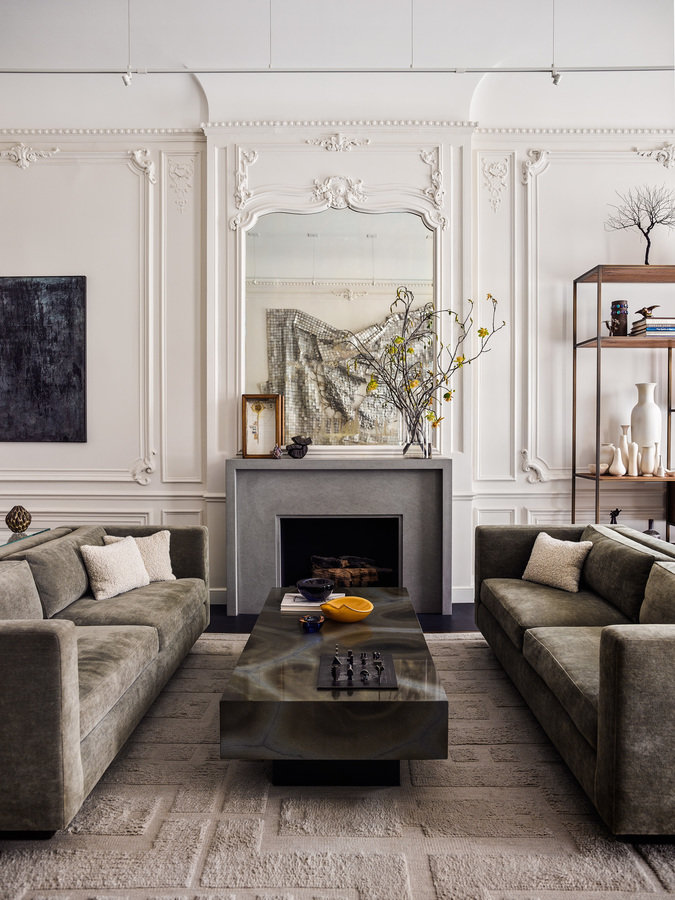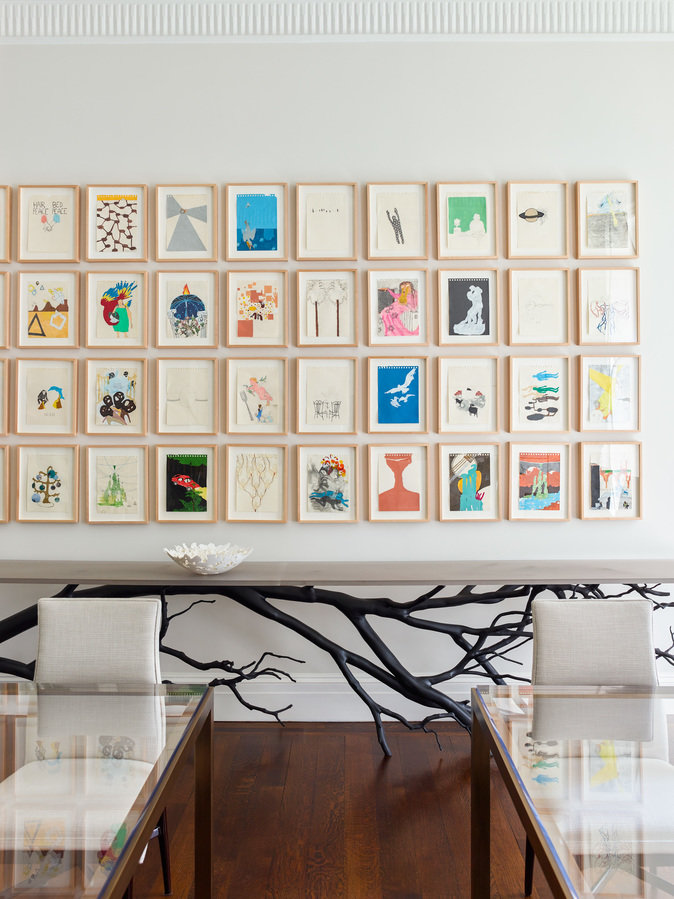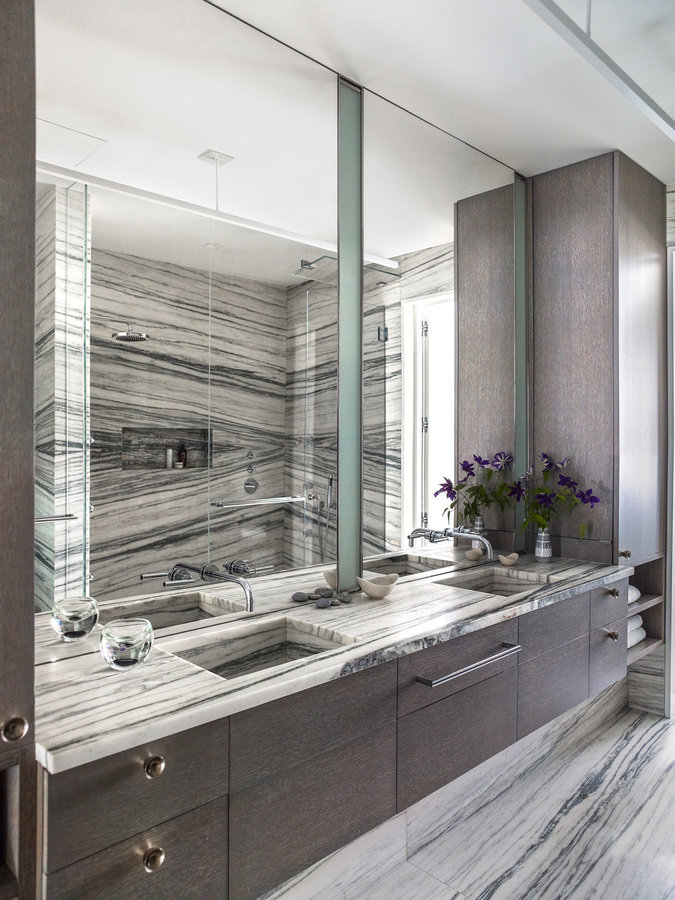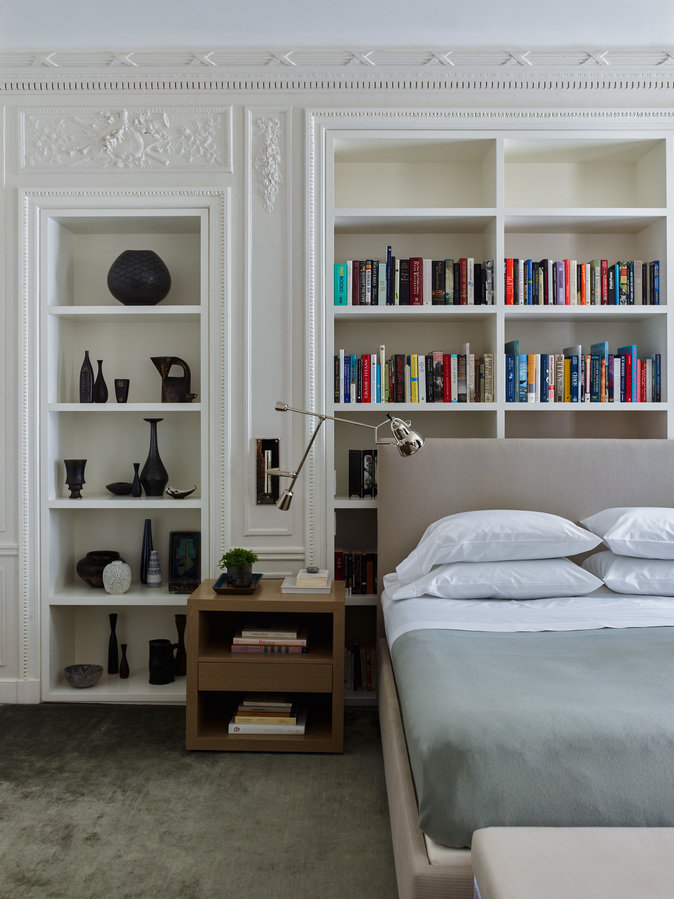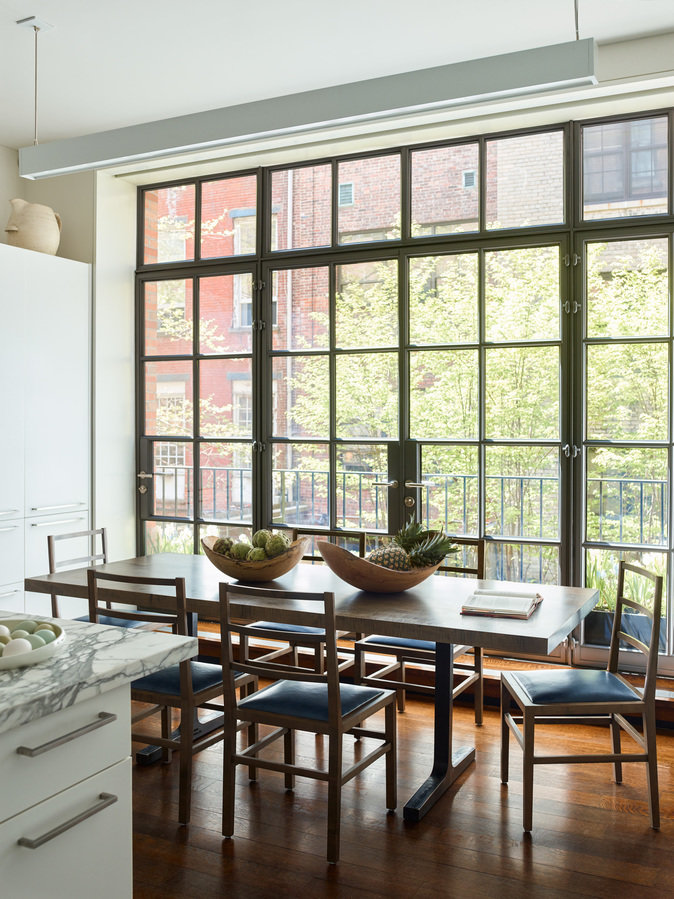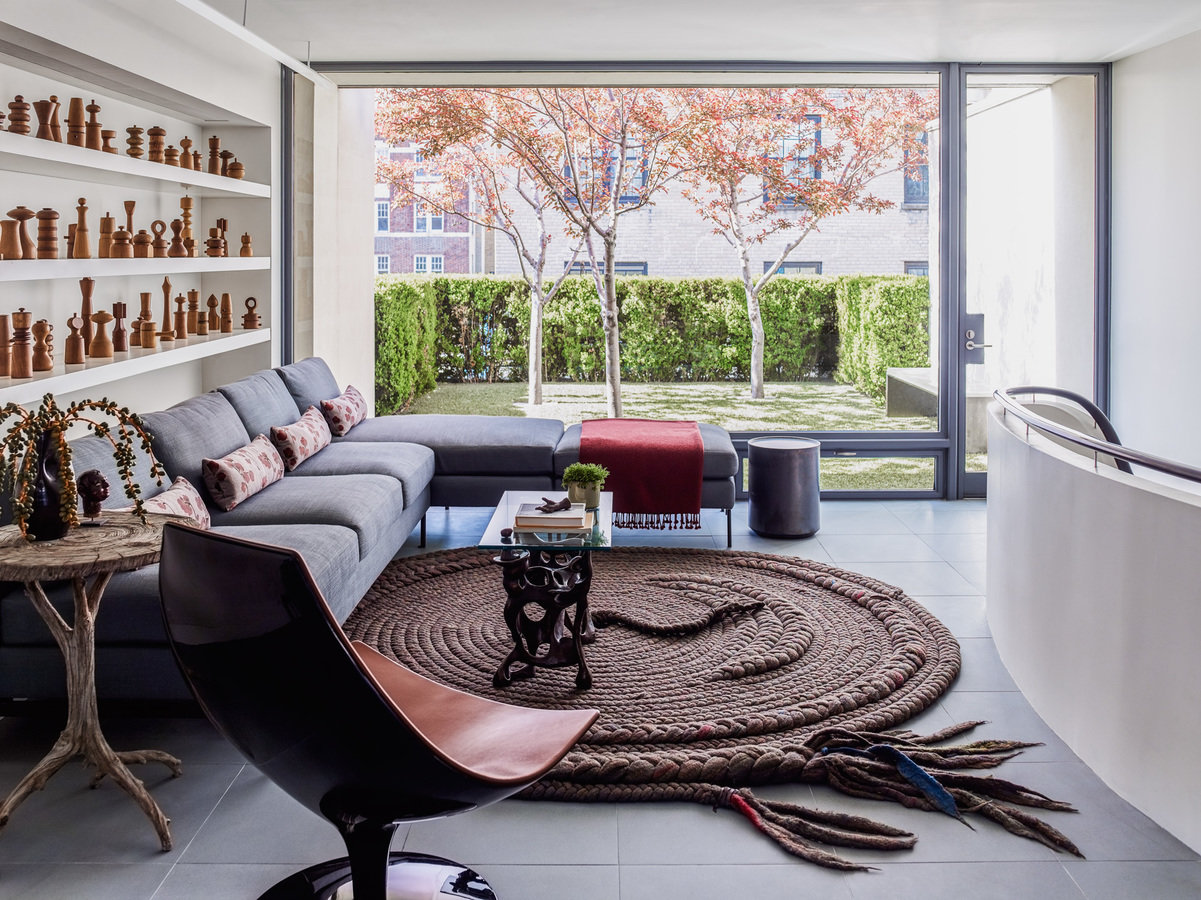 THIS TOWNHOUSE WAS ORIGINALLY DESIGNED IN 1857 BY JAMES RENWICK JR., THE ARCHITECT OF ST. PATRICK'S CATHEDRAL AND GRACE CHURCH IN MANHATTAN, AND THE ORIGINAL BUILDING FOR THE SMITHSONIAN INSTITUTION IN WASHINGTON, D.C. IT UNDERWENT AN EXTENSIVE RENOVATION AND WAS THEN PURCHASED BY A YOUNG FAMILY WHO WANTED TO GIVE IT A NEW DESIGN DIRECTION THAT WOULD SUIT THEIR NEEDS AND ALLOW THEM TO ENTERTAIN. MR WAS HIRED FOR THE INTERIOR DESIGN AND DECOR IN COLLABORATION WITH A NEW YORK ARCHITECT IN ORDER TO ACCOMPLISH THIS.
NUMEROUS COMBINATIONS OF TEXTURE, FORM, COLOR, AND LIGHT WERE STUDIED, AND AS A RESULT, NUANCED ROOMS WERE CREATED THROUGHOUT THE HOME. THE CLIENTS BROUGHT SOME WONDERFUL ARTWORKS TO THE PROJECT, INCLUDING A JOSEPH CORNELL BOX AND A RICHARD AVEDON PHOTOGRAPH OF WILLIAM S. BURROUGHS, AS WELL AS AN EXTENSIVE COLLECTION OF FOLK ART. SEVERAL NEW PIECES WERE ALSO ACQUIRED DURING THE COURSE OF THE RENOVATION, SUCH AS AN EL ANATSUI WALL HANGING, WHICH HANGS OVER THE LIVING ROOM'S MIDCENTURY SOFA.
THE OVERALL PALETTE CONSISTED OF LUXURIOUS NEUTRALS, SUBTLY BRIGHTENED WITH COLORFUL ACCENTS. CUSTOM FABRICS, CARPETS, AND FURNISHINGS WERE COMMISSIONED FOR EVERY SPACE. A GIRAFFE CHAIR BY ARNE JACOBSON FOR THE SAS ROYAL HOTEL WENT INTO THE STUDY, AND A PAIR OF COCKTAIL TABLES BY JOSEPH D'URSO WERE PLACED IN THE FAMILY ROOM. FOR THE DINING ROOM, A PAIR OF MASSIVE DINING TABLES WAS DESIGNED IN ANTIQUED BRASS AND LUCITE, AND AT THE TOP-FLOOR LANDING, THERE IS A CUSTOM-MADE SPIRAL WOOL AREA RUG BY THE ARTIST DANA BARNES. LIGHTING WAS A KEY COMPONENT IN CREATING A WARM AMBIANCE THAT HIGHLIGHTED BOTH THE HISTORIC ARCHITECTURE AND THE HOME'S ART, FURNISHINGS, AND ACCESSORIES.
PHOTOS: ERIC PIASECKI