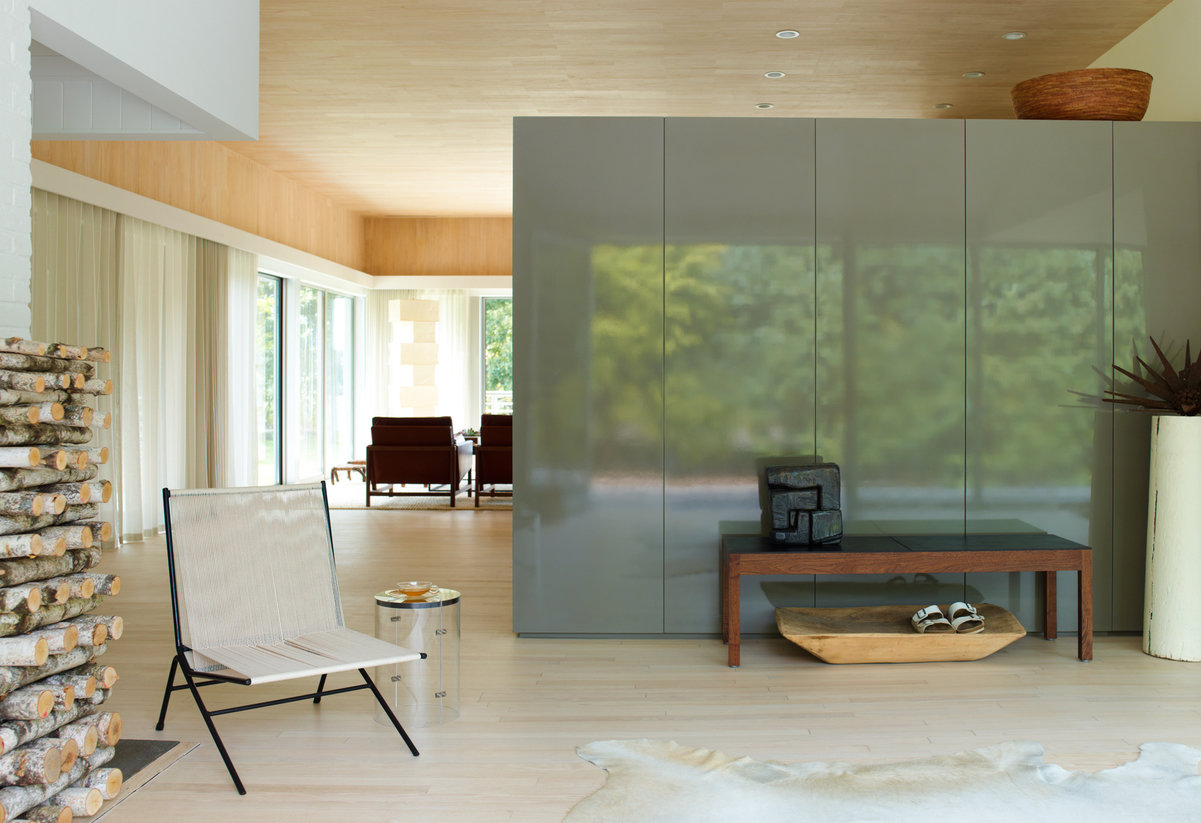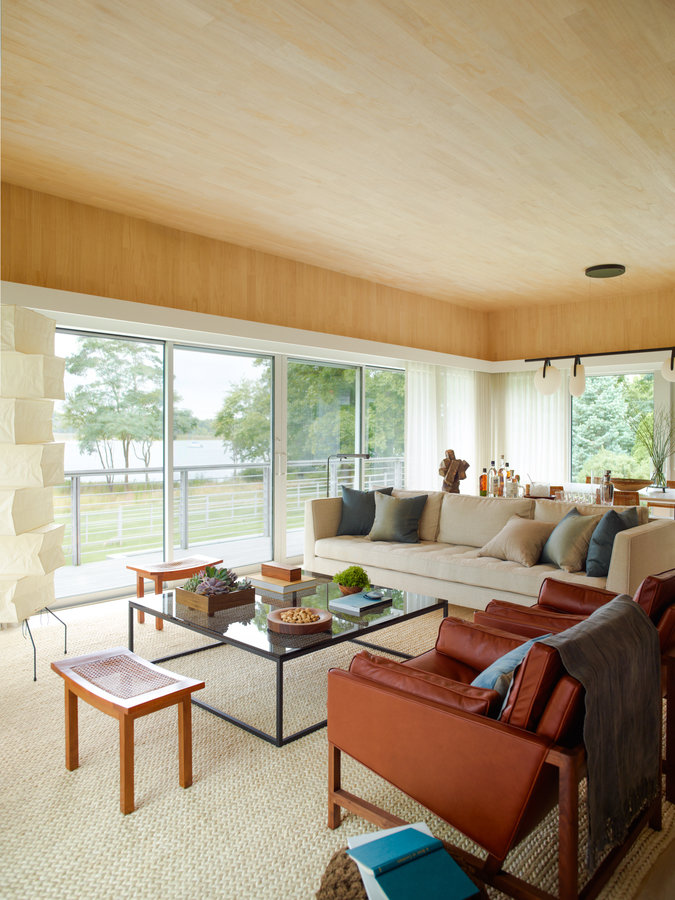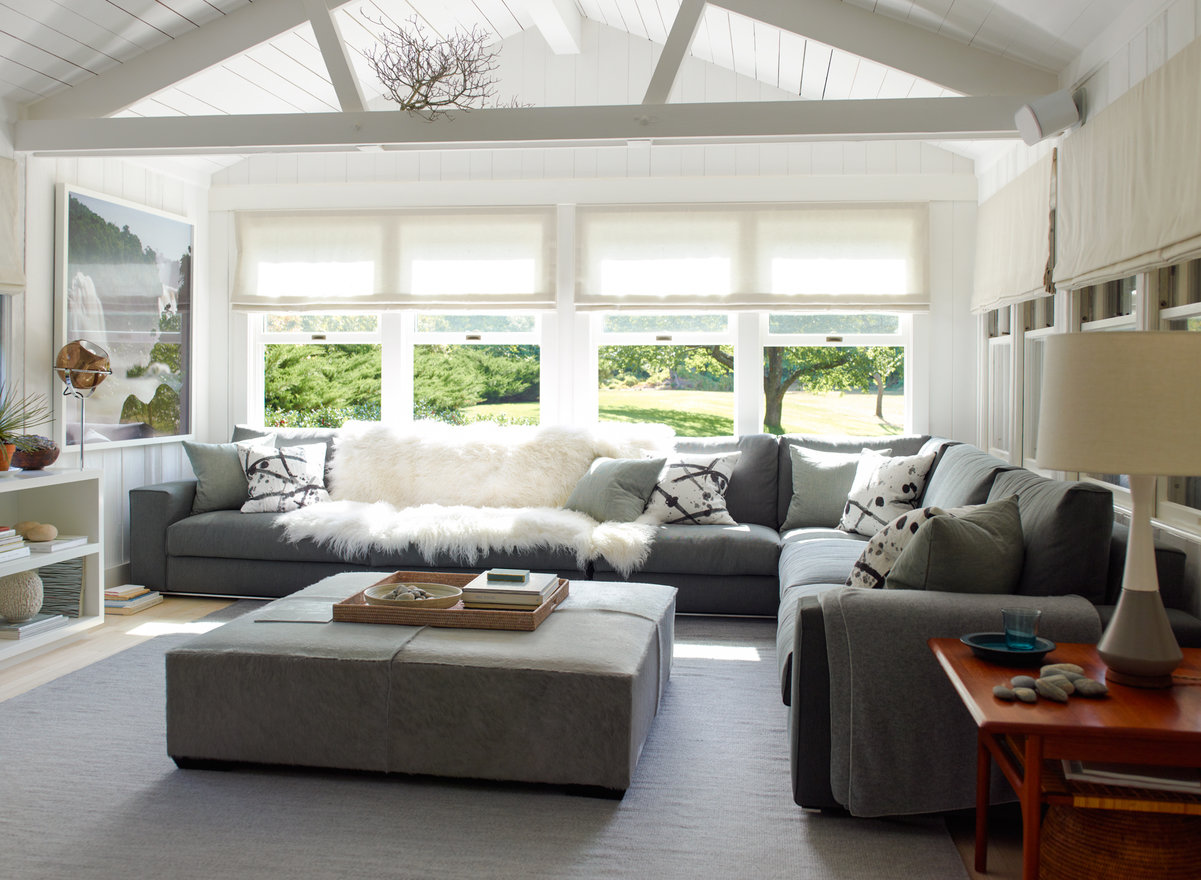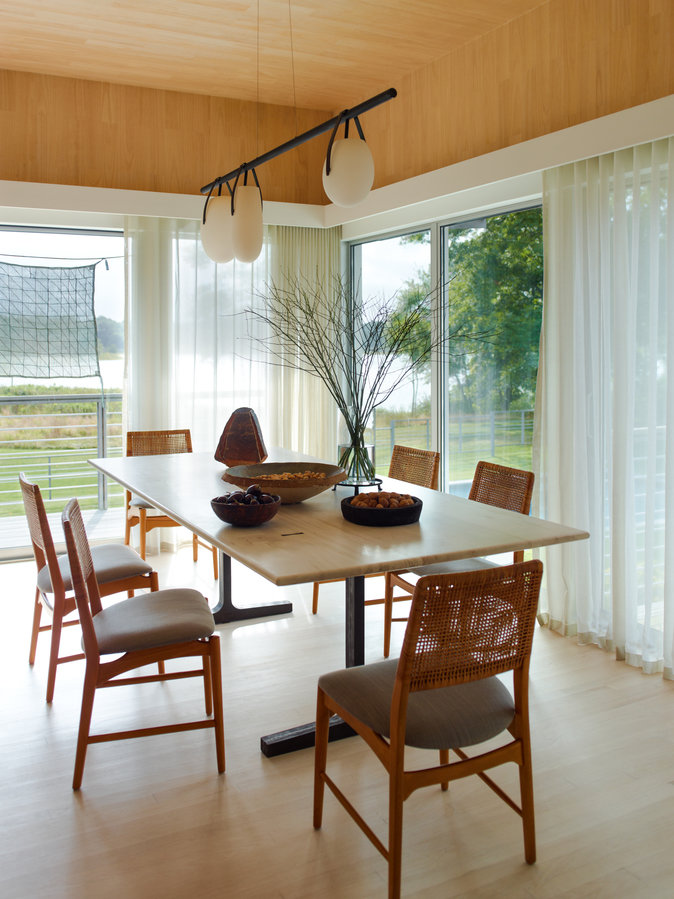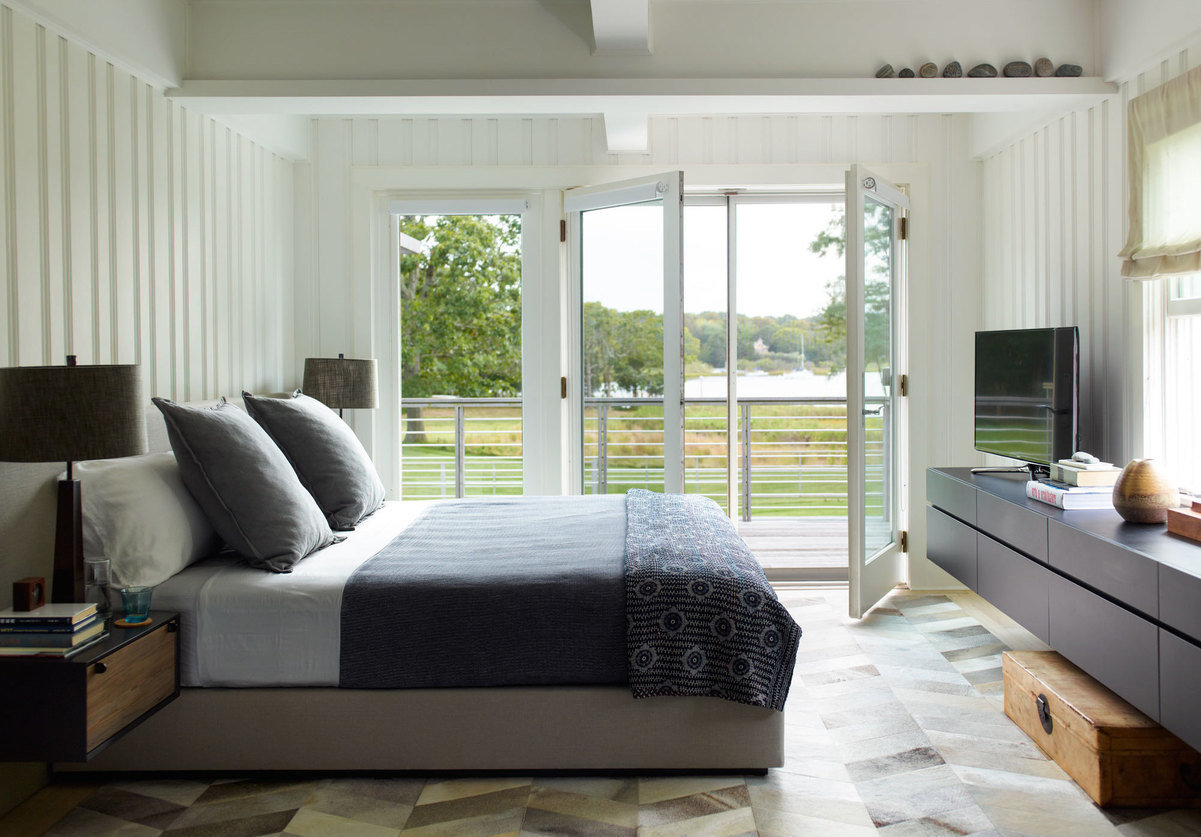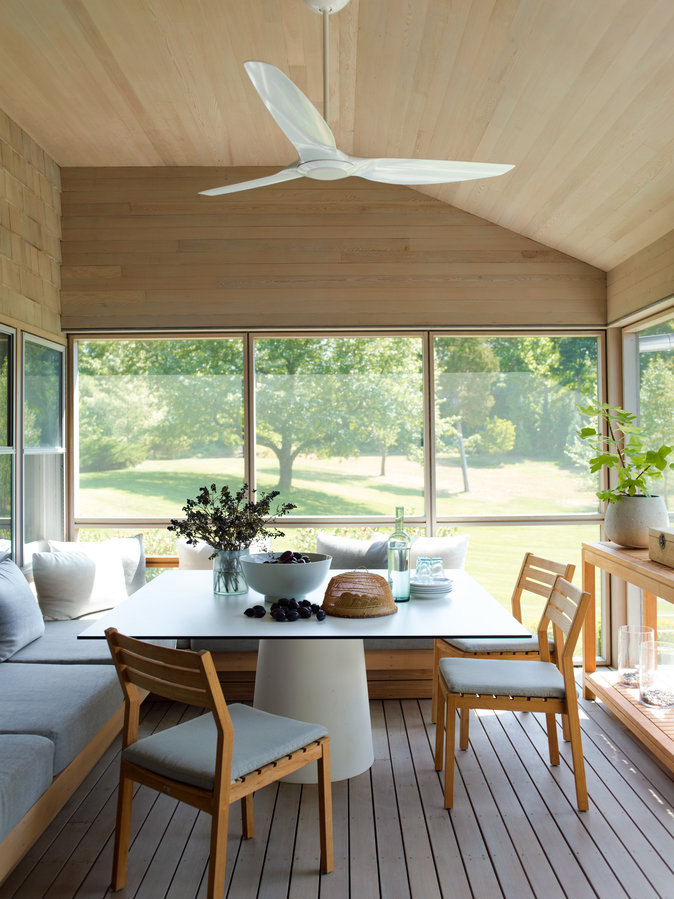 THIS HYBRID STRUCTURE BEGAN ITS LIFE AS A MODEST RANCH HOUSE BUILT AROUND 1960. FOUR DECADES LATER, IT WAS RENOVATED AND EXPANDED WITH A SUBSTANTIAL ADDITION THAT OPENED UP THE ORIGINAL ARCHITECTURE AND MADE IT FEEL LESS CLAUSTROPHOBIC. SEVERAL YEARS LATER, THE OWNER WISHED TO CREATE A CHILD-FRIENDLY WEEKEND GETAWAY HOUSE THAT HE COULD ENJOY WITH HIS YOUNG FAMILY. THE GOAL WAS TO RETAIN THE CONTEMPORARY SETTING WHILE WARMING IT UP AS MUCH AS POSSIBLE.
ONLY SUBTLE ALTERATIONS WERE MADE TO THE ARCHITECTURE. THE BIGGEST CHANGE WAS TO OPEN THE ENCLOSED KITCHEN TO THE LIVING AND DINING AREA SO THAT IT COULD FUNCTION AS ONE LARGE SPACE. AT THE HEART OF THIS NEW SPACE IS THE OPEN KITCHEN, WITH GRAY, GLOSS-LACQUERED CABINETS AND A STAINLESS-STEEL ISLAND TOPPED WITH A BUTCHER-BLOCK COUNTER. IN THE SCREENED- IN PORCH, AN ALTERNATE DINING AREA WITH A WRAPAROUND BANQUETTE WAS CREATED. THE HOME'S OAK FLOORS WERE STRIPPED AND BLEACHED THROUGHOUT, AND A WOOD VENEER WAS APPLIED TO THE UPPER WALLS AND CEILING OF THE MAIN LIVING AREA. RATHER THAN PUNCH HOLES IN THE LIVING ROOM CEILING FOR DOWNLIGHTS, LED LIGHTING WAS HIDDEN IN A VALANCE THAT ALSO CONCEALED THE DRAPERY TRACK. THE AMBIENT LIGHTING GIVES THE ENTIRE ROOM A WARM GLOW.
THE HOME WAS FURNISHED IN A WARM, NEUTRAL PALETTE USING WOOD, WOVEN MATERIALS, AND TEXTILES IN GRAYS, BLUES, AND TANS. SHELVING AND SEATING WERE KEPT DELIBERATELY LOW SO AS NOT TO INTERRUPT THE THREE-SIDED VIEW OUT TO THE WATER AND THE SURROUNDING COASTAL LANDSCAPE. THE USE OF SHEER DRAPERY FABRIC ADDS SOFTNESS AND LUMINOSITY TO THE SPACE. THE OVERALL EFFECT IS HANDSOME AND RELAXED.
PHOTOS: ERIC PIASECKI