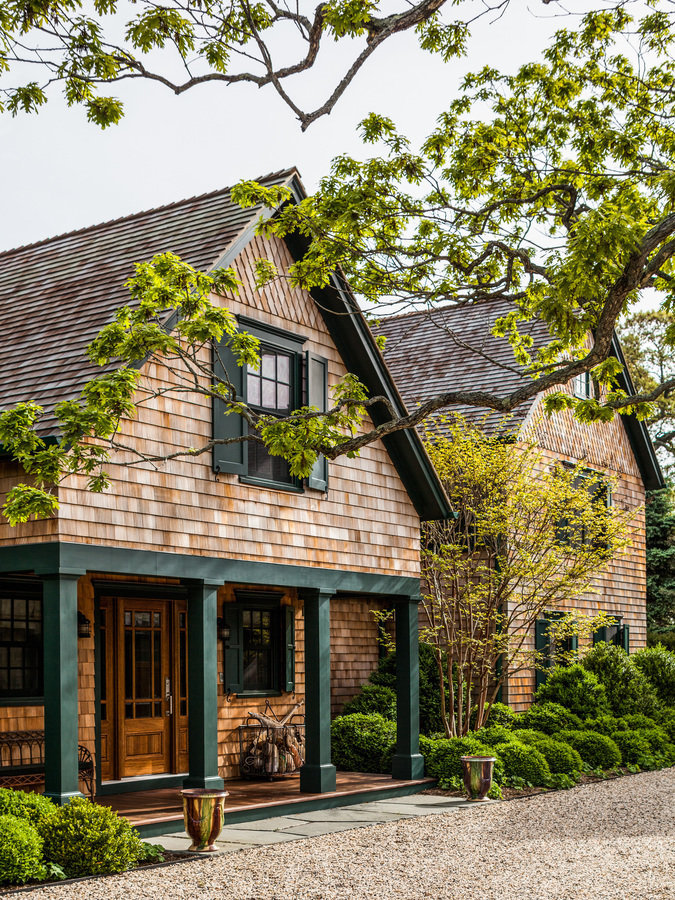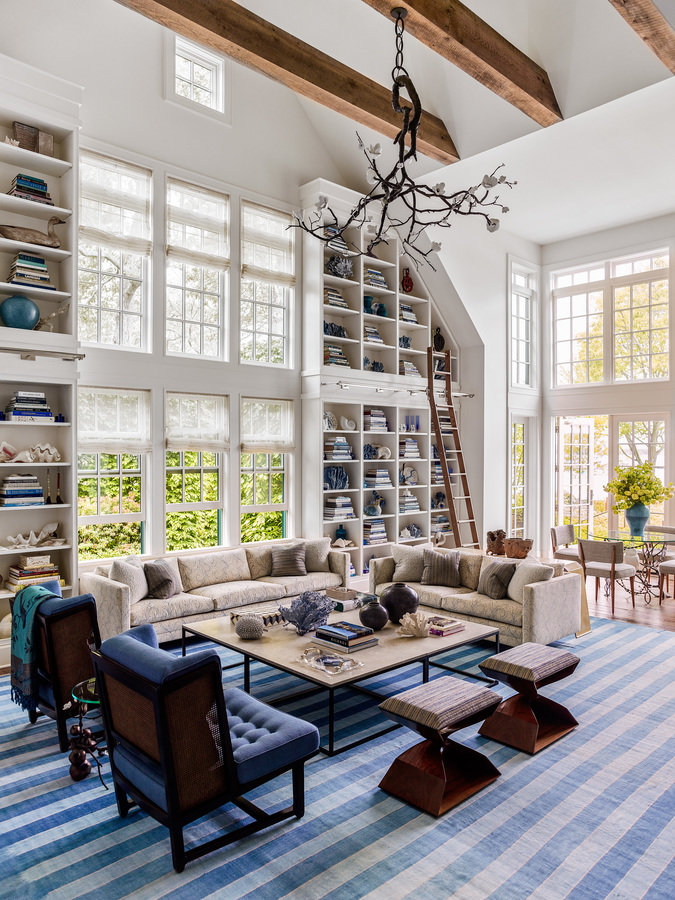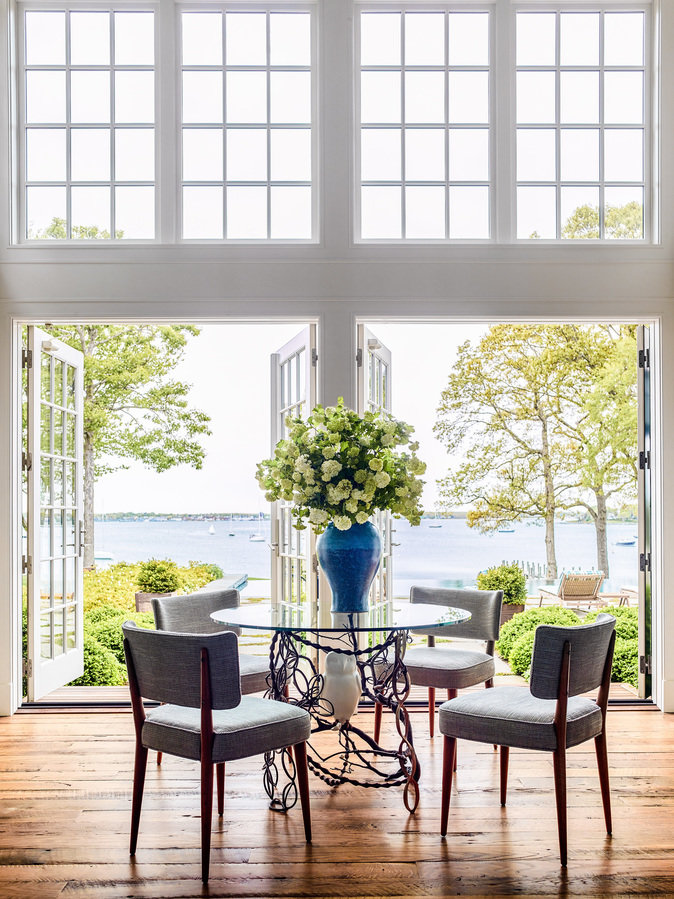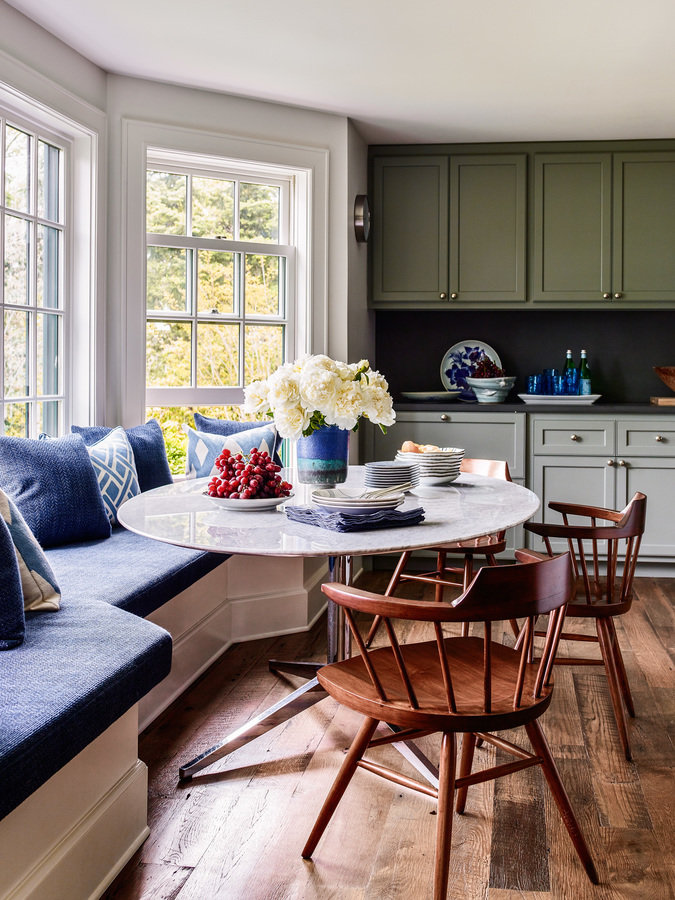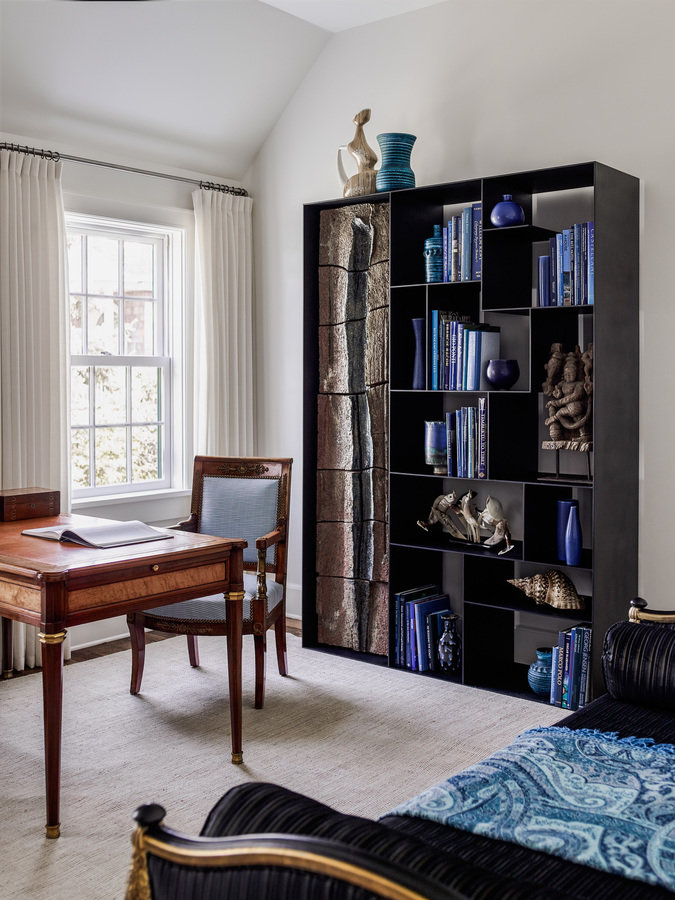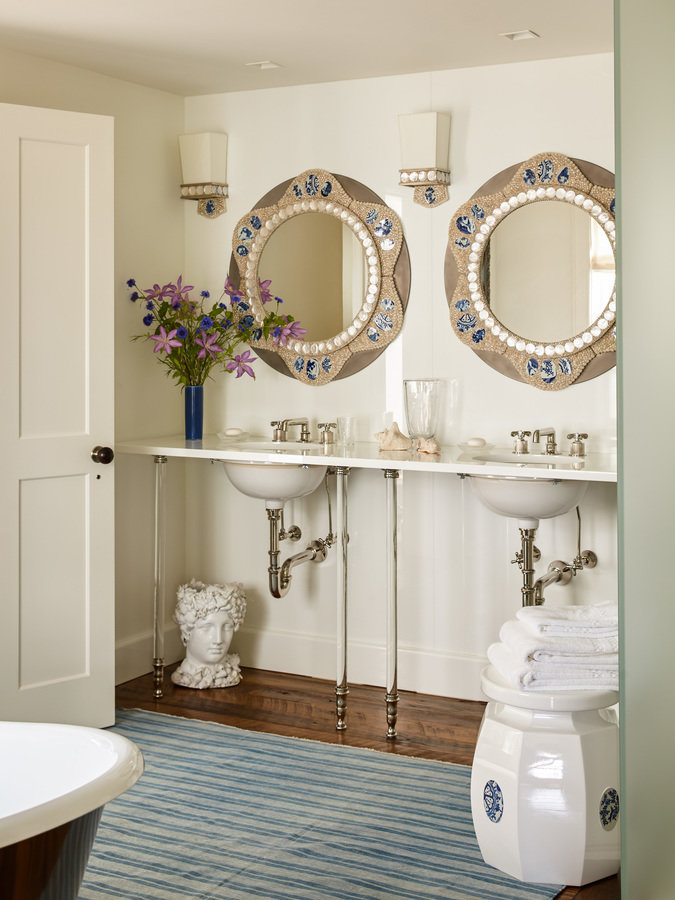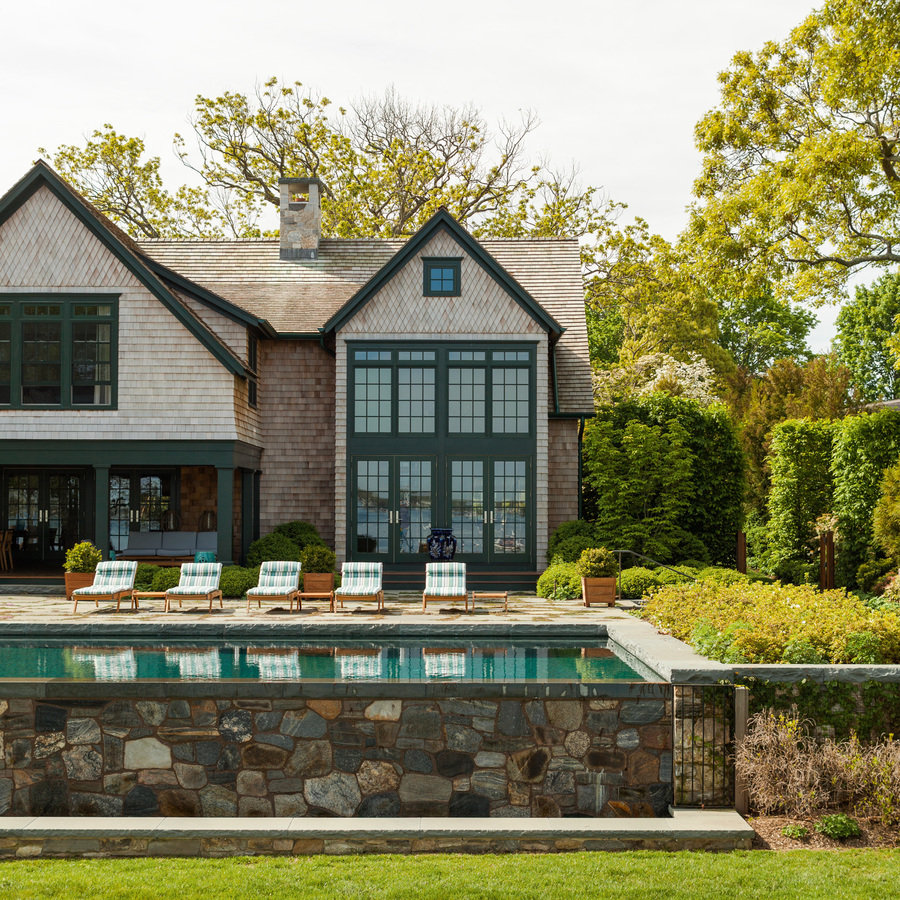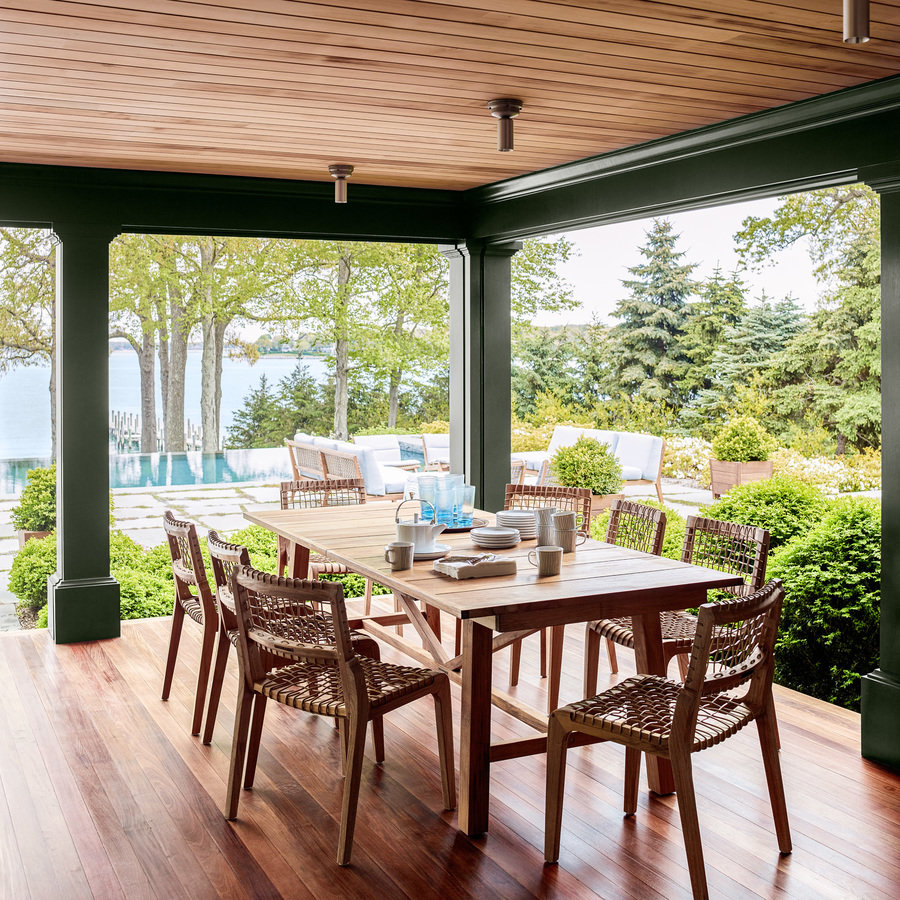 THIS PROPERTY ON SHELTER ISLAND, NEW YORK, WAS PURCHASED TO SERVE AS A SUMMER RETREAT AND A PLACE FOR THE CLIENT TO MOOR THEIR BOAT. THE ORIGINAL HOUSE—BUILT IN THE 1950S AND MODERNIZED IN 2004—HAD AN ARTS AND CRAFTS–STYLE EXTERIOR THAT NEEDED A RENOVATION. MR SET OUT ON A NEAR COMPLETE RE-BUILD OF THE HOME WITH THE GOAL OF CREATING AN ENVIRONMENT WHERE THE CLIENTS COULD ESCAPE THEIR INTENSE URBAN LIVES AND RELAX WITH FAMILY AND FRIENDS.
THE HOUSE WAS STRIPPED TO ITS ORIGINAL STRUCTURE AND A NEW DESIGN WAS BUILT ON THE FOOTPRINT OF THE OLD ONE, MAXIMIZING VIEWS OF THE SURROUNDING LANDSCAPE AND WATERFRONT. THE CENTERPIECE OF THE NEW HOUSE IS THE DRAMATIC, DOUBLE-HEIGHT LIVING ROOM IN BLUE AND WHITE. TO WARM UP THE VOLUMINOUS SPACE, THE WALLS WERE LINED WITH BOOKS AND DECORATIVE OBJECTS. MANY OF THE PIECES INSIDE OF THE HOUSE WERE CUSTOM DESIGNED, INCLUDING CHANDELIERS BY DAVID WISEMAN, MIRRORS AND SCONCES BY THOMAS BOOG, AND AN ENTRY CONSOLE AND STOOLS BY CAROL EGAN. EACH OF THE ROOMS DISPLAYS A SOPHISTICATED MIX OF FURNISHINGS FROM ECLECTIC PERIODS AND SOURCES. THE IDEA WAS TO FILL THE HOME WITH WELL-LOVED PIECES THAT WERE NOT SO PRECIOUS, PIECES THAT COULD HAVE OTHERWISE INHIBITED A COMPLETELY CASUAL LIFESTYLE.
BEYOND THE MAIN HOUSE, WITH ITS LARGE SCREENED-IN PORCH AND TERRACES, THE PROPERTY, WITH ITS ROLLING HILLS THAT EXTEND TO THE BOAT'S DOCK, INCLUDES A NEW GUESTHOUSE, GARAGE, INFINITY POOL, AND TENNIS COURT, GIVING IT THE FEELING OF A SMALL COMPOUND. THE END RESULT IS A PERFECT SETTING FOR WORLD-CLASS LEISURE.
PHOTOS: ERIC PIASECKI