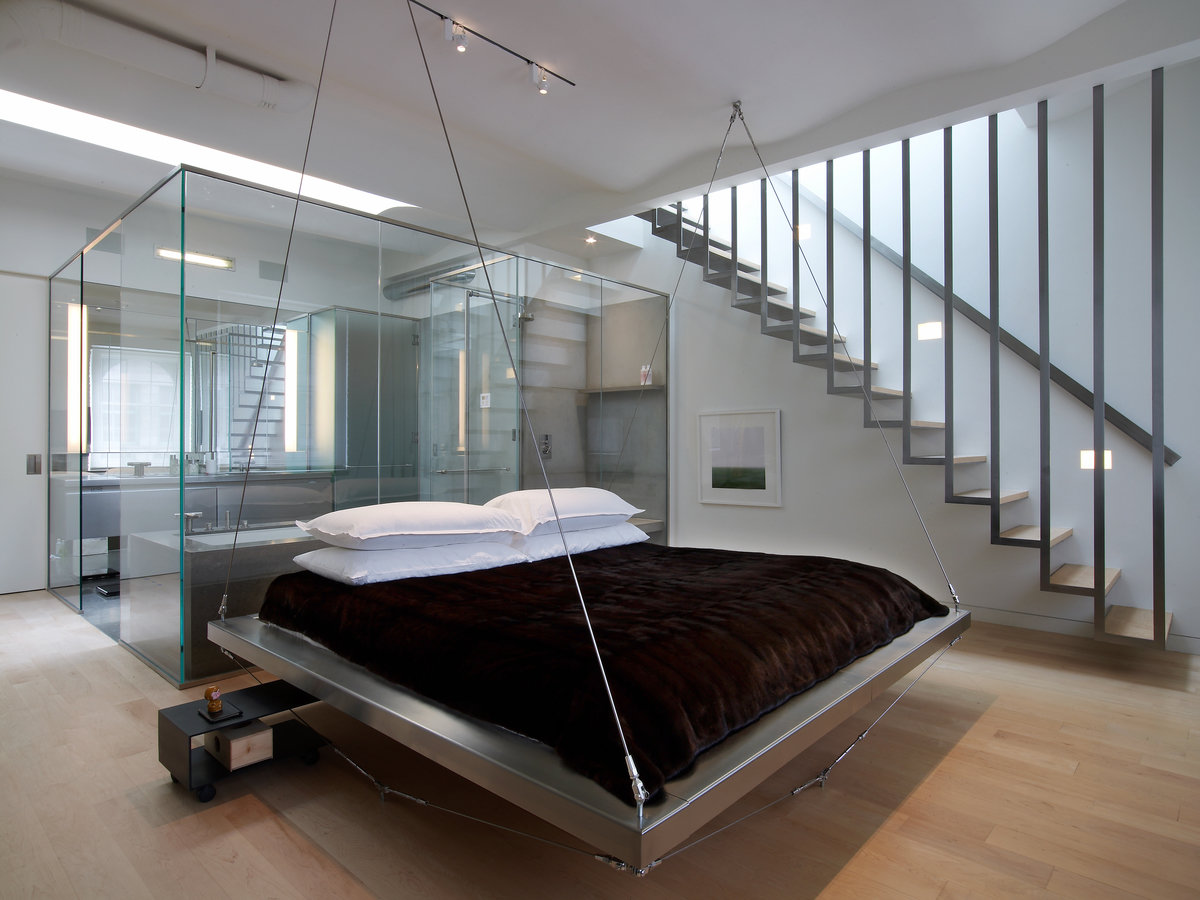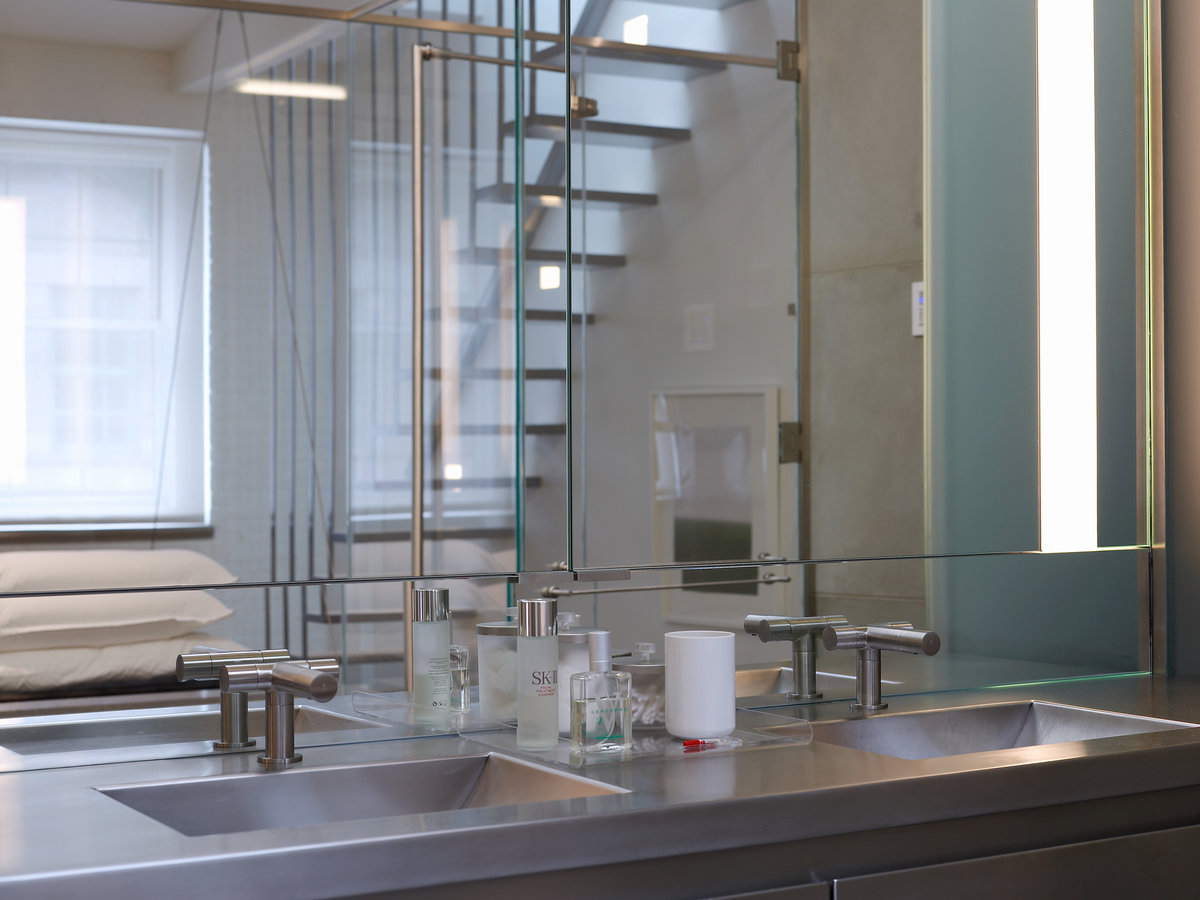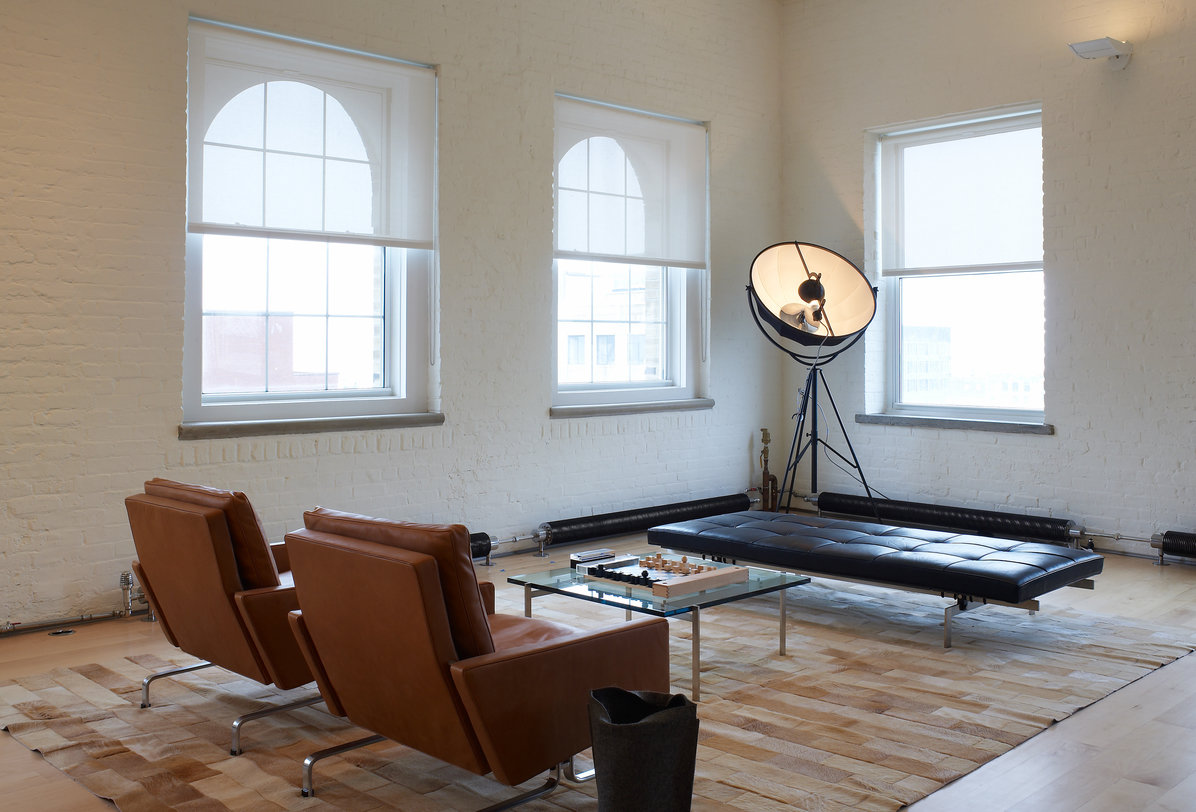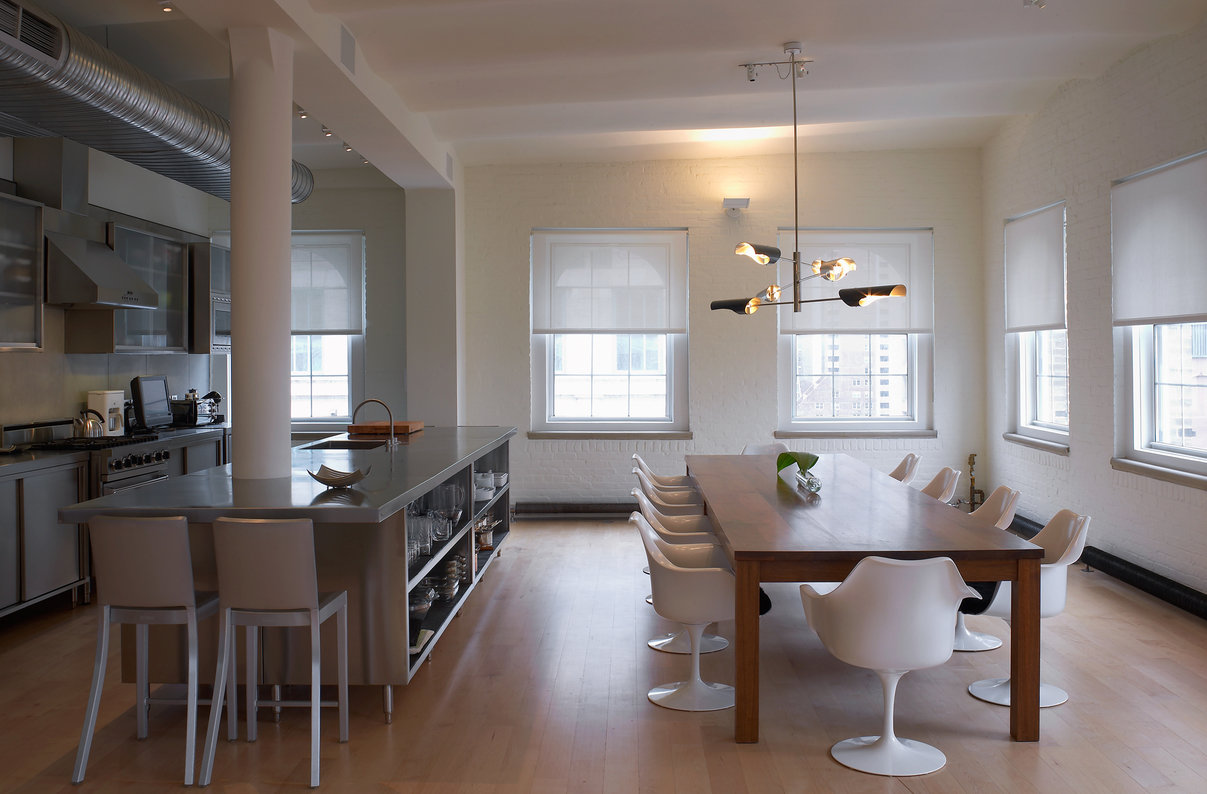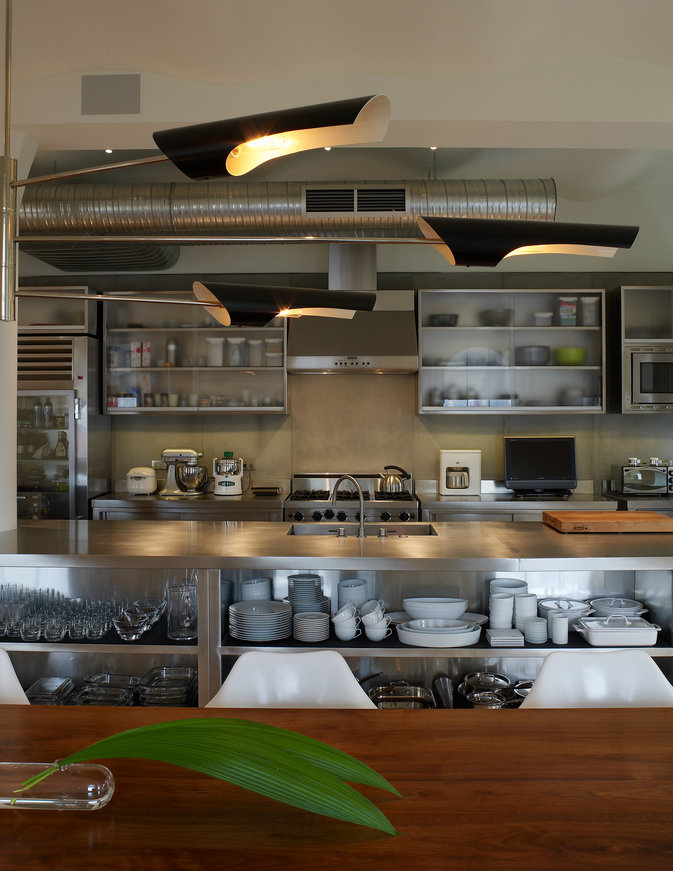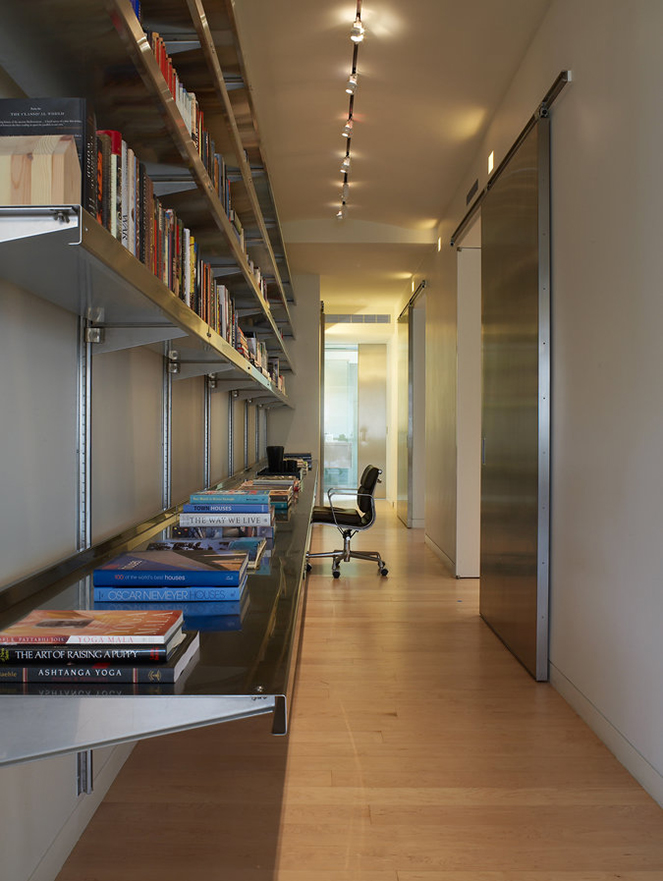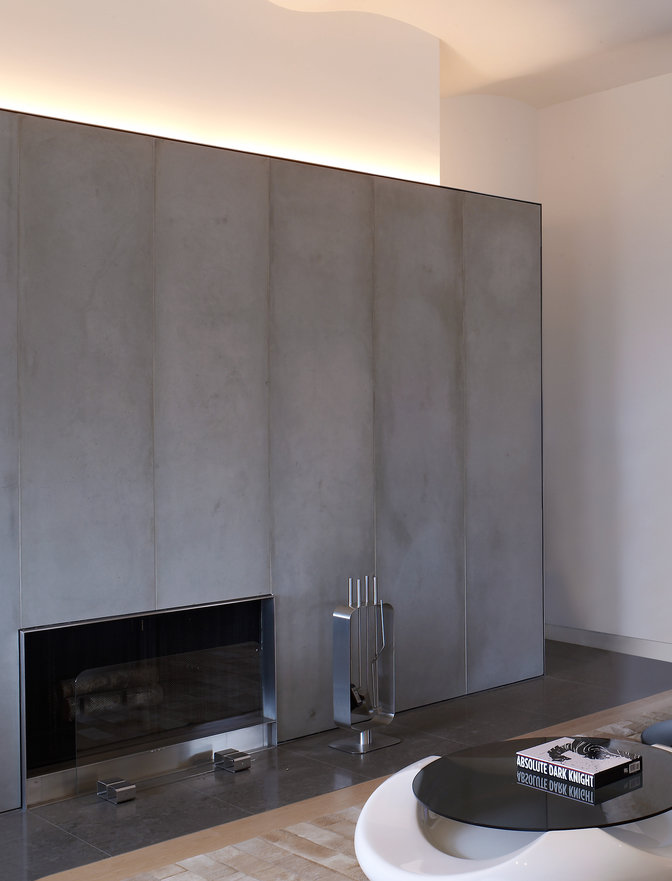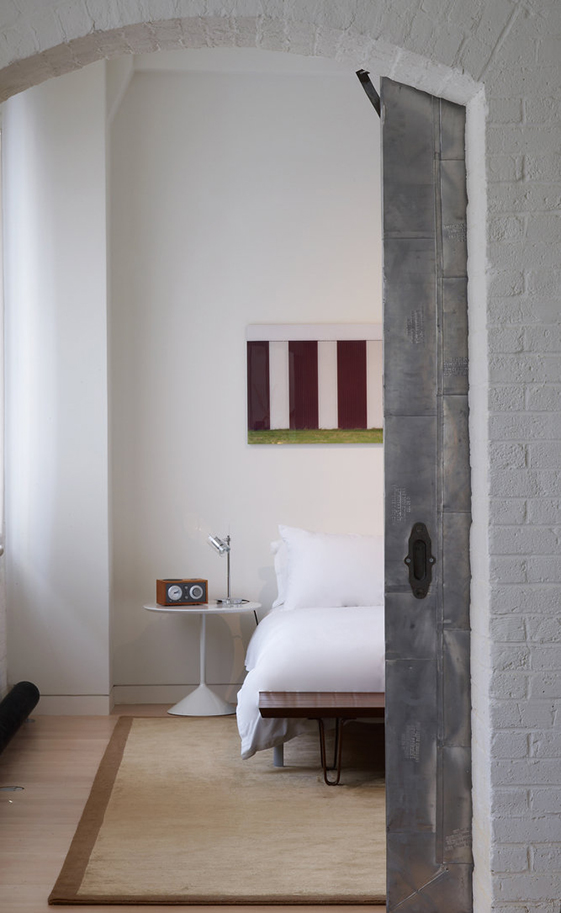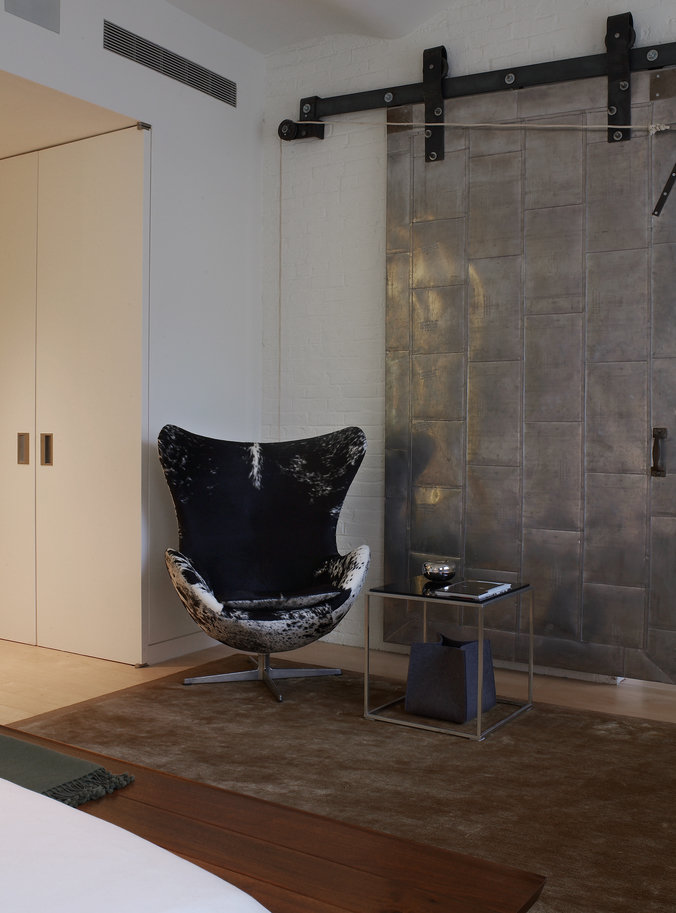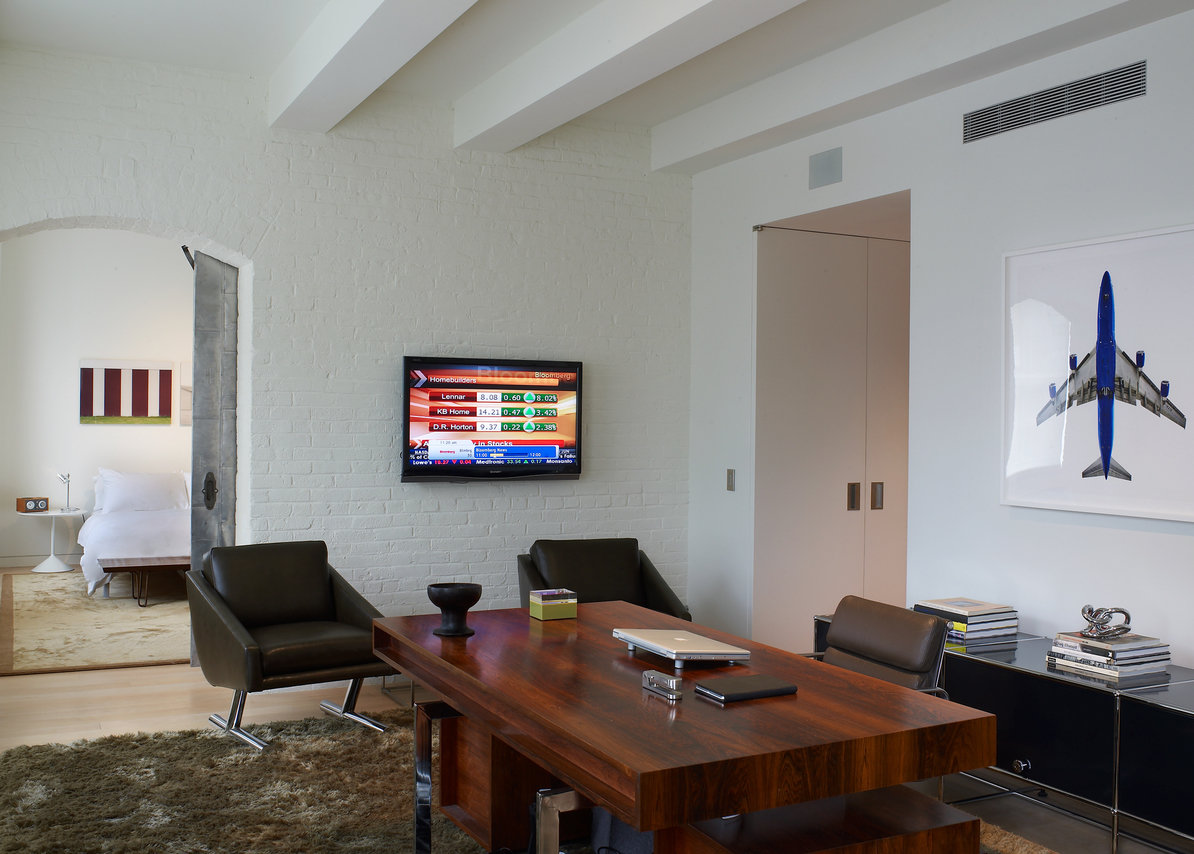 THIS 4,000-SQUARE-FOOT APARTMENT IS A PENTHOUSE LOFT, LOCATED IN MANHATTAN'S TRIBECA NEIGHBORHOOD. IT HAD RECENTLY BEEN DECORATED IN A 1970S POP ART STYLE WITH FLUORESCENT- HUED WALLS AND LIPSTICK-RED UPHOLSTERED SEATING. THE CLIENT SOON REALIZED HE WANTED A MORE REFINED ENVIRONMENT WHERE HE COULD COMFORTABLY WORK, SLEEP, AND ENTERTAIN. HE HIRED MR TO DO A GUT RENOVATION.
THE MOST OBVIOUS ISSUE IN THE APARTMENT WAS THE LAYOUT. THERE WERE NUMEROUS WALLS AND PARTITIONS THAT INTERRUPTED THE FLOW OF THE SPACE AND BLOCKED THE WONDERFUL VIEWS OF THE HUDSON RIVER FROM THREE EXPOSURES. AT THE SAME TIME, FOR ALL OF ITS VAST ACRES OF SPACE, THE PENTHOUSE HAD JUST TWO BEDROOMS AND TWO BATHS. A NEW FLOOR PLAN WAS DEVISED, REMOVING THE PARTITION THAT SEPARATED THE KITCHEN AND LIVING ROOM TO CREATE A CONTIGUOUS LIVING, DINING, AND KITCHEN AREA WITH AN AIRY OPENNESS THAT IS RARE FOR A RESIDENCE IN NEW YORK CITY. IN THE PRIVATE WING, FOUR BEDROOMS AND FOUR BATHS WERE CARVED OUT. GREAT EFFORT WAS TAKEN TO PRESERVE AS MUCH AS POSSIBLE OF THE LOFT'S EXISTING ARCHITECTURE, INCLUDING ITS MASSIVE ROLLING STEEL DOORS, VAULTED CEILINGS, ARCHED TOP WINDOWS, AND EXPOSED BRICK WALLS.
BY DESIGN, THE SEXIEST SPACE IN THE LOFT IS THE PRIMARY BEDROOM SUITE. HERE, THE BATH IS PLAYFULLY ENCLOSED IN A GLASS BOX ADJACENT TO AND VIEWABLE FROM THE BEDROOM. MEANWHILE, A SUSPENDED STEEL BED HANGS FROM METAL CABLES AND, IN THE SAME SPACE, A STAIRCASE TO THE ROOF IS SUSPENDED FROM THE CEILING, CREATING AN OVERALL SENSATION OF SUBLIME TENSION. THE NEW ARCHITECTURAL AND DECORATIVE DETAILS WERE INSPIRED BY THE INDUSTRIAL HISTORY OF NEIGHBORHOOD.
PHOTOS: ERIC LAIGNEL