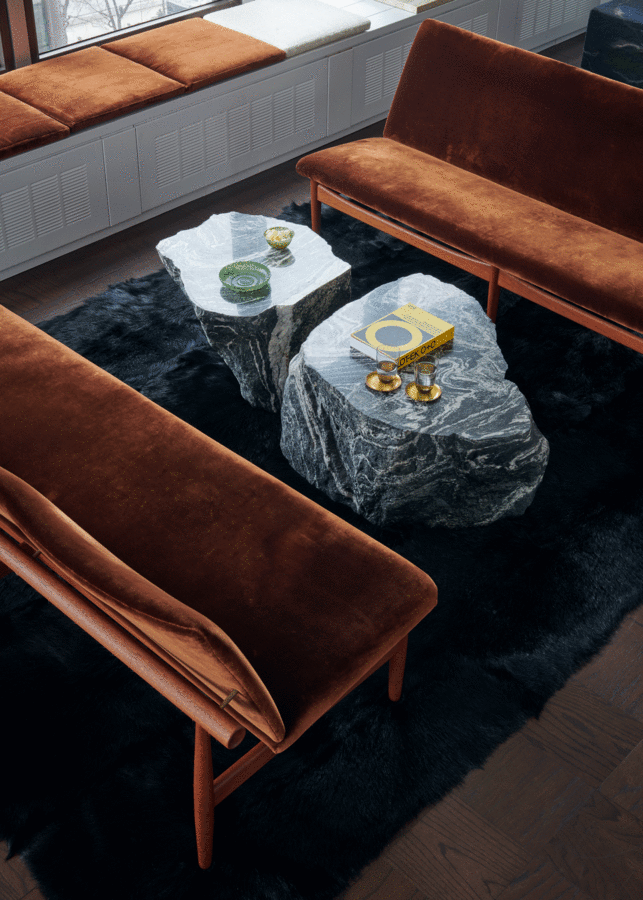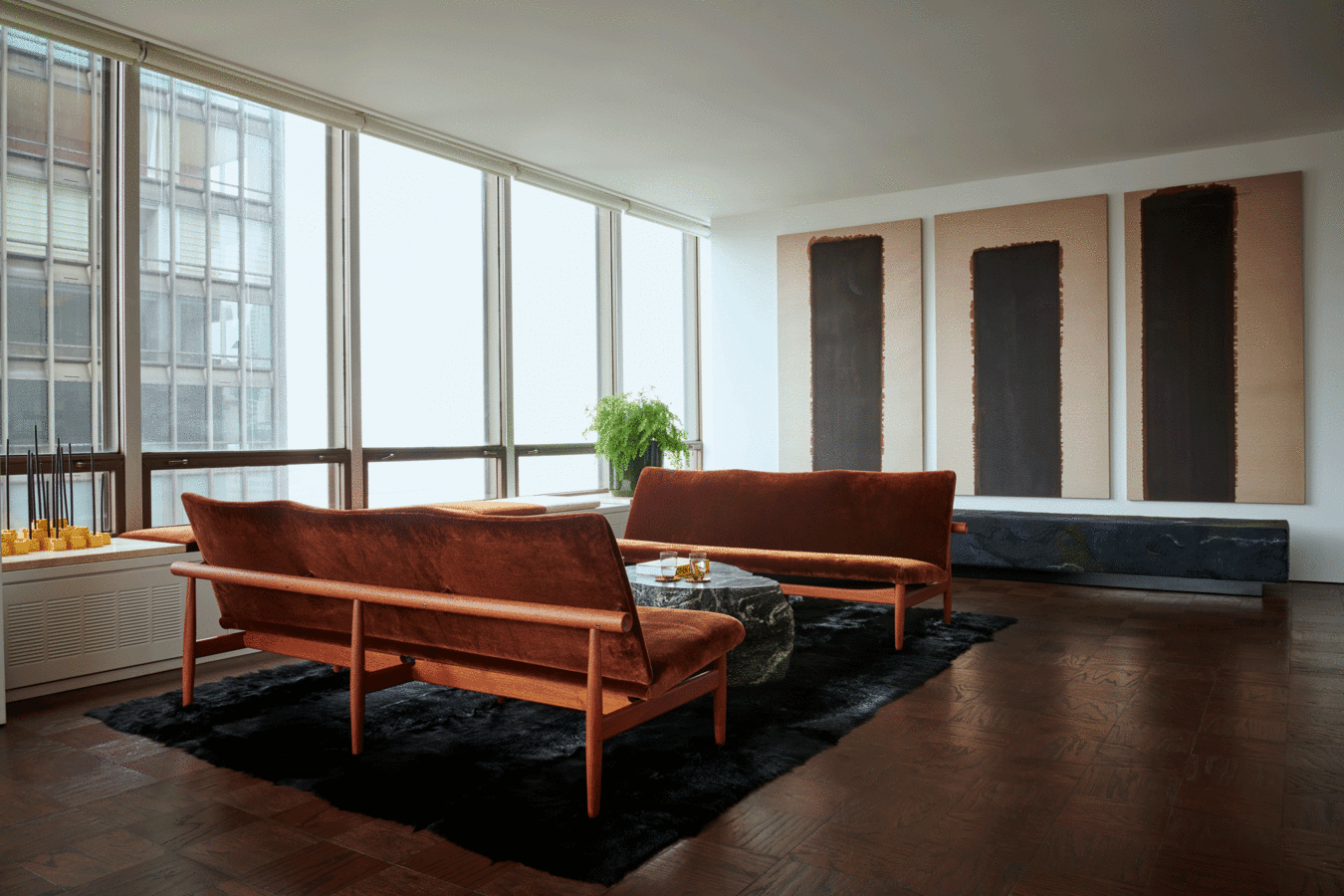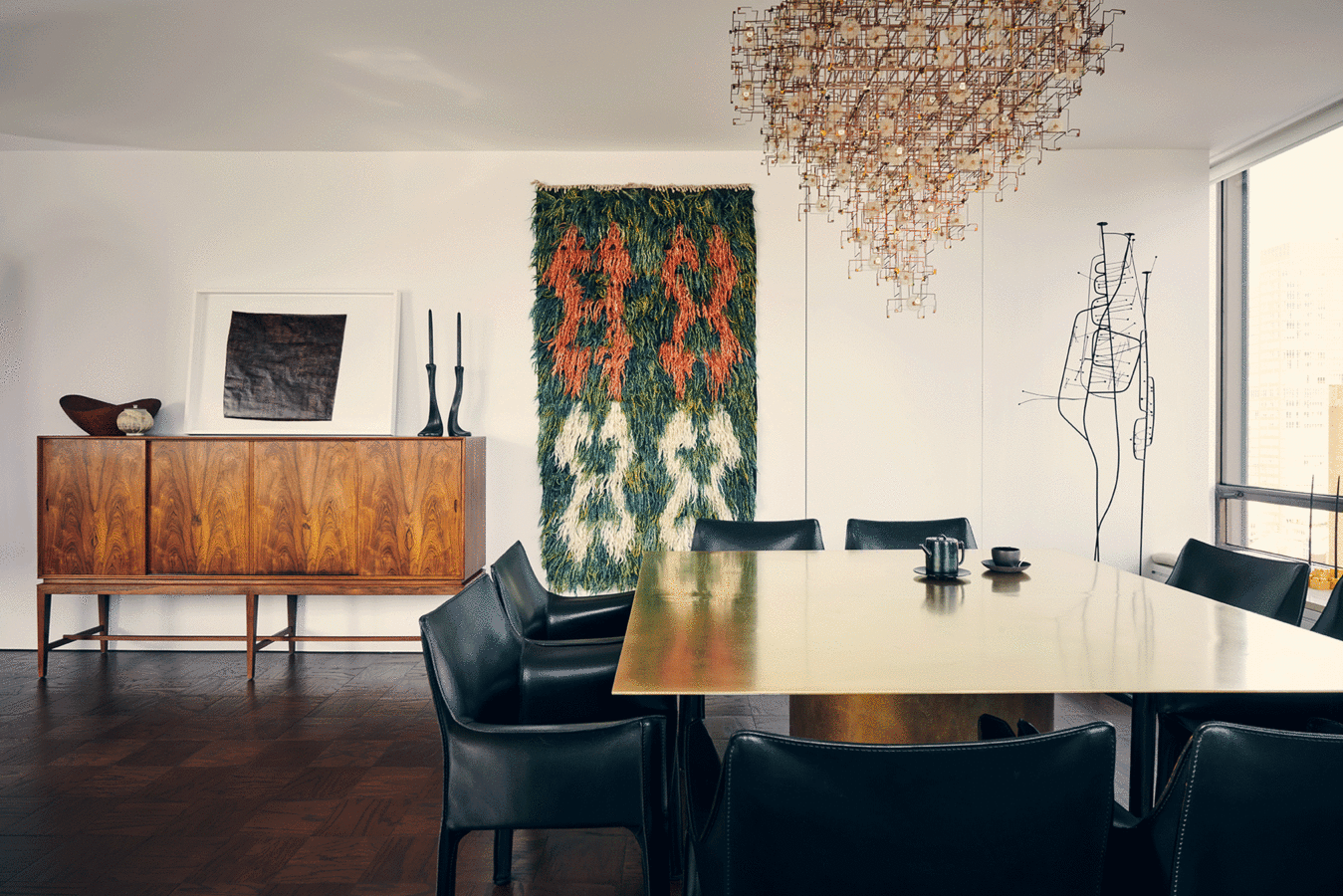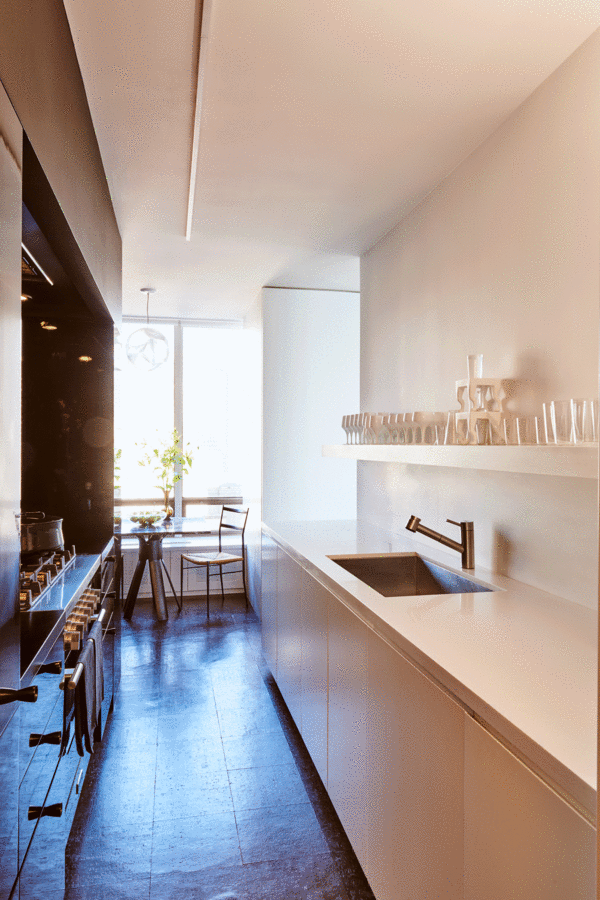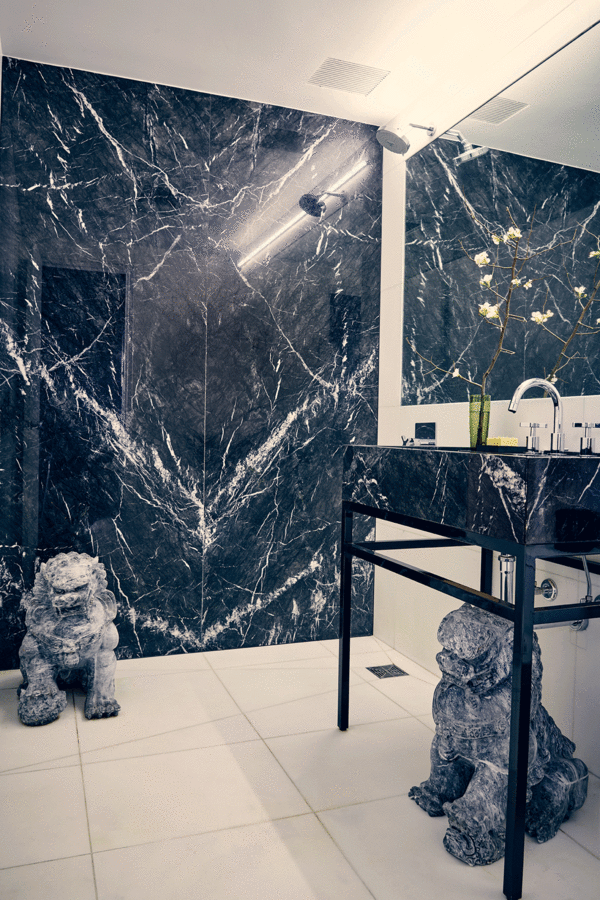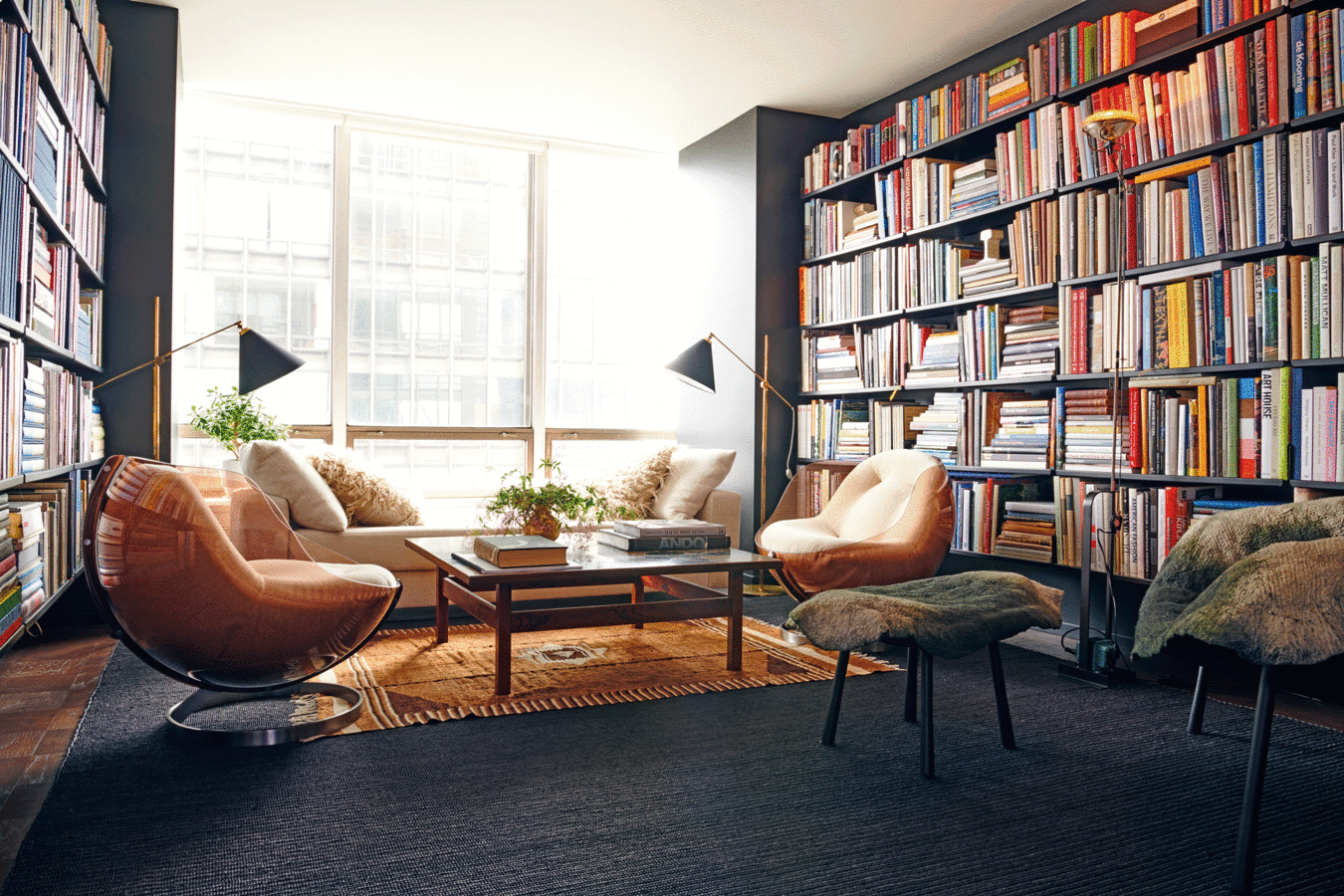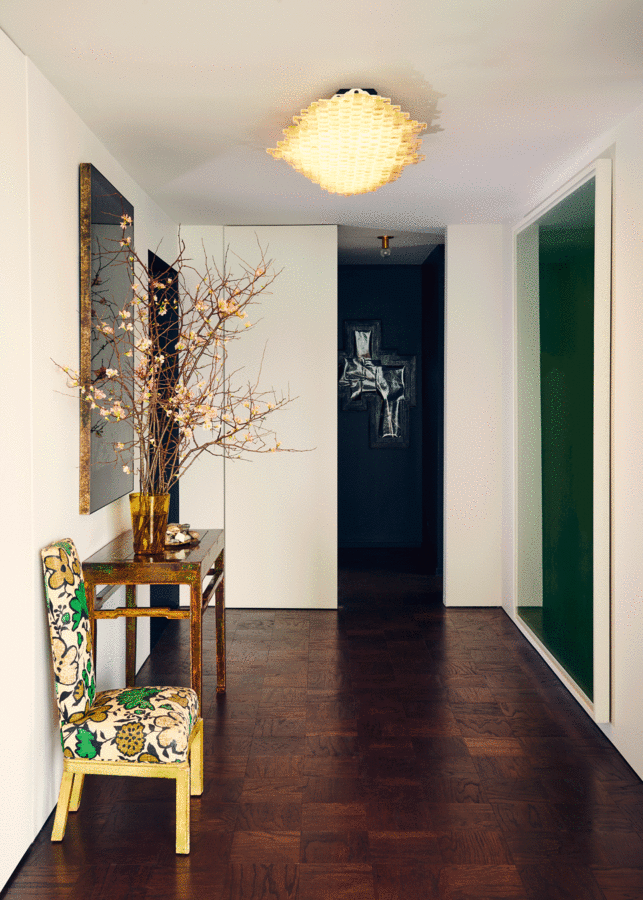 THIS 19TH FLOOR RESIDENCE IS LOCATED IN UNITED NATIONS PLAZA, A PAIR OF MODERNIST TOWERS DESIGNED IN 1966 BY WALLACE HARRISON AND MAX ABRAMOVITZ. THE 1,800-SQUARE FOOT FLOOR PLAN INCLUDES AN OPEN LIVING AND DINING ROOM, TWO BEDROOMS, TWO BATHROOMS AND A KITCHEN WITH A BREAKFAST NOOK.
A BLACK AND WHITE PARTI IS REPEATED THROUGHOUT, IN DIFFERENT WAYS. BLACK WALLS WERE SELECTIVELY INSERTED IN THE PREDOMINANTLY WHITE PAINTED SPACE. IN THE RENOVATED KITCHEN, ONE ENTIRE WALL IS BLACK, INCLUDING THE APPLIANCES, THE COUNTER AND CABINETRY, AND THE TILE BACKSPLASH. OPPOSITE, THE WALL, COUNTER, SHELVING AND CABINETRY AND A MOROCCAN TILE WALL. ON THE OPPOSING SIDE, THE WALL, COUNTER, SHELVING AND CABINETRY ARE ALL WHITE. THE LIBRARY/GUEST ROOM AND THE ENTRY WERE ENTIRELY PAINTED BLACK. IN THE NEW PRIMARY BATHROOM, AN ALL-WHITE THASSOS SHELL HAS A BOOK-MATCHED NERO MARQUINA SHOWER WALL AND A CUSTOM SINK BASIN.
THE APARTMENT WAS FURNISHED WITH A MIX OF OLD AND NEW PIECES. IN THE FOYER, THERE IS A VINTAGE JAMES MONT CHAIR UPHOLSTERED IN THE ORIGINAL POP-FLORAL TEXTILE, ALONGSIDE A CONSOLE. A WOLFGANG TILLMANS PRINT IN A DEEP GREEN COLOR HANGS OPPOSITE. THE FLUSH MOUNT LIGHT ABOVE BY COMA STUDIO IS CALLED LACE NO 1., MADE FROM PIECES OF SALVAGED GLASS FROM THE 1950s. IN THE LIVING ROOM, THE PAIR OF SOFAS ARE FROM 1953 DESIGNED BY FINN JUHL. STONE SCULPTURES BY KOREAN ARTIST YONGJIN HAN SERVE AS COFFEE TABLES. A TRIPTYCH BY YUN HYONG-KEUN HANGS OVER A FELT WOOL BENCH BY DANA BARNES. OVER THE CUSTOM-DESIGNED, SOLID BRASS DINING TABLE IS SUSPENDED A DANDELION BLOSSOM CHANDELIER BY DRIFT STUDIO THAT REFLECTS IN THE SURROUNDING CURTAIN WALLS WHEN ENTERTAINING.
PHOTOS: FRANCOIS DISCHINGER