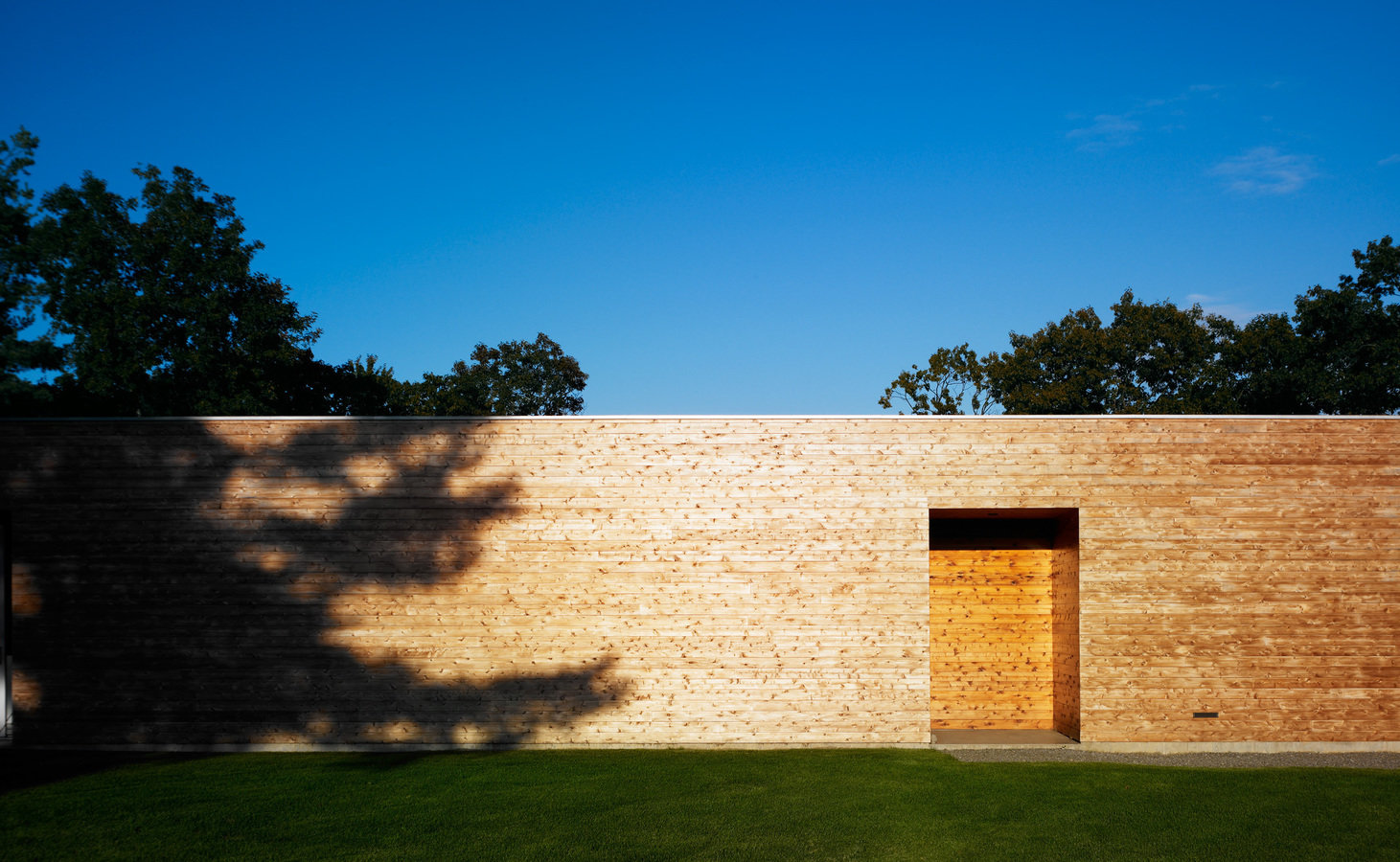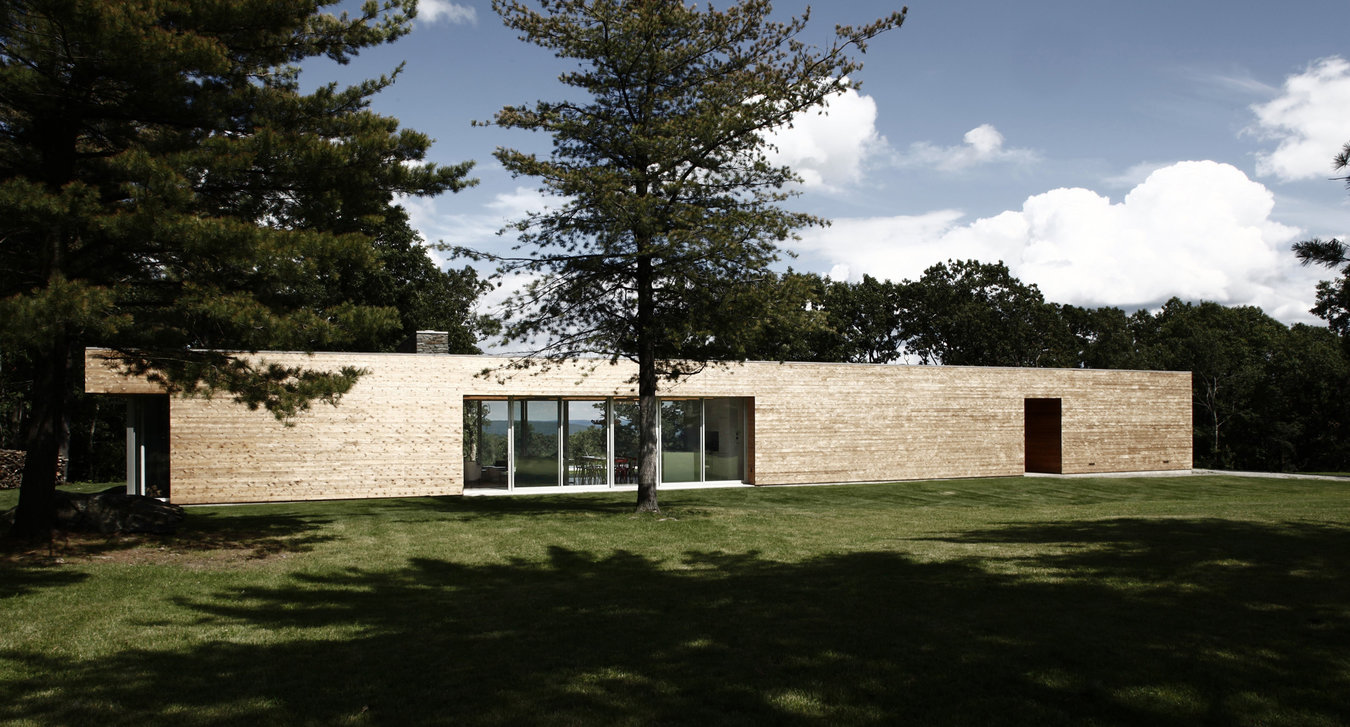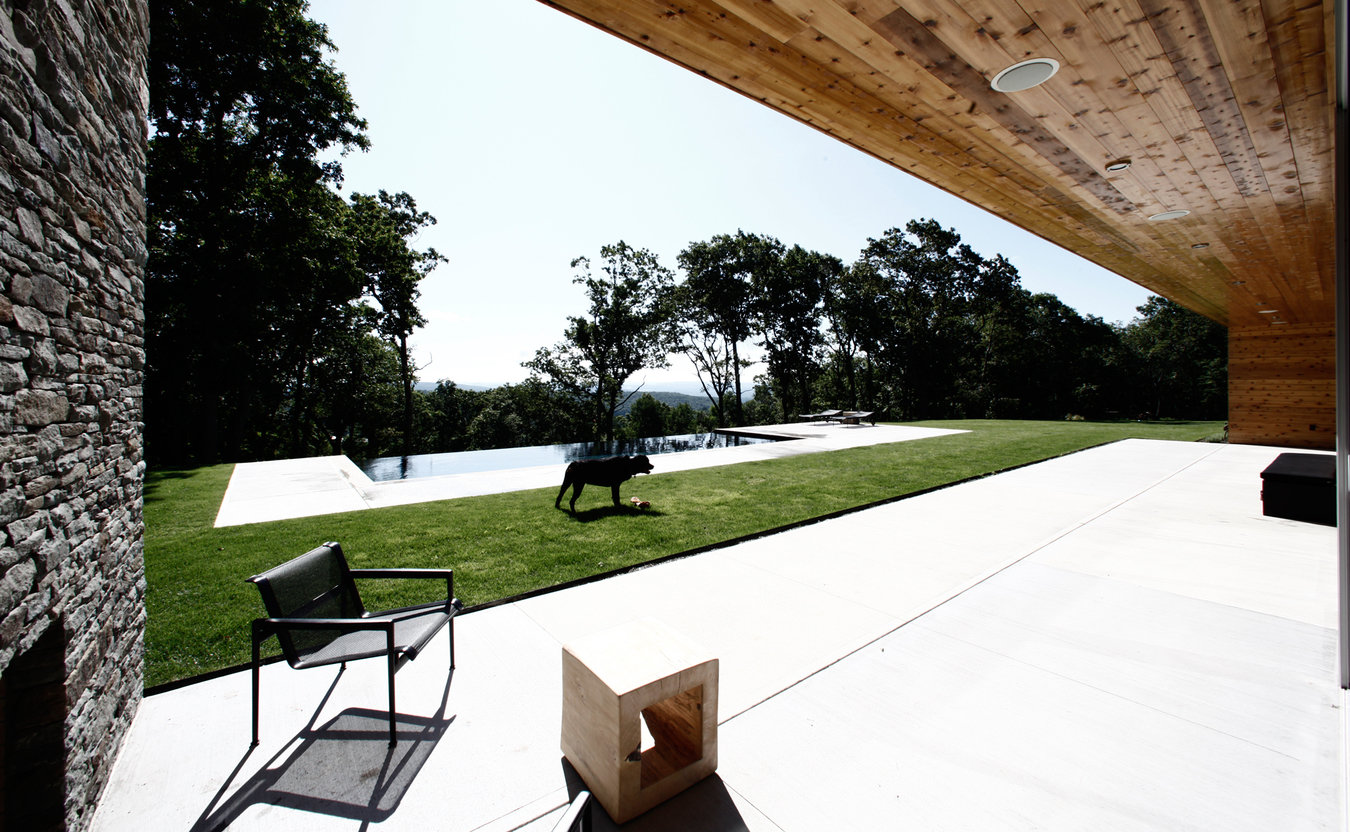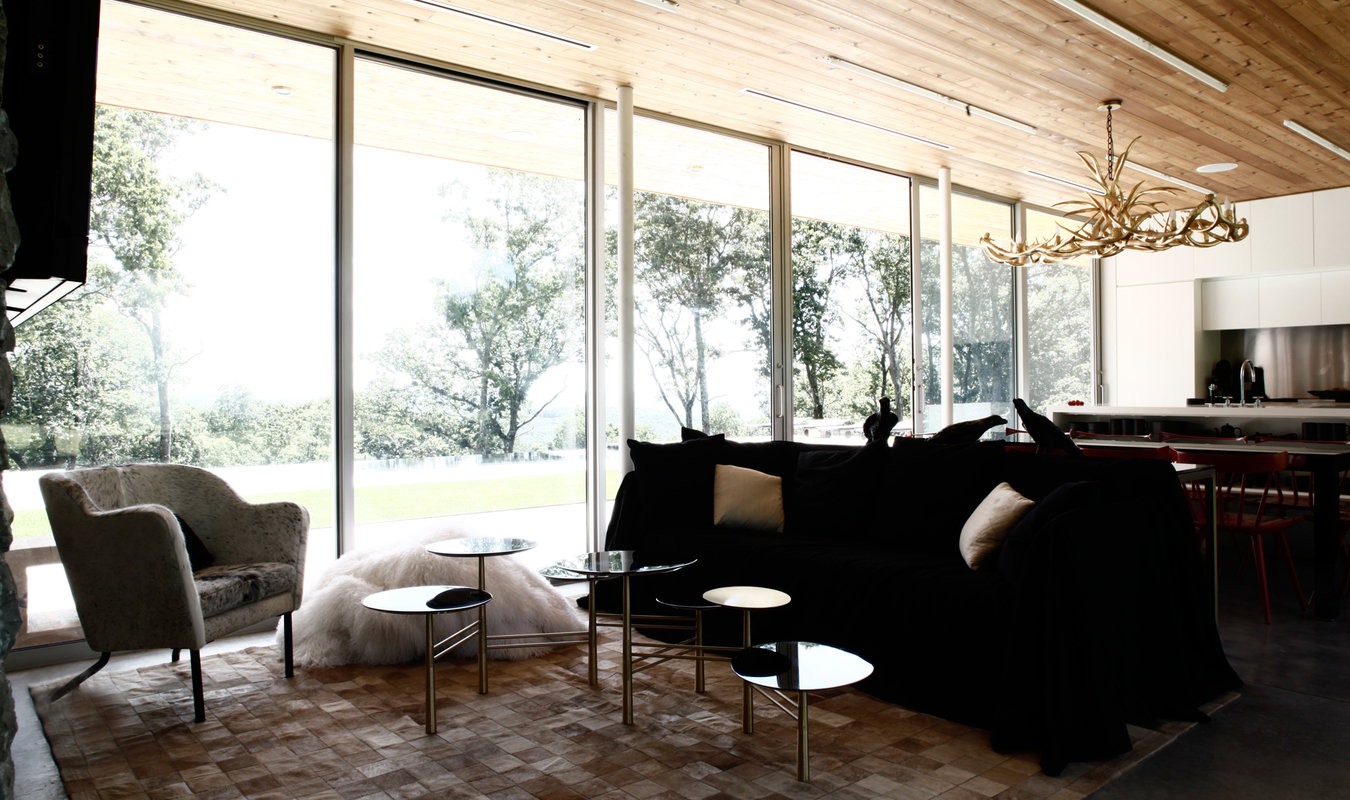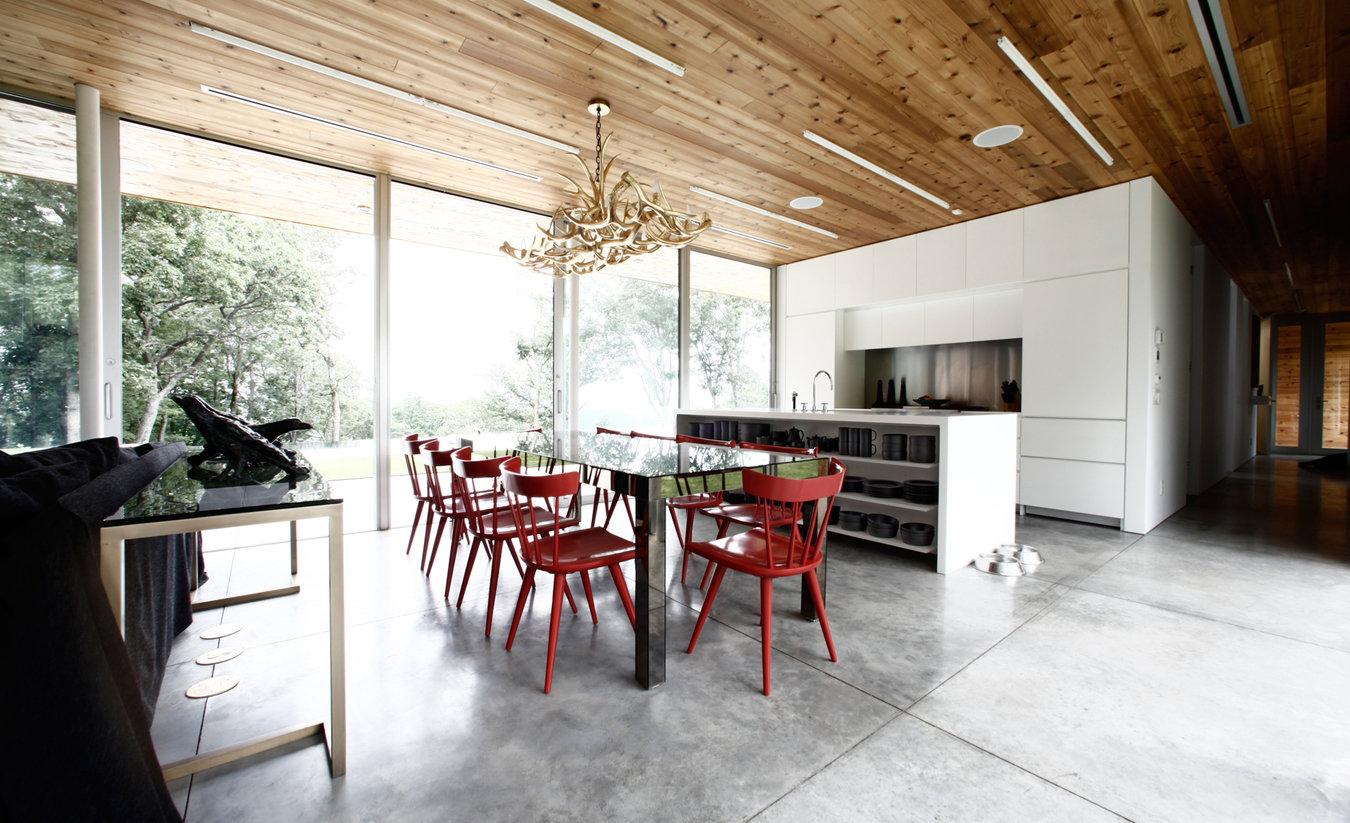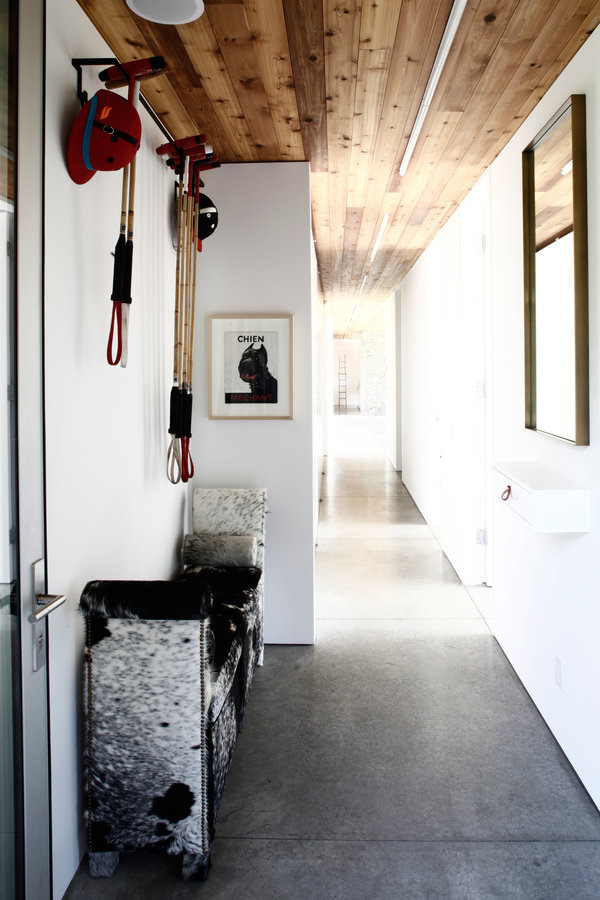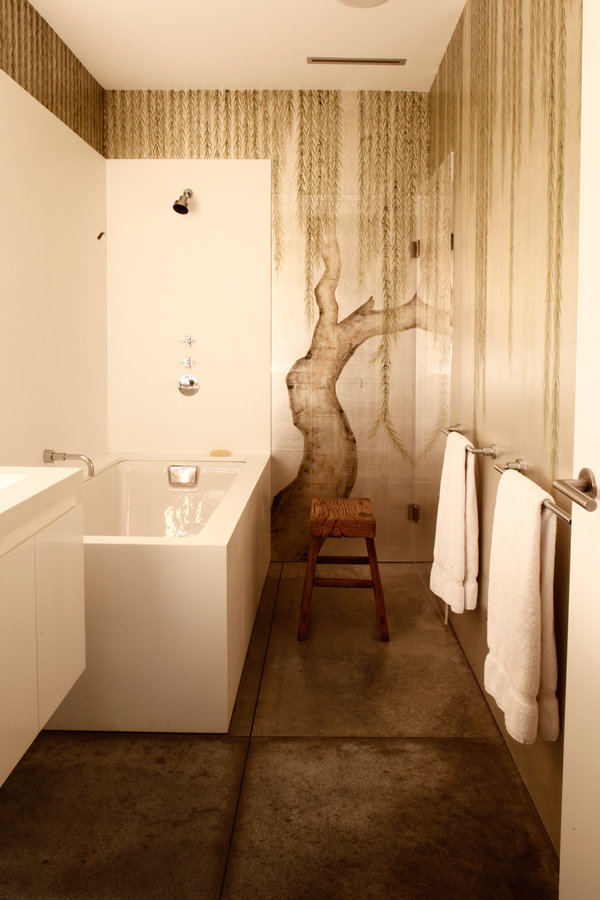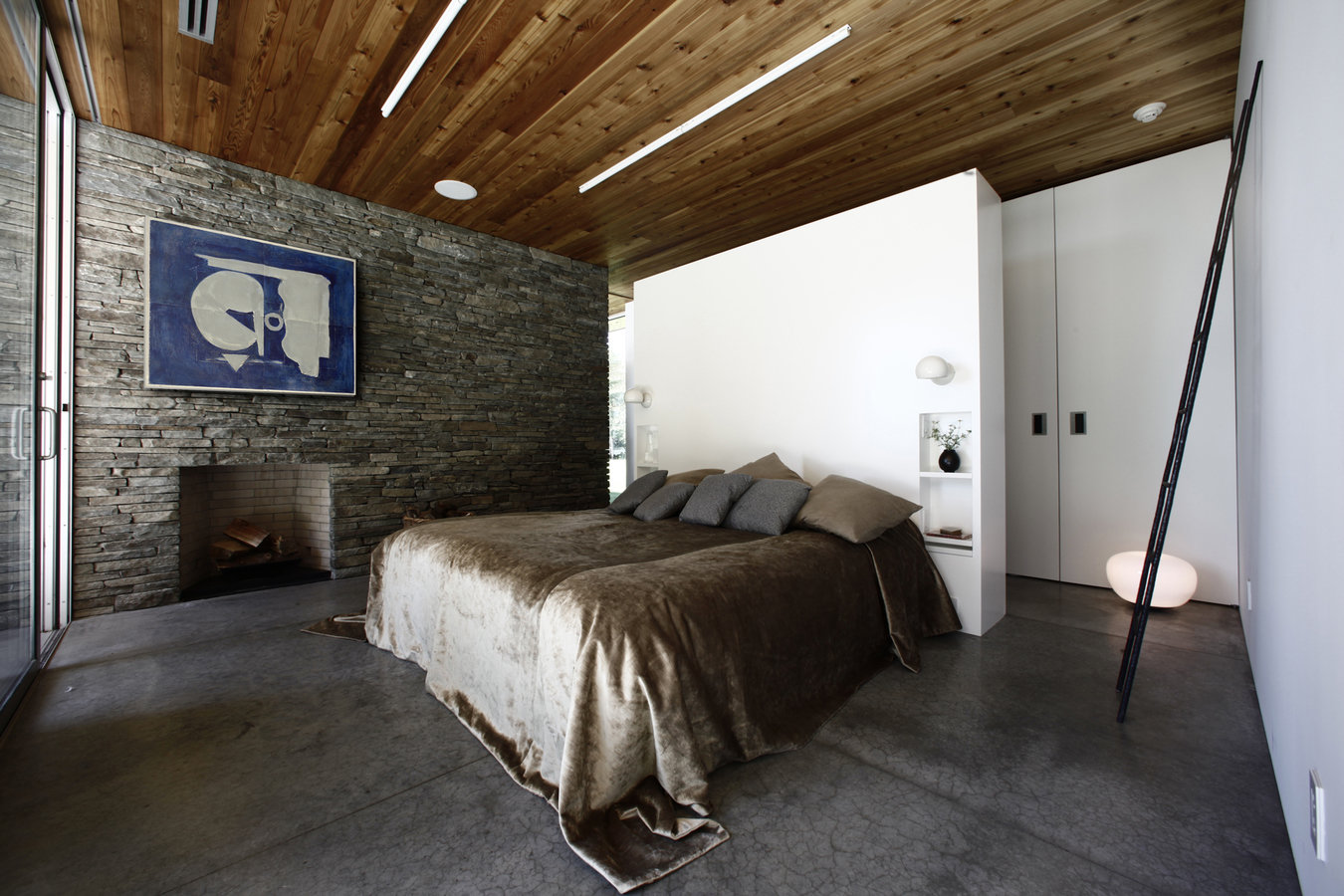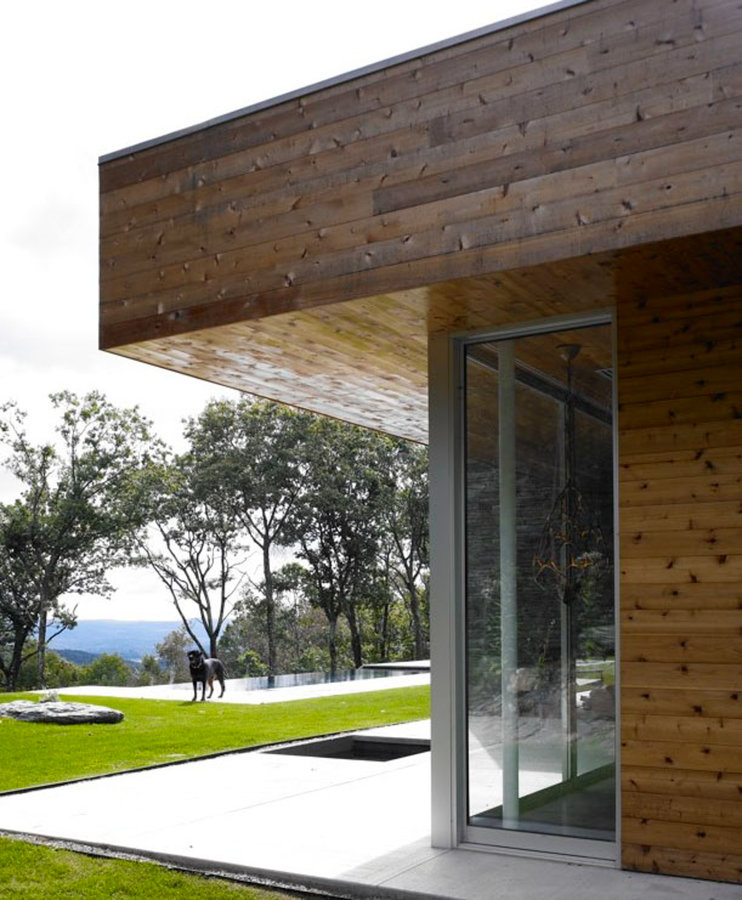 THIS 2,400 SQUARE FOOT BAR-SHAPED HOUSE, LOCATED IN UPSTATE NEW YORK, WAS CONSTRUCTED ON A TEN-ACRE LOT BETWEEN THE CATSKILL AND BERKSHIRE MOUNTAINS. FROM THE ENTRY FAÇADE THE RESIDENCE READS AS A GRAPHIC CEDAR BLOCK WITH THREE INTERRUPTIONS. THE FIRST IS THE PUNCHED BLANK ENTRANCE WHICH APPEARS TO LEAD NOWHERE SINCE THE DOOR IS LOCATED TO ONE SIDE; THE SECOND IS A LARGE GLAZED SPAN THAT DEFINES THE PUBLIC SPACES AND PIERCES THE ENTIRE STRUCTURE, MAKING THE HOME "TRANSPARENT" AT THIS POINT; THE LAST IS THE DECONSTRUCTED END OF THE HOUSE WHERE THE PRIMARY BATH IS LOCATED.
ON THE BACK – INFORMAL SIDE, THE OVERHANG IS DEEPER, OPENING UP THE HOUSE'S INTERIOR TO THE DRAMATIC VIEWS OF THE BERKSHIRES TO THE EAST. A LARGE, DRY-STACK, LOCAL STONE PARTITION INTERSECTS THE STRUCTURE, CONTAINING TWO INTERIOR FIREPLACES AND ANOTHER "SEE-THROUGH" ONE OUTDOORS. THE CEDAR CLADDING OF THE HOUSE'S EXTERIOR CONTINUES ACROSS THE CEILING OF THE INTERIOR PUBLIC AREAS AND THE PRIMARY SUITE, REINFORCING THE VOLUMETRIC PURITY OF THE SPACE AS WELL AS THE INTERIOR-EXTERIOR CONNECTIONS. CUSTOM HEIGHT FLOOR TO CEILING GLASS PANELS CREATE TRANSPARENT WALLS THROUGHOUT, OPENING THE INDOORS TO THE SURROUNDING LANDSCAPE.
IN DESIGNING A HOUSE WITH ENERGY-EFFICIENCY IN MIND, A RADIANT HEATING SYSTEM WAS BUILT INTO THE FLOOR, SANDWICHED UNDERNEATH THE EXPOSED CONCRETE SLABS. ON THE ROOF, 32 PHOTOVOLTAIC PANELS ARE CONCEALED BEHIND A PARAPET, WHICH ALONG WITH THE GEOTHERMAL SYSTEM ALLOW FOR THE HOUSE TO RUN NEARLY "OFF THE GRID". AN INFINITY EDGE LAP POOL SITS WITHIN AN ISLAND PATIO ON THE PRIVATE SIDE OF THE PROPERTY, FURTHER ILLUSTRATING THE HOUSE'S MODERN SENSIBILITY AND SIMPLE AND OPEN PLAN.
PHOTOS: ANTHONY COTSIFAS (FIRST IMAGE); FRANCOIS DISCHINGER