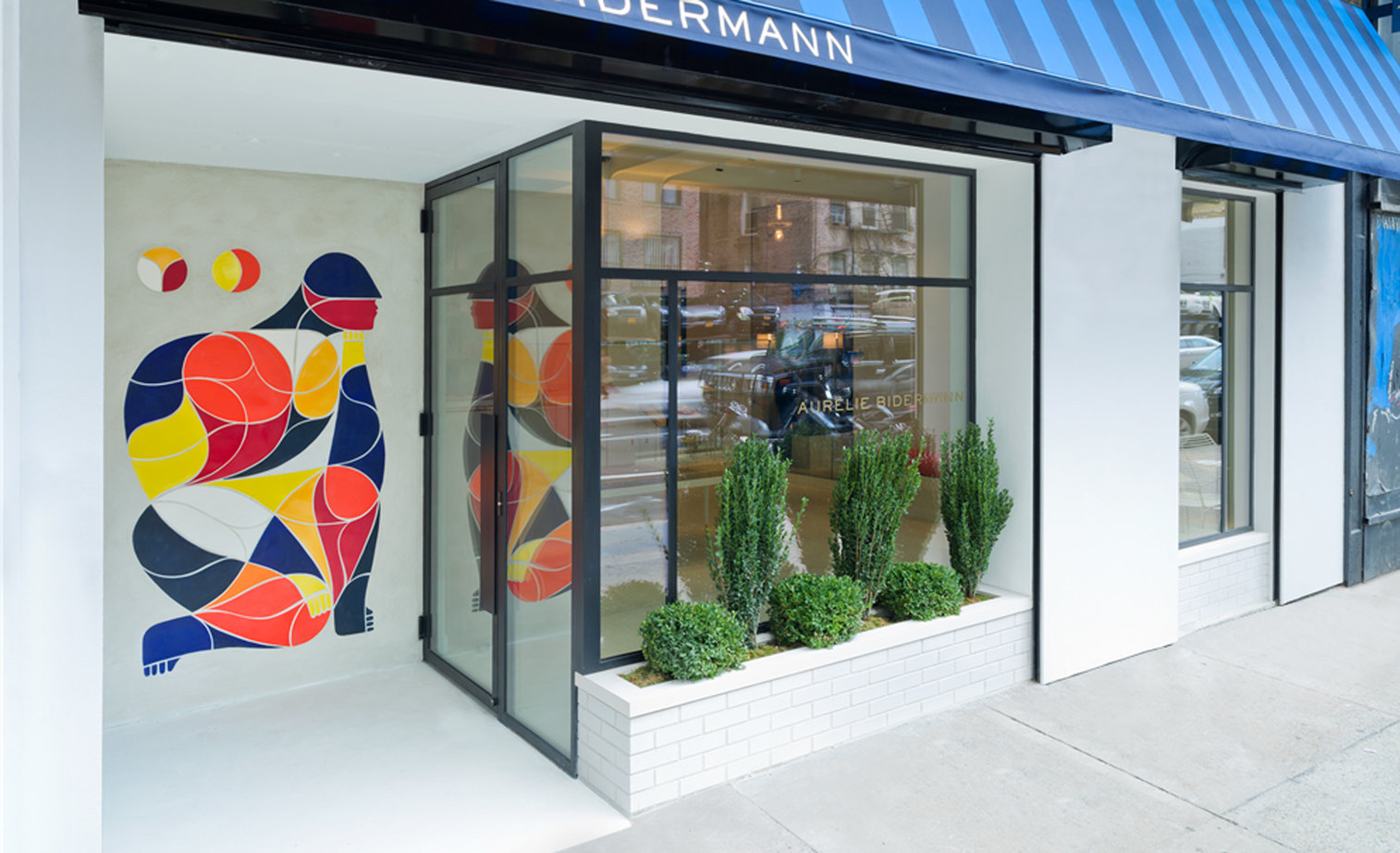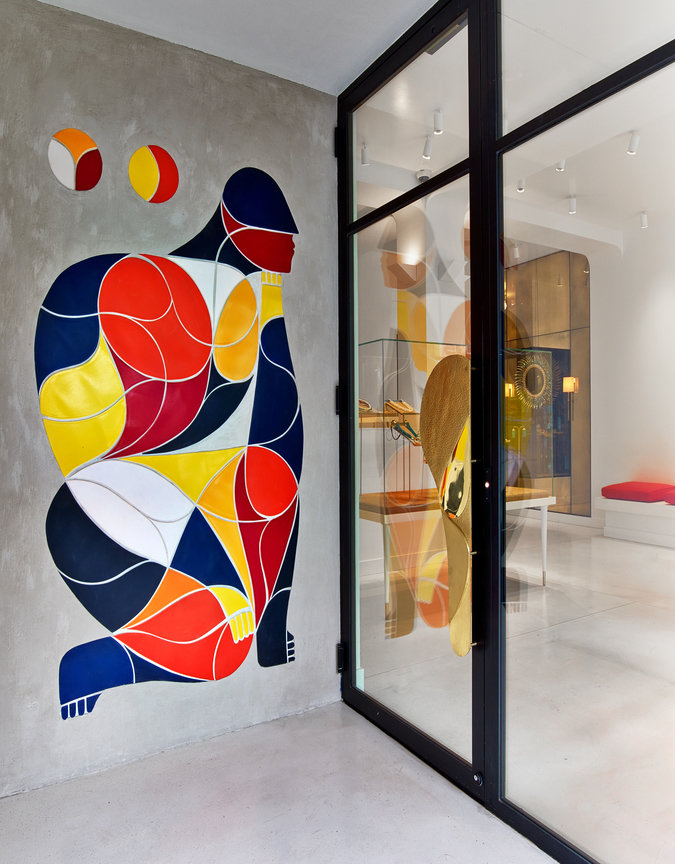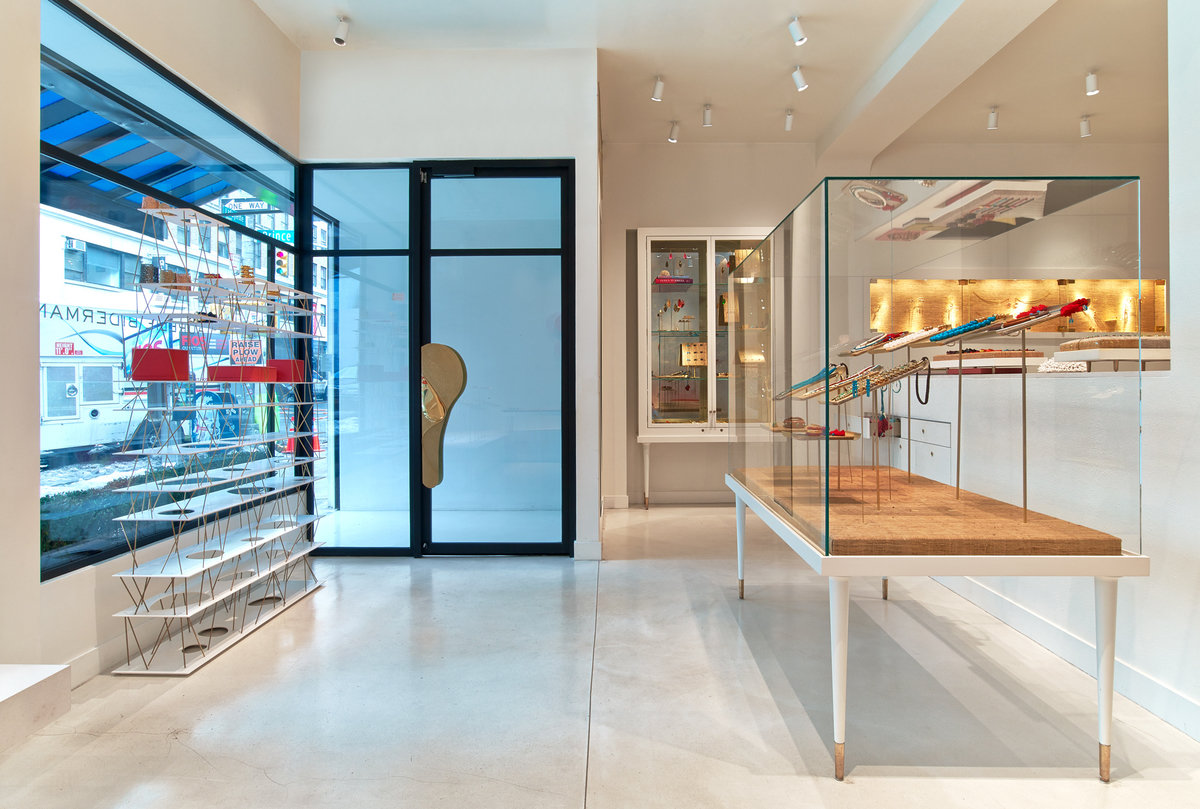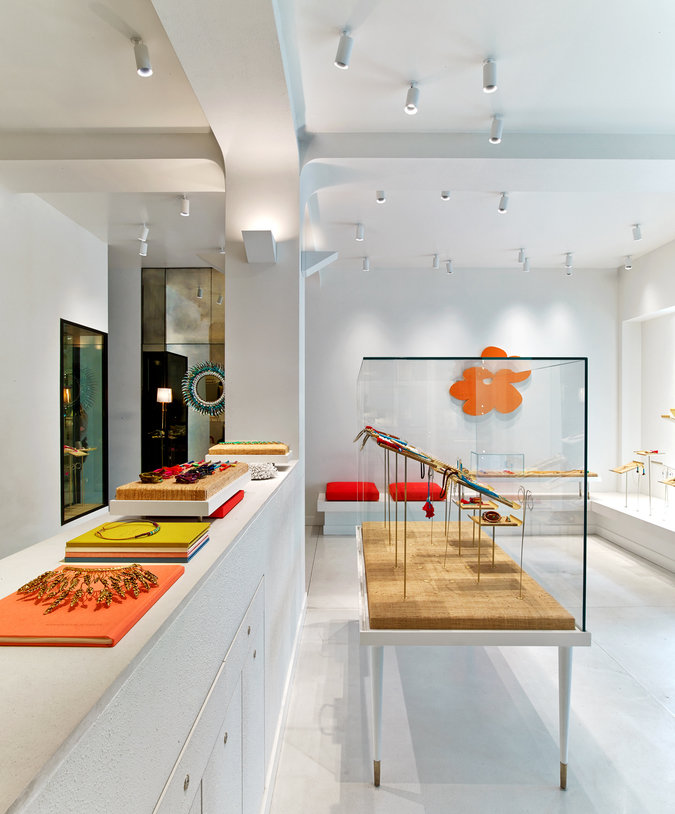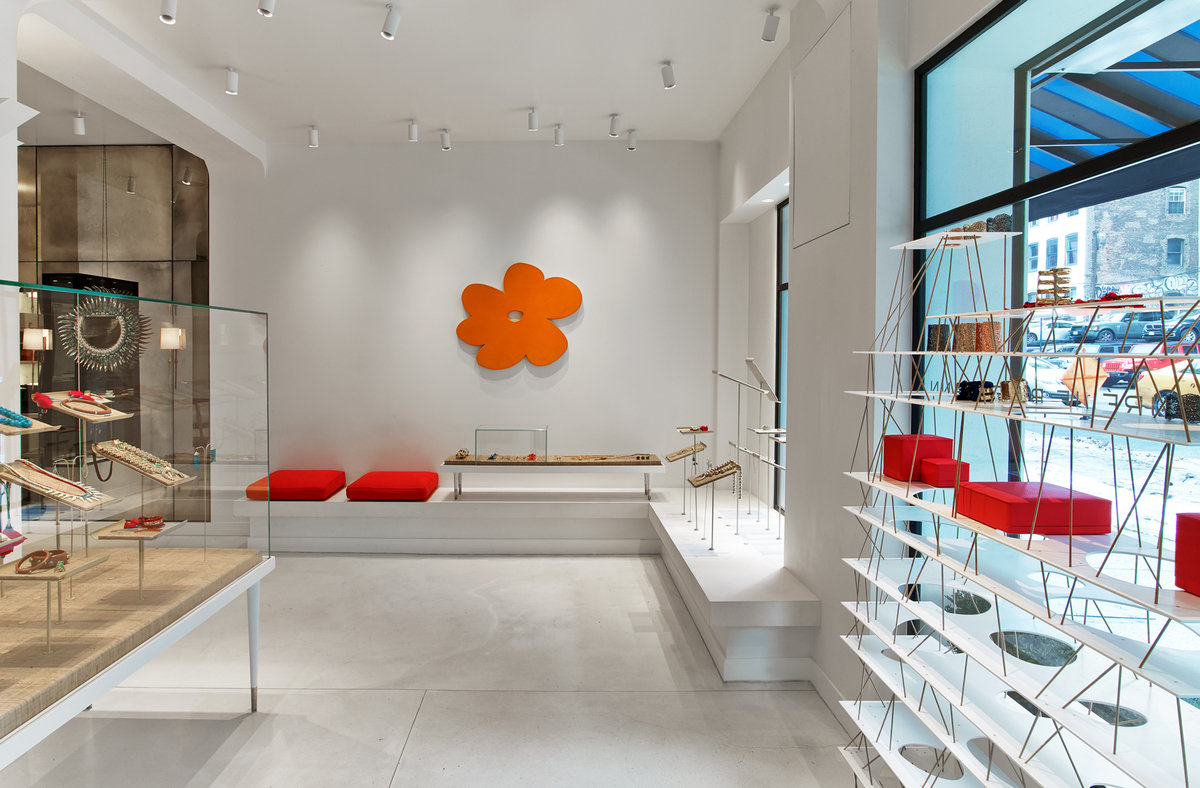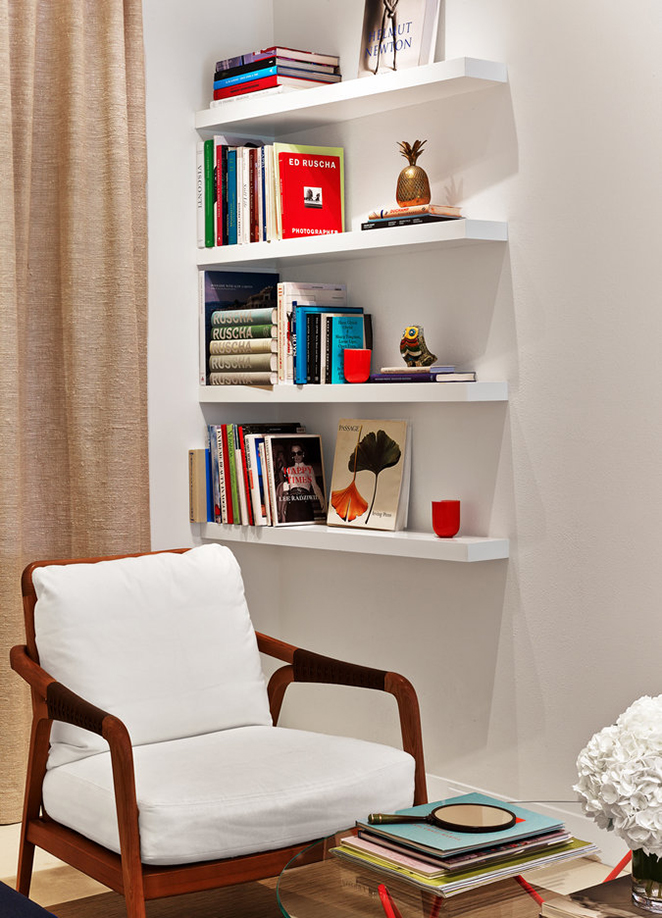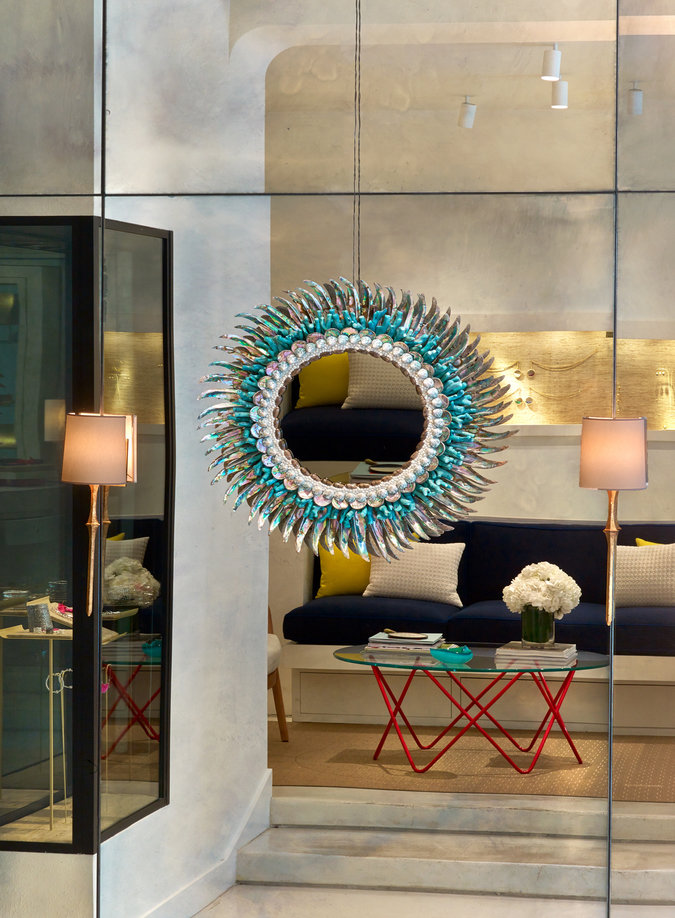 FOR ITS FIRST US STORE, FRENCH JEWELRY BRAND AURELIE BIDERMANN, HIRED MR WITH THE GOAL OF BUILDING A SPACE THAT WOULD HAVE THE FEEL OF ITS ST. TROPEZ-INSPIRED PARIS BOUTIQUE, BUT WITH AN URBAN FLAIR THAT RELATES TO ITS MANHATTAN LOCATION.
THE 700 SQ-FT SHOP IN MANHATTAN'S NOLITA NEIGHBORHOOD, CAME WITH SOME STRUCTURAL CHALLENGES, ONE OF WHICH WAS A COLUMN IN THE CENTER OF THE SPACE. THE NEW DESIGN WAS DIVIDED INTO FOUR AREAS (ENTRY, SALES FLOOR, LOUNGE AND BACK OF HOUSE), AND TO RESOLVE SOME OF THE CHALLENGES, SEVERAL BUILT-INS WERE ADDED, AND PART OF THE FLOOR WAS RAISED. THE STORE'S FACADE WAS RECESSED TO ACCOMMODATE A WINDOW BOX WHICH IS A TRADEMARK FOR THE BRAND, AND A CUSTOM CERAMIC ARTWORK WAS COMMISSIONED BY ARTIST REMED FOR THE EXTERIOR WALL AT THE ENTRY DOOR.
BEHIND THE BLUE STRIPED AWNING, THE INTERIOR OF THE STORE IS PRIMARILY WHITE, EVOKING THE IDEA OF A WHITE-SAND BEACH. POURED CONCRETE FLOORS WERE TINTED WHITE, AND THE CEILING IS FINISHED IN HIGH GLOSS WHITE PAINT. MONOPOINT LIGHTS WERE STRATEGICALLY MOUNTED TO ILLUMINATE THE MERCHANDISE BELOW. DISPLAY FIXTURES INCLUDE CUSTOM GLASS AND GOLD CASES, TABLETOP STANDS AND CUSTOM MILLWORK. NATURAL FIBER TEXTILES WERE USED TO WRAP SHELVES AND LINE THE INSIDES OF CABINET DRAWERS, AS A NEUTRAL BACKDROP FOR THE JEWELRY WHICH OFTEN INCLUDES BRIGHTLY COLORED BEADS, CORDS AND TASSELS. A BENCH AT THE FRONT OF THE STORE AND A BANQUETTE IN THE LOUNGE AREA OFFER SEATING. UPHOLSTERY, ARTWORK AND ACCESSORIES ADD TOUCHES OF COLOR. THE OVERALL EFFECT IS IN KEEPING WITH THE BRAND'S ELEVATED, RESORT-STYLE JEWELRY.
PHOTOS: ERIC LAIGNEL