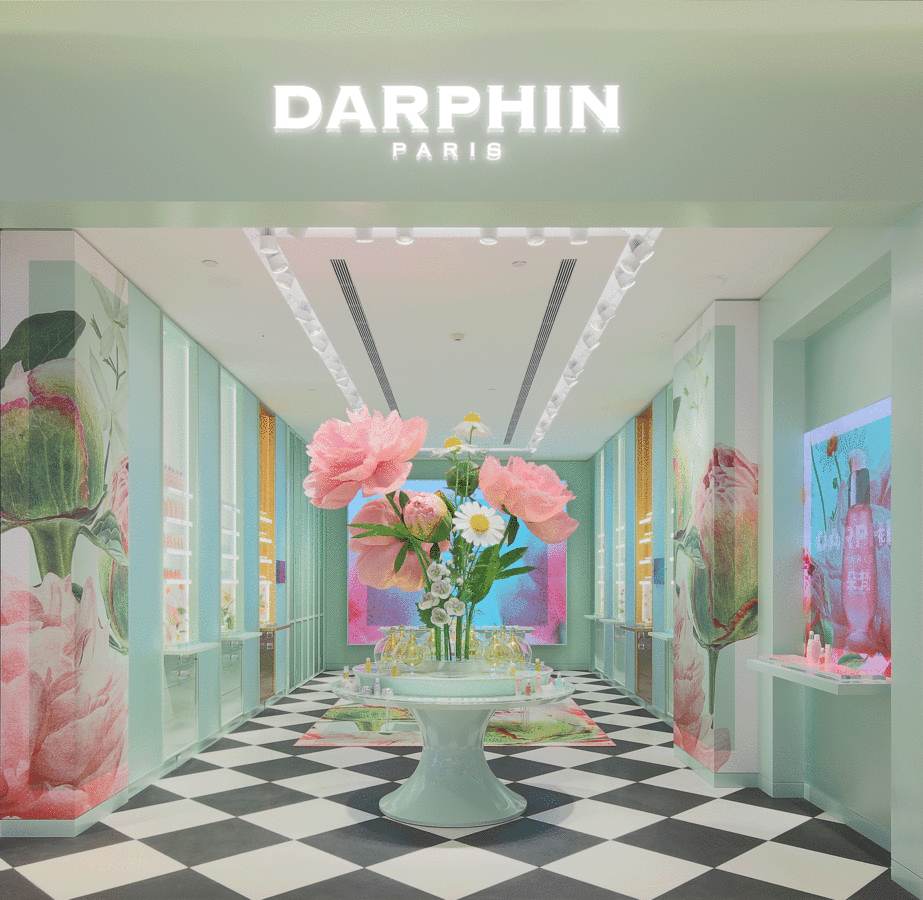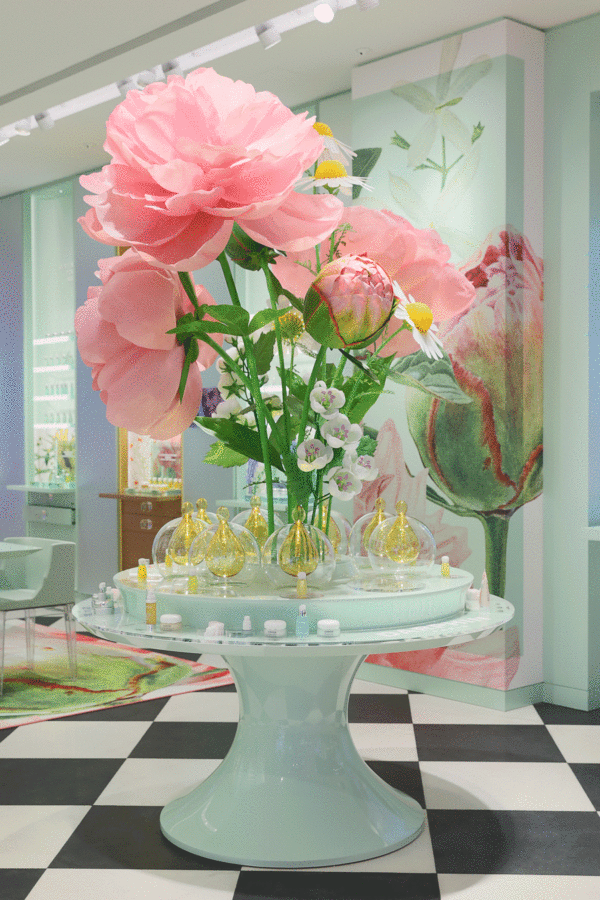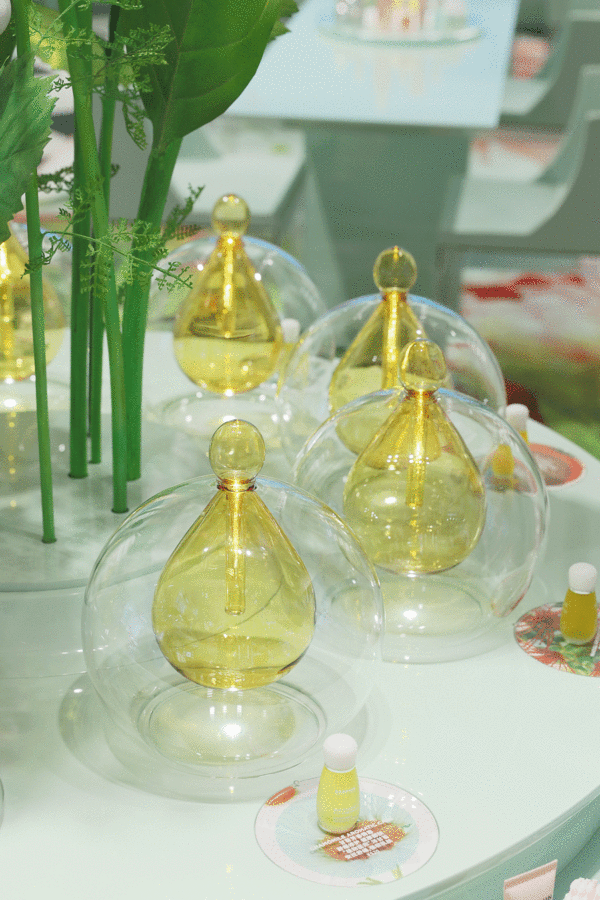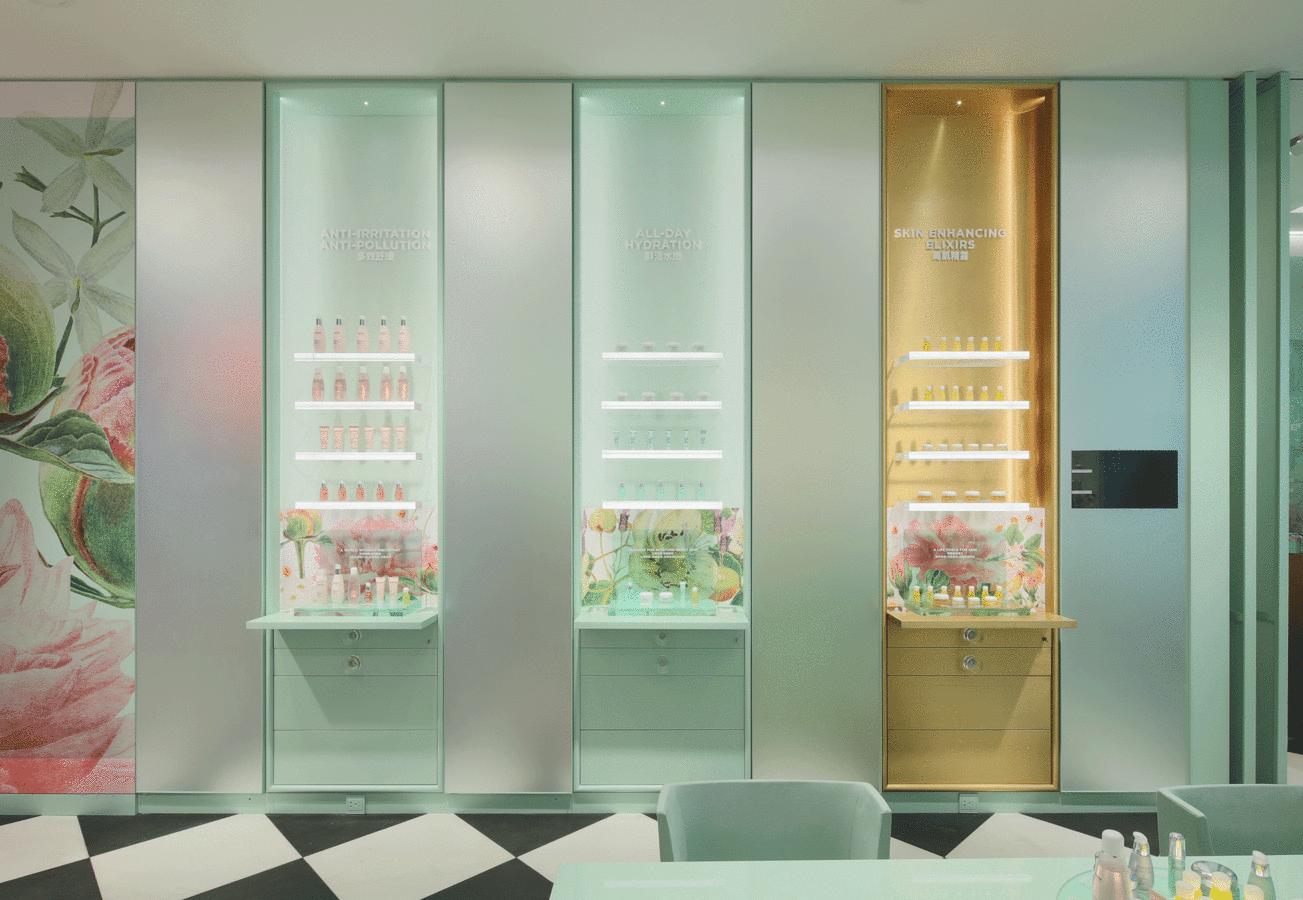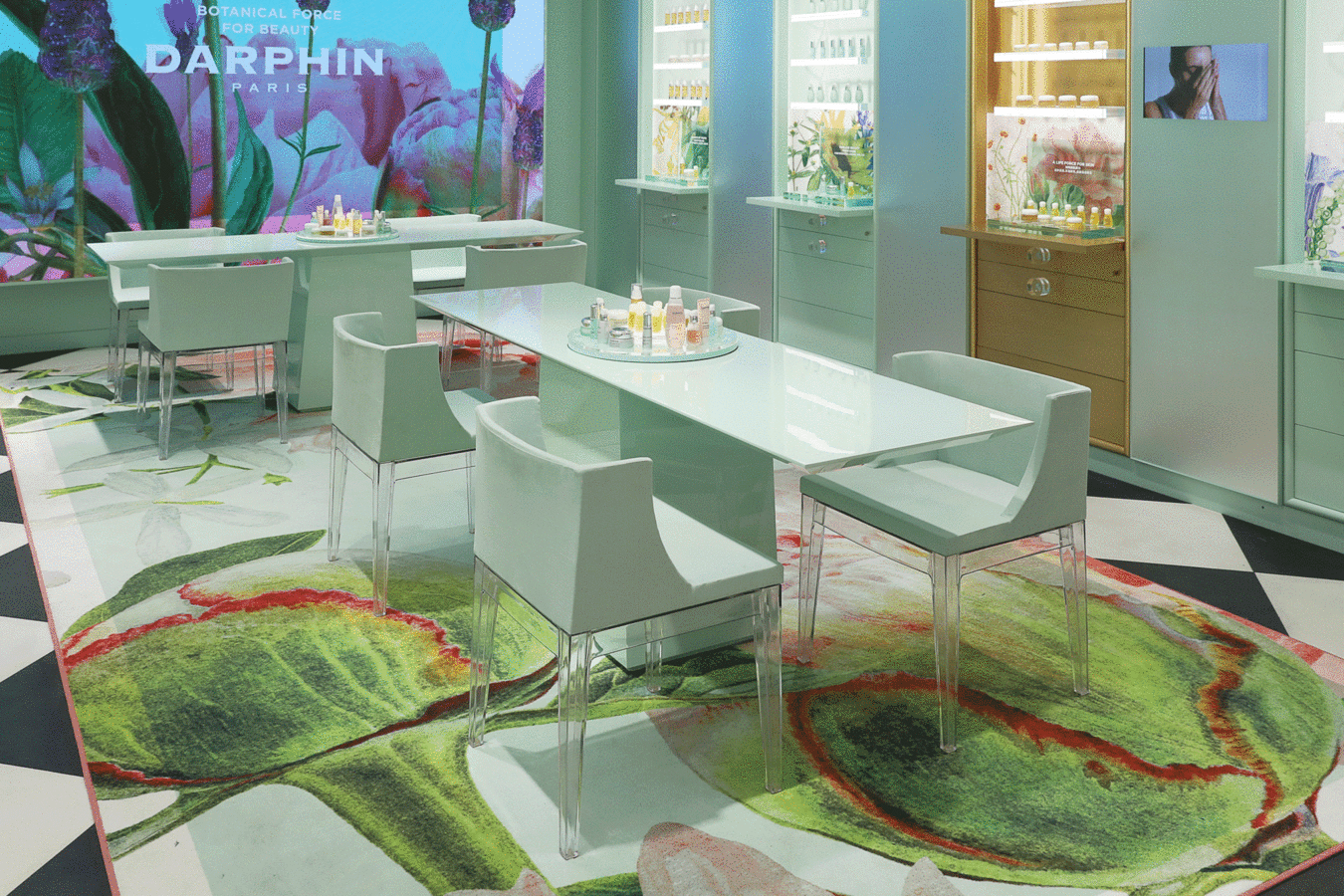 LOCATED IN HANGZHOU, CHINA, THIS IS THE FIRST STAND ALONE STORE FOR THE PRESTIGIOUS FRENCH SKINCARE BRAND DARPHIN PARIS, LICENSED BY ESTEE LAUDER. WORKING IN COLLABORATION WITH ESTEE LAUDER CREATIVE DIRECTOR JAMES GAGER AND VISUAL MERCHANDISER SCOTT BLAIR, MR CREATED AN ARCHITECTURAL INTERIOR INSPIRED BY THE GLAMOUR OF DEPARTMENT STORE INTERIORS OF THE MID-TWENTIETH CENTURY, WHILE KEEPING THE ENVELOPE CLEAN AND SLEEK TO FIT THE FORWARD-THINKING ATTITUDES OF THE LOCAL RETAIL MARKET.
THE INTERIOR PALETTE IS TONE-ON-TONE USING MINOR VARIATIONS OF THE DARPHIN BRANDED MINT COLOR TO ADD COMPLEXITY TO AN OTHERWISE MINIMAL SPACE. THIS SIMPLE GESTURE ALLOWED MR TO FREELY INCORPORATE EXUBERANT FLORAL VISUALS THROUGHOUT, WHICH ARE EMBLEMATIC OF THE BRAND, AND RESULTED IN A COMPLETELY FRESH AND JOYOUS RETAIL ENVIRONMENT.
THE SPACE IS FITTED WITH CUSTOM DISPLAY TABLES AND CHAIRS FOR CONSULTATIONS. THE STANDOUT FEATURE OF THE STORE IS THE LARGER-THAN-LIFE FLORAL SCULPTURE THAT ANCHORS THE SPACE. THIS IS A CENTERPIECE ON THE CIRCULAR TABLE THAT DISPLAYS THE BRAND'S SIGNATURE ELIXIRS IN CUSTOM-MADE GLASS VESSELS WHICH ARE BEAUTIFULLY LIT FROM WITHIN. THE ORBS APPEAR TO GLOW. THIS STORE, LOCATED IN HANGZHOU, CHINA AND COMPLETED IN 2018, WAS DESIGNED AS A PROTOTYPE TO BE REPRODUCED IN OTHER MARKETS.
PHOTOS: ALEX CAI