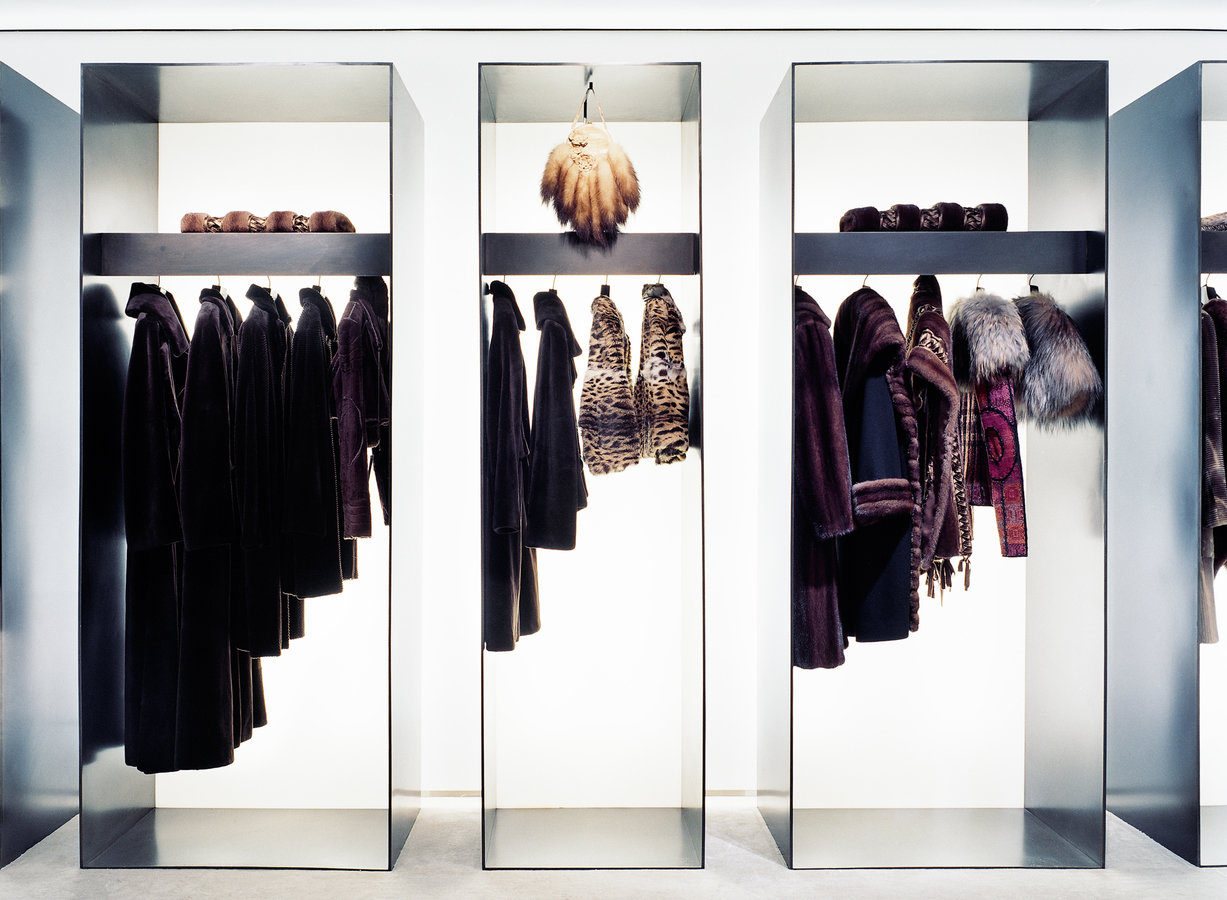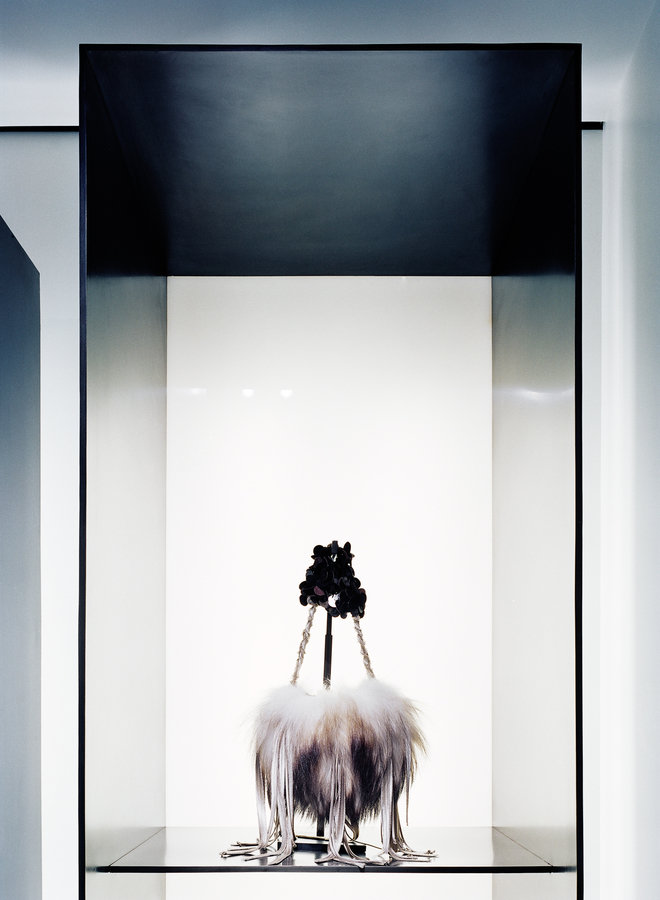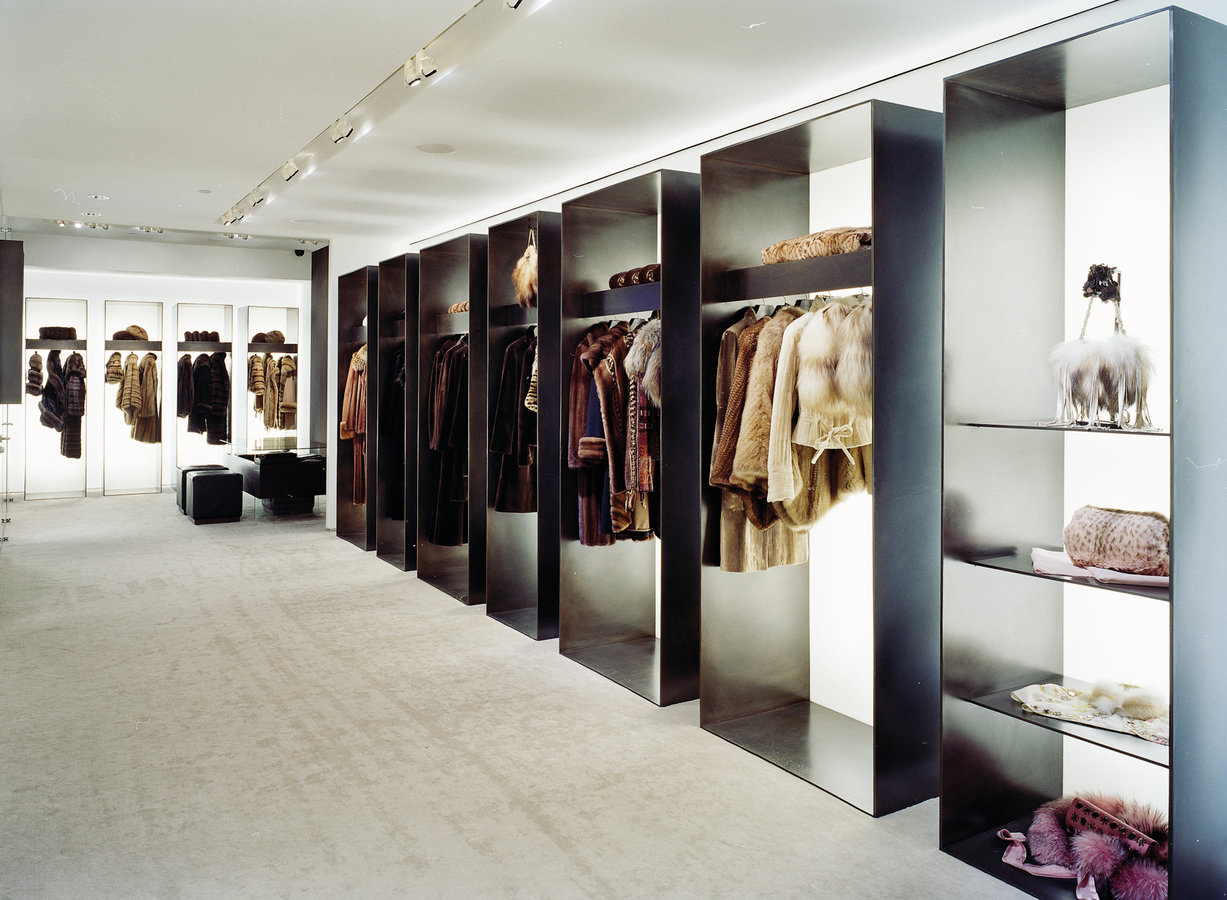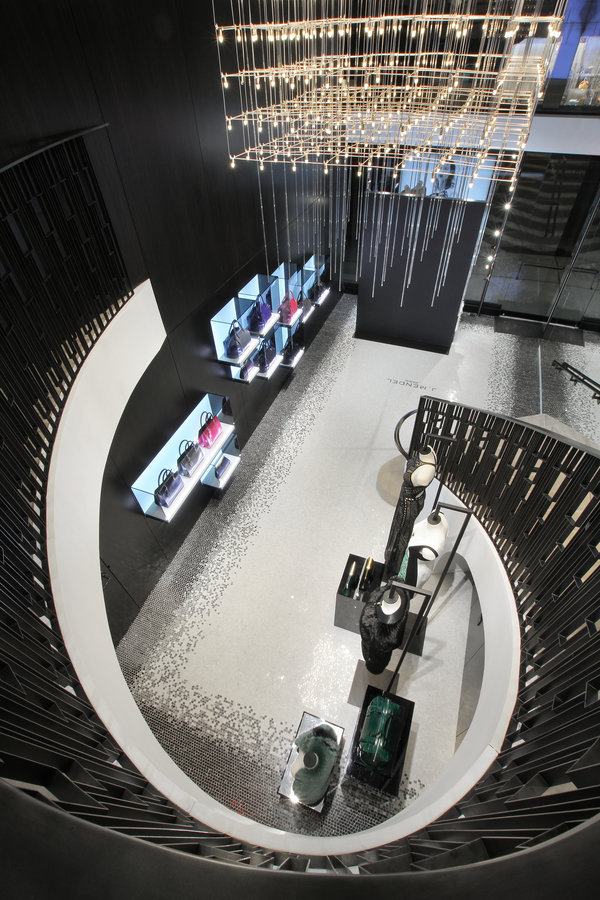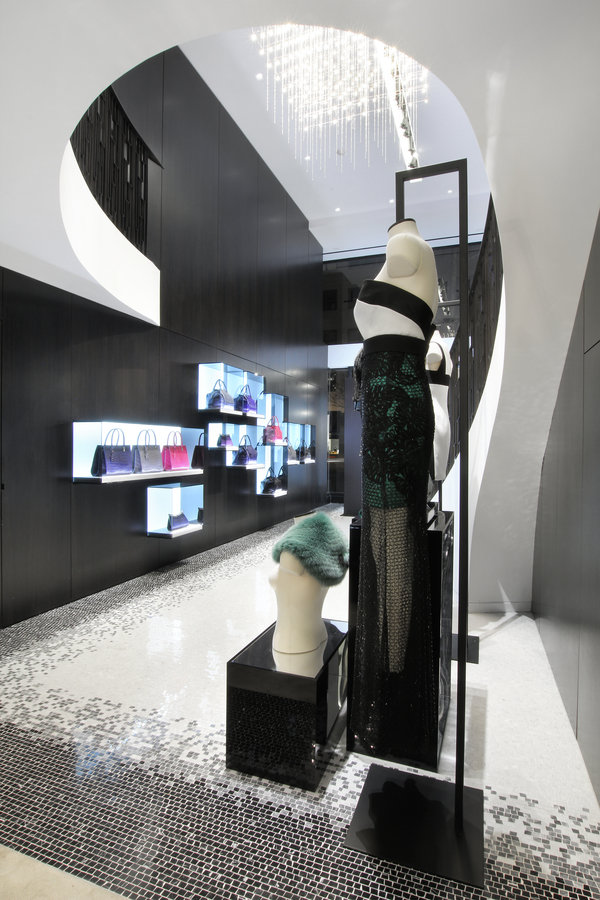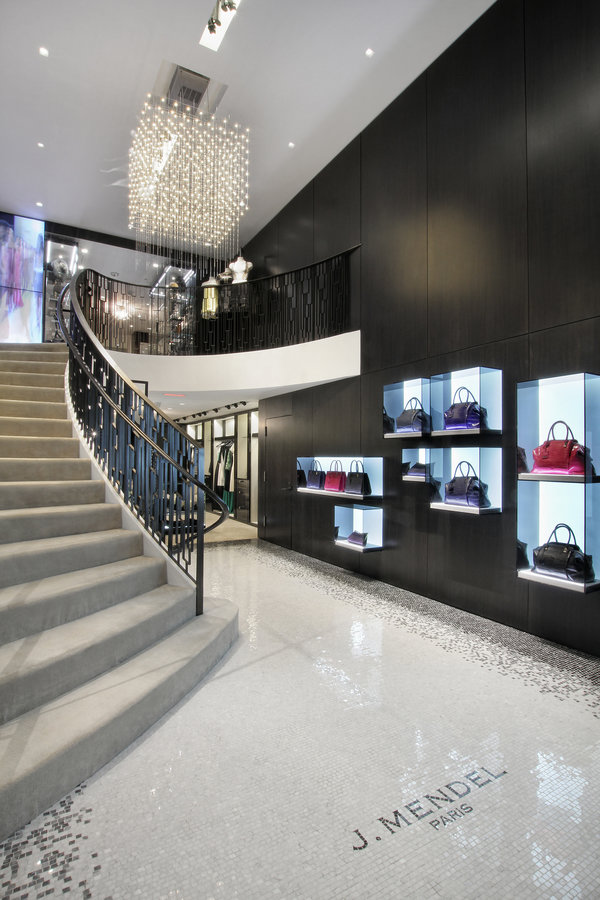 OVER THE COURSE OF TWO DECADES, MR HAS BEEN DESIGNING STORES FOR GLOBAL LUXURY FASHION BRAND J. MENDEL. FROM SHOP-IN-SHOPS IN THE US AND ABROAD TO A FREESTANDING FLAGSHIP STORE ON MANHATTAN'S MADISON AVENUE, EACH HAS BEEN A COLLABORATION WITH CREATIVE DIRECTOR GILLES MENDEL.
THE NEW YORK FLAGSHIP WHICH OCCUPIES TWO FLOORS, WAS DESIGNED TO HAVE THE WELCOMING COMFORT OF A RESIDENCE. THE REAR OF THE LOWER LEVEL IS THE "BOUDOIR," INSPIRED BY A WOMEN'S DRESSING ROOM. IN THE CENTER OF THE DOUBLE HEIGHT STAIR SPACE, A SPARKLING LED CHANDELIER IS SUSPENDED FROM THE CEILING, OFFSET BY A NEAR-BLACK FUMED EUCALYPTUS WOOD PANELED WALL. A GRAND CURVED STAIRCASE WITH A DECORATIVE BLACK STEEL RAILING LEADS TO THE UPPER LEVEL. THE SECOND FLOOR SPACE, WHICH IS PRIMARILY DEVOTED TO BRIDAL WEAR, IS DIVIDED INTO TWO AREAS. MERCHANDISE IS DISPLAYED ALONG THE PERIMETER WALLS AND SEATING AREAS ARE SITUATED IN THE CENTER. AT THE REAR OF THE UPPER LEVEL IS A LARGE SKYLIGHT, UNDERNEATH WHICH A DECORATIVE GLASS WALL SERVES AS A BACKDROP FOR FREESTANDING MANNEQUIN DISPLAYS.
IN THE BERGDORF GOODMAN SHOP-IN-SHOPS, WALLS WERE COVERED IN AN OFF-WHITE ULTRASUEDE, AND BACKLIT FREESTANDING STEEL BOXES THAT EXTEND FROM THE FLOOR TO JUST UNDER THE CEILING, LINE THE PERIMETER OF THE SPACE, EXQUISITELY FRAMING GARMENTS AND ACCESSORIES. IN A NOD TO OLD WORLD CRAFTSMANSHIP, THE J. MENDEL LOGO IS PATTERNED INTO THE BLACK AND WHITE MARBLE MOSAIC TILE FLOORS.
PHOTOS: ÅKE E:SON LINDMAN (1-3); GARRETT ROWLAND (4-6)