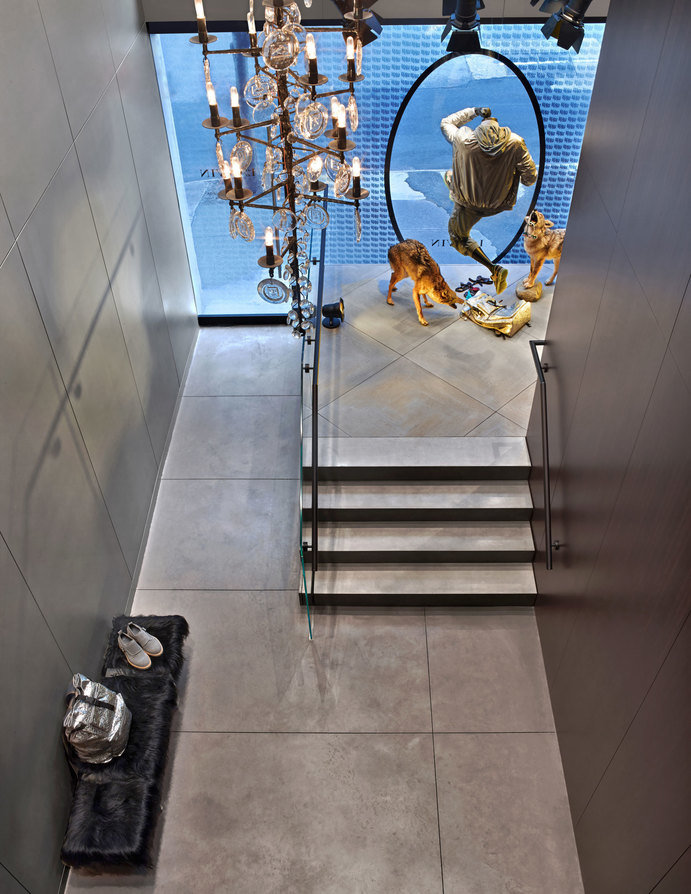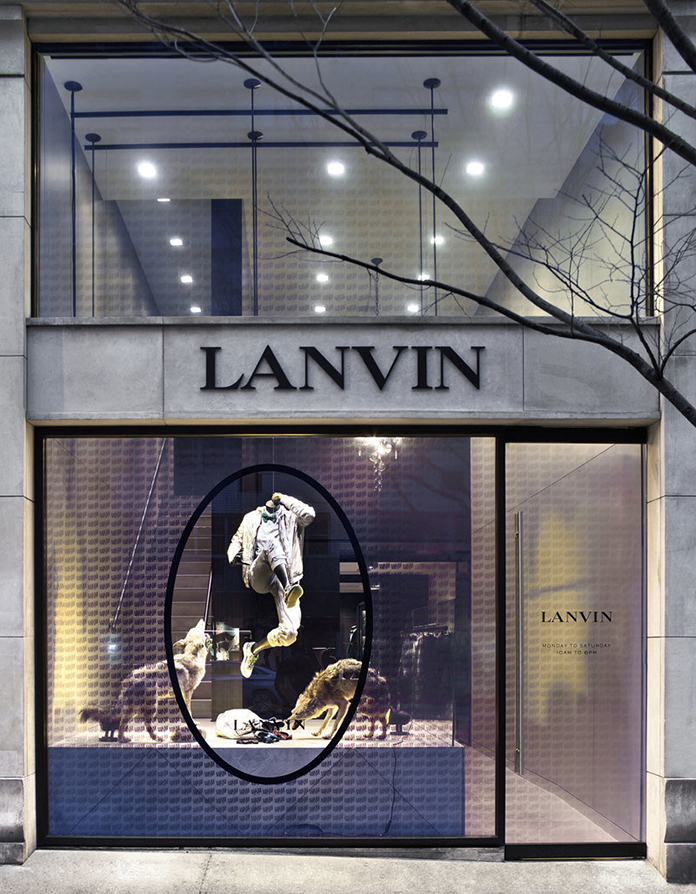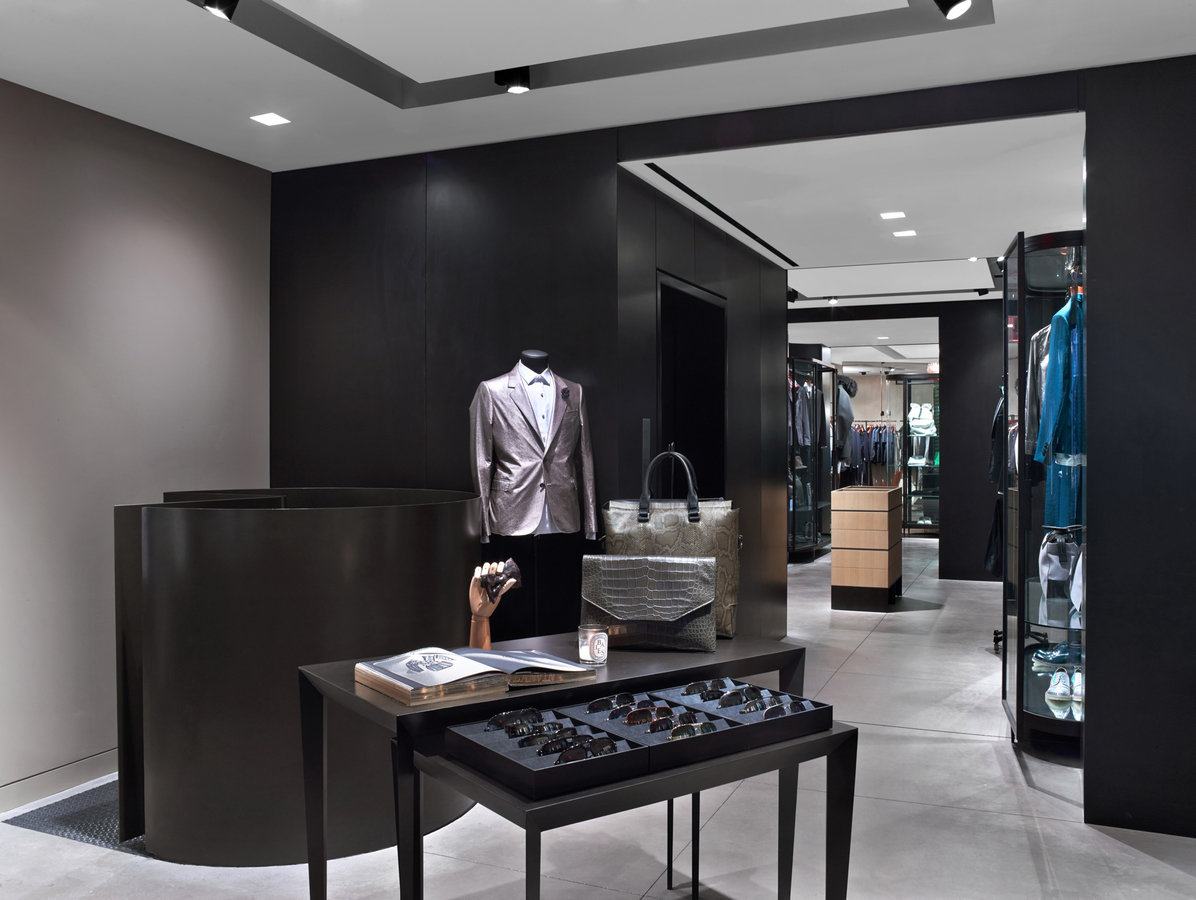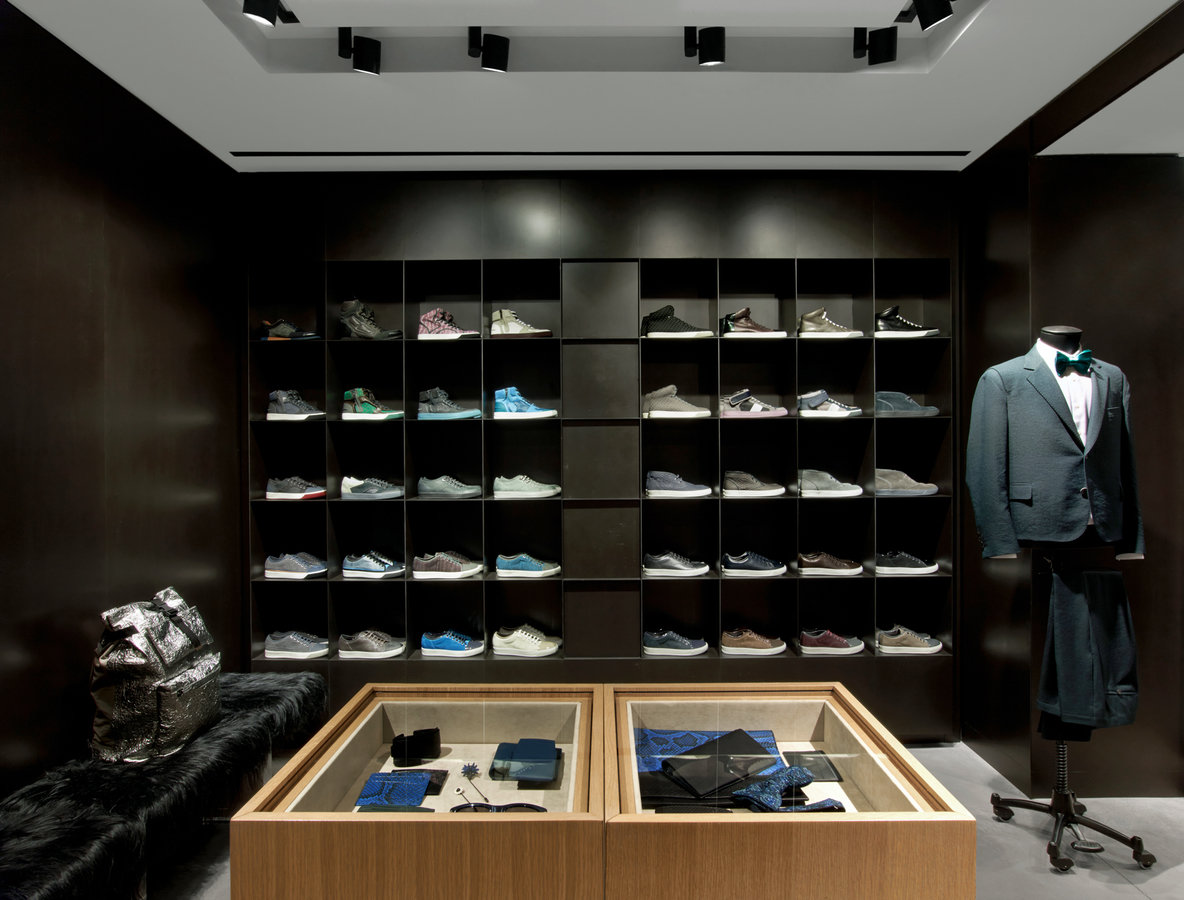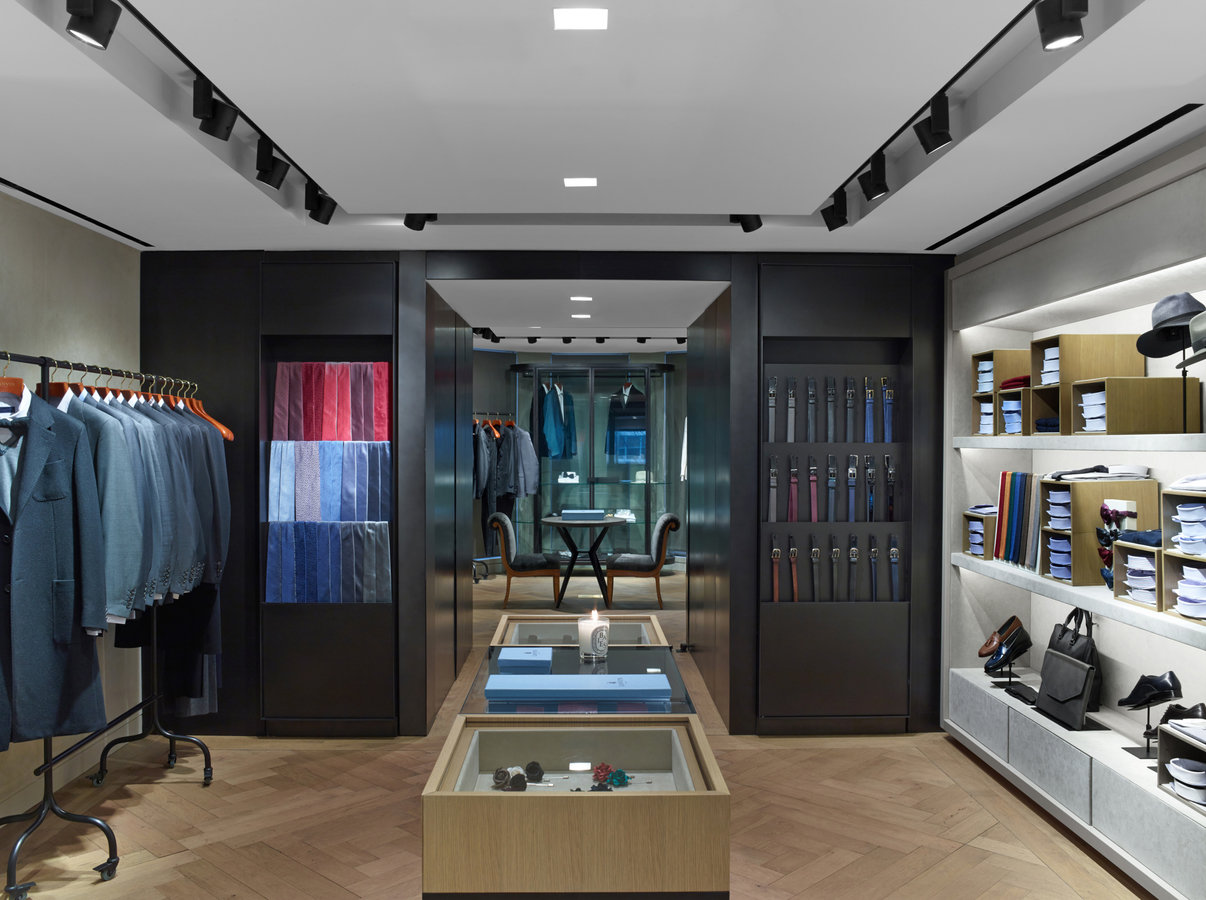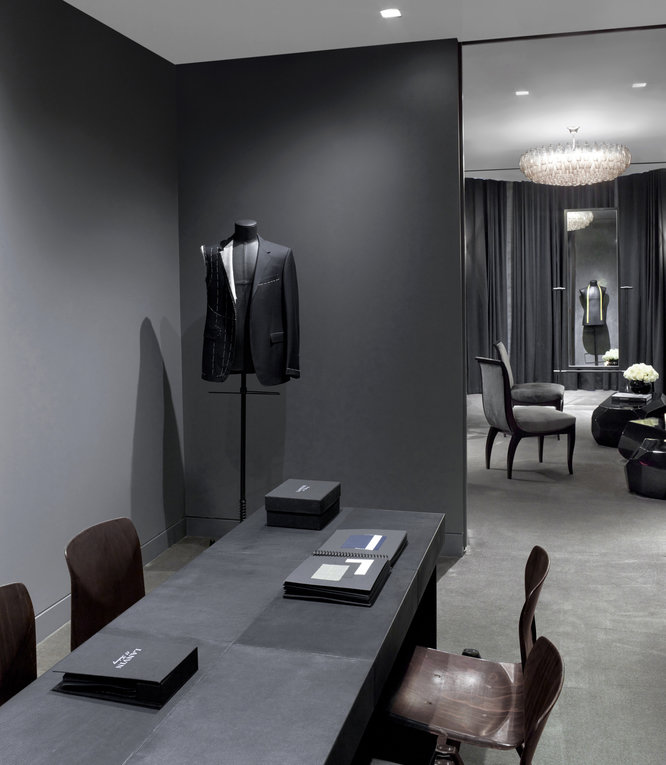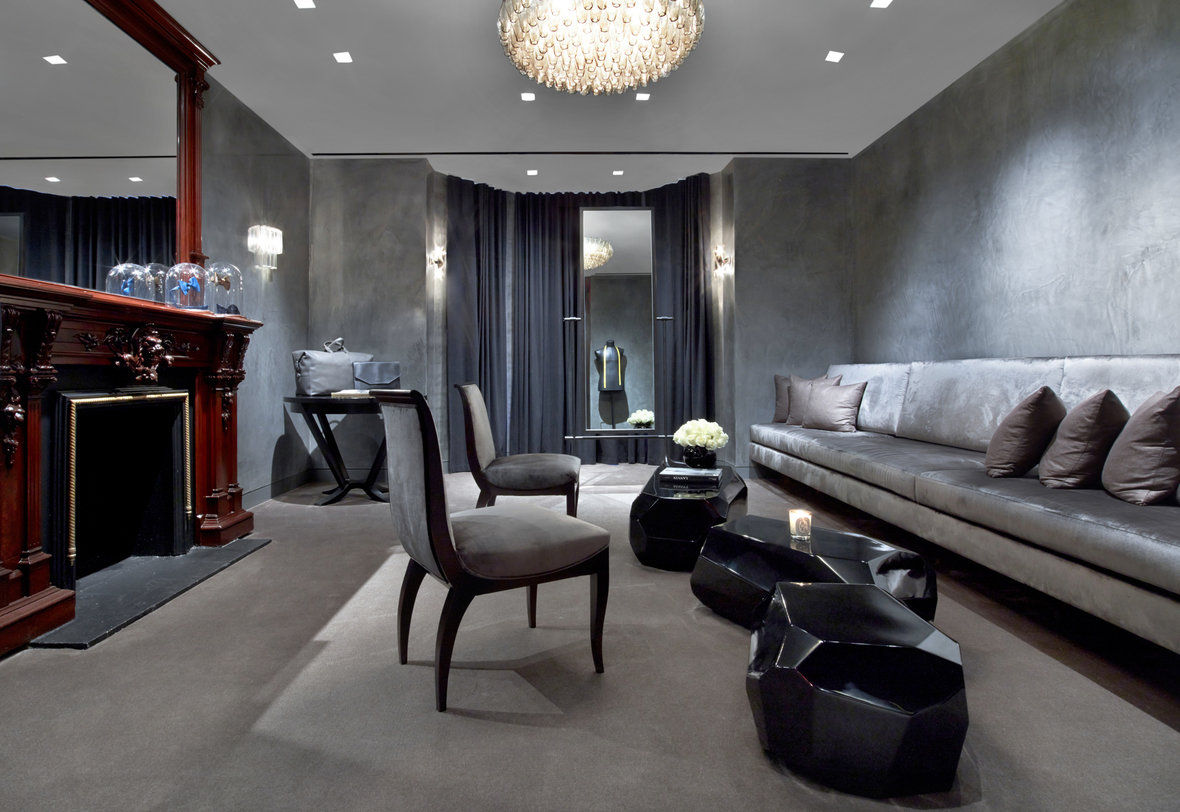 FOR ITS FIRST STAND-ALONE STORE IN THE US, FRENCH FASHION BRAND LANVIN CHOSE A NARROW TOWNHOUSE ON MADISON AVENUE AND COMMISSIONED MR TO DESIGN THE MULTI-LEVEL ENVIRONMENT. THREE FLOORS TOTALING 3400 SQ FT WERE DEDICATED TO SALES, EACH ONE WITH ITS OWN CHARACTER, TO REFLECT DIFFERENT PRODUCT CATEGORIES FROM CASUAL WEAR TO MADE-TO-MEASURE.
A DOUBLE-HEIGHT SPACE AT THE ENTRY WAS CREATED. A LOW PLATFORM DOUBLES AS A STAGE FOR WINDOW DISPLAY, AND A MINIMAL STAIR LINING THE WALL LEADS TO THE SECOND FLOOR. THE MATERIALS PALETTE IS A MIX OF NEUTRAL CONCRETE FLOORING, CLASSIC NATURAL WOOD PARQUET, AND ULTRA-SUEDE WALL COVERING, ACCENTED BY A DOUBLE HEIGHT MACASSAR EBONY PANELED WALL AND THE BLACKENED STEEL OF THE DISPLAY FIXTURES AND FURNISHINGS.
ON THE SECOND LEVEL AND OVERLOOKING THE ENTRY BELOW, THE SPACE IS FURNISHED WITH NEW AND UPDATED FIXTURING FROM THE BRAND'S LEGACY, SETTING THE TONE FOR THE FLOOR WHICH IS DEDICATED TO MORE FORMAL CLOTHING. AT THE BLACK-WALLED ENTRY TO THE ADJOINING SPACE, THE CONCRETE FLOOR TRANSITIONS TO A NATURAL OAK IN A PARQUET PATTERN WITH A MATTE FINISH. TWO FITTING ROOMS ARE CONCEALED WITHIN THE WALLS OF THE CORRIDOR THAT OPENS TO THE NEXT SPACE WHERE DRESS SHIRTS AND SHOES, BAGS AND ACCESSORIES ARE ON DISPLAY. AT THE BACK OF THE SECOND LEVEL THERE'S A SMALL SITTING AREA FOR PERSONAL CONSULTATIONS.
THE THIRD FLOOR IS DEDICATED TO THE MADE-TO-MEASURE DEPARTMENT AND INCLUDES A MEETING AREA AND A VIP LOUNGE. THIS ROOM IS FURNISHED USING MORE LUXURIOUS FABRICS AND DECORATIVE FINISHES, A BUILT-IN BANQUETTE, A GLASS CHANDELIER AND ELEGANT STYLING WHICH IS A NOD TO THE BRAND'S FRENCH ORIGINS.
PHOTOS: ERIC LAIGNEL