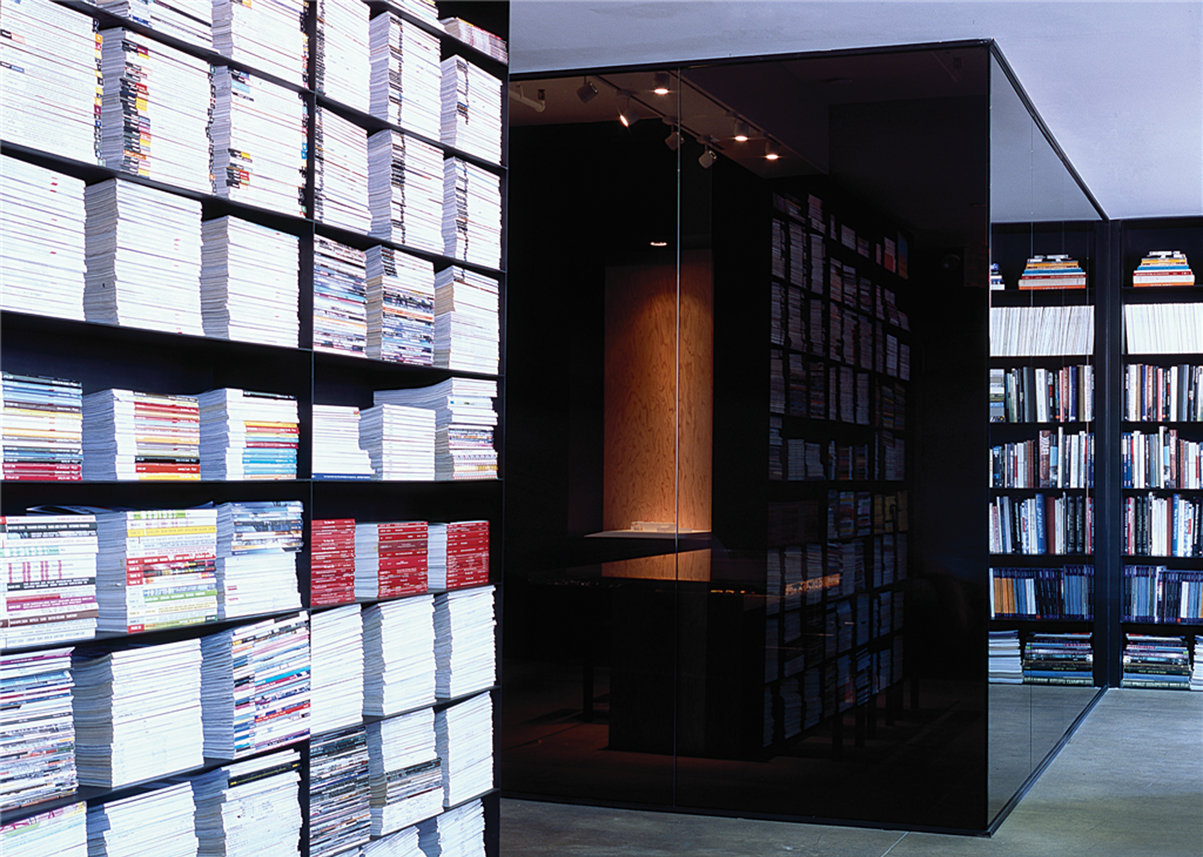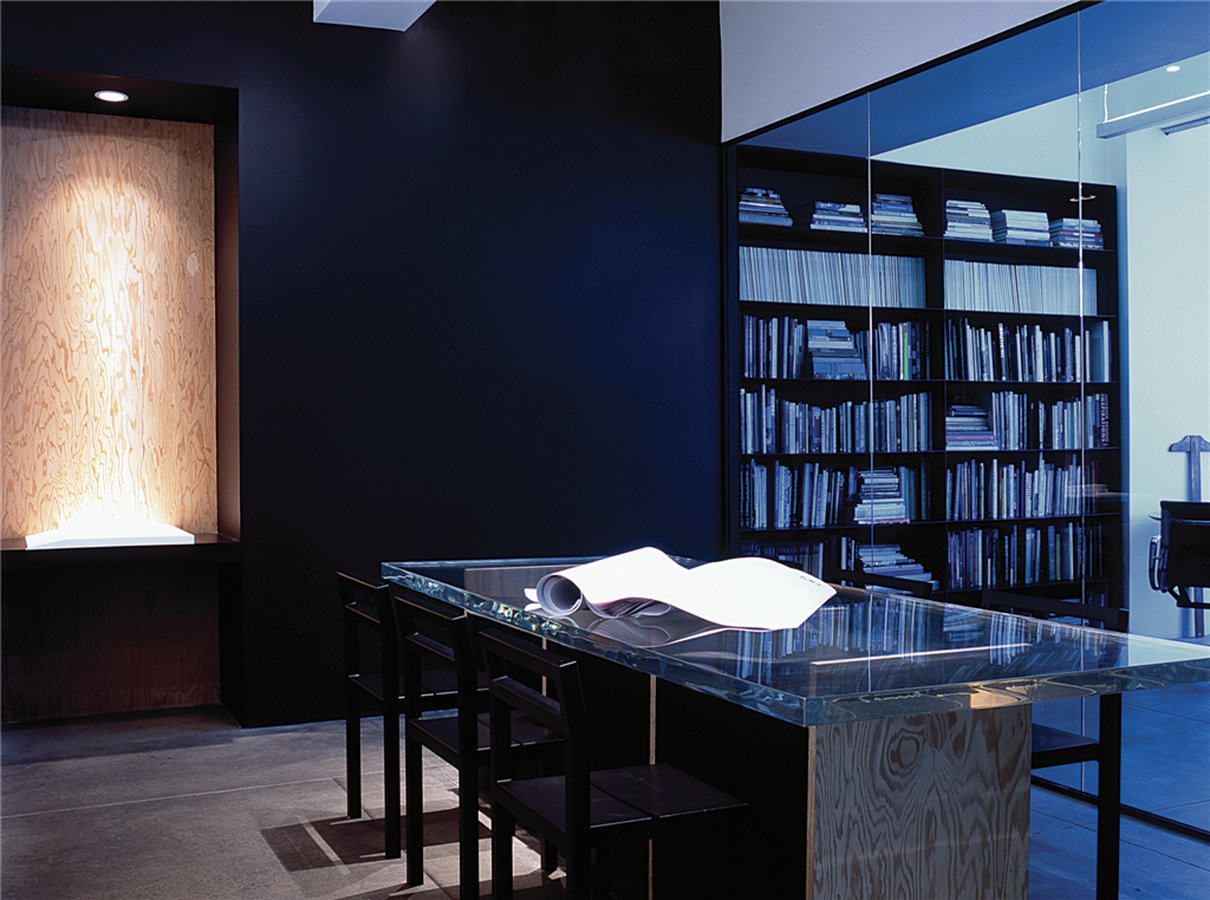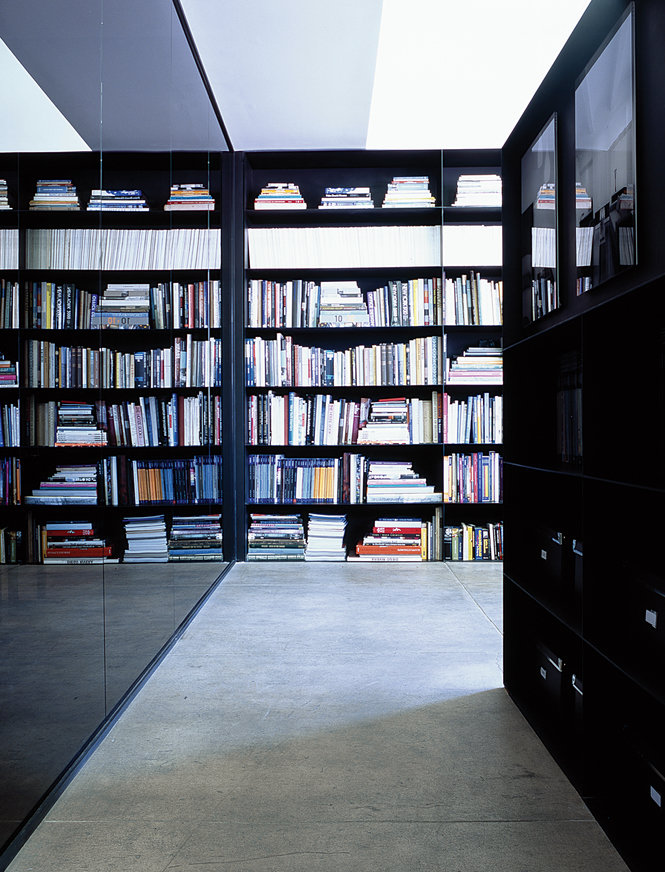 WHEN MR WAS DESIGNING A NEW OFFICE SPACE LOCATED ON THE 10TH FLOOR OF A MIDTOWN BUILDING, THE OBJECTIVE WAS TO CREATE AN ENVIRONMENT THAT WOULD BE VISUALLY COMFORTABLE AND WOULD EXPRESS THE FIRM'S DESIGN PHILOSOPHY, WHILE FUNCTIONALLY FULFILLING THE ITS DAY-TO-DAY OPERATIONAL NEEDS.
THERE ARE NO DOORS WITHIN THE SPACE. CONFERENCE AREAS AND ALL WORKSTATIONS ARE "OPEN PLAN," CONSIDERING A MORE COMMUNAL WORKING ENVIRONMENT. THE MATERIALS PALETTE CONSISTS OF BLACKENED STEEL, PLYWOOD AND BLACK GLASS, ALL ALLUDING TO THE INDUSTRIAL HISTORY OF THE BUILDING, AND PLAYING OFF THE EXISTING STRIPPED RAW CONCRETE FLOORS. ADDING TO THIS PALETTE ARE THE HOMASOTE PANELS, GIVING SOME PRIVACY AND "PIN UP" SPACE FOR EACH WORKSTATION. USING MATERIALS IN THEIR NATURAL STATE, EVERYTHING IS AS SIMPLE, BASIC AND UNTREATED AS CAN BE.
SEPARATING AREAS OF THE OFFICE ARE A SERIES OF UNIQUE BLACKENED STEEL SHELVING UNITS CONTAINING BOOKS, BINS HOLDING PROJECT MATERIALS AND A GALLERY OF PROJECT IMAGES. IN THE CONFERENCE ROOM IS A CUSTOM TABLE MADE OF PLYWOOD, BLACKENED STEEL AND A VERY THICK PLEXIGLASS TOP. THE END RESULT IS A VERY SLEEK, WELL-ORGANIZED, AND FUNCTIONAL STUDIO FOR THE MR BRAND.
PHOTOS: ERIC LAIGNEL