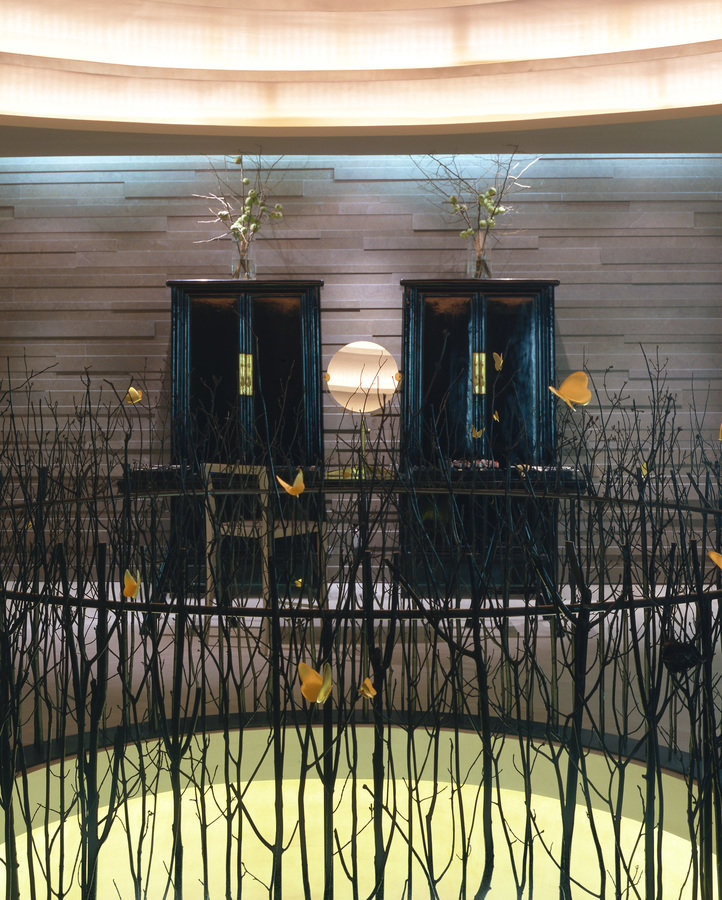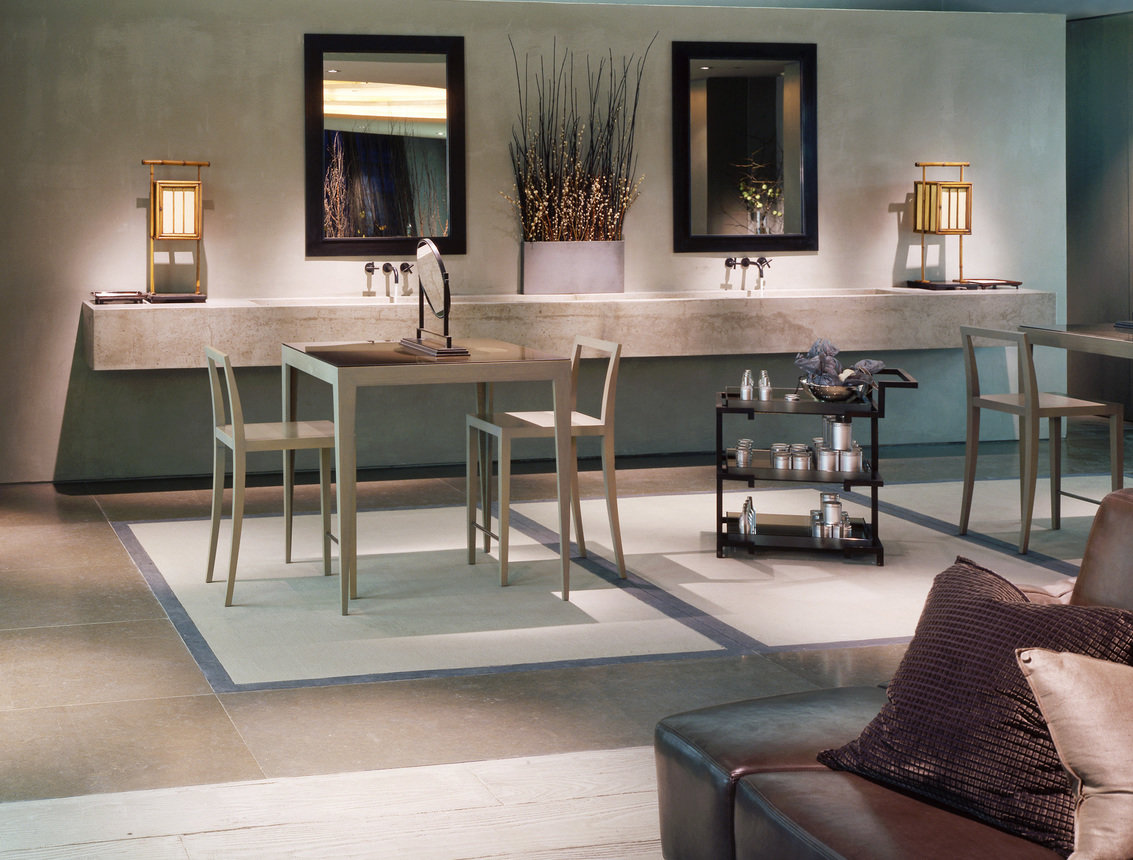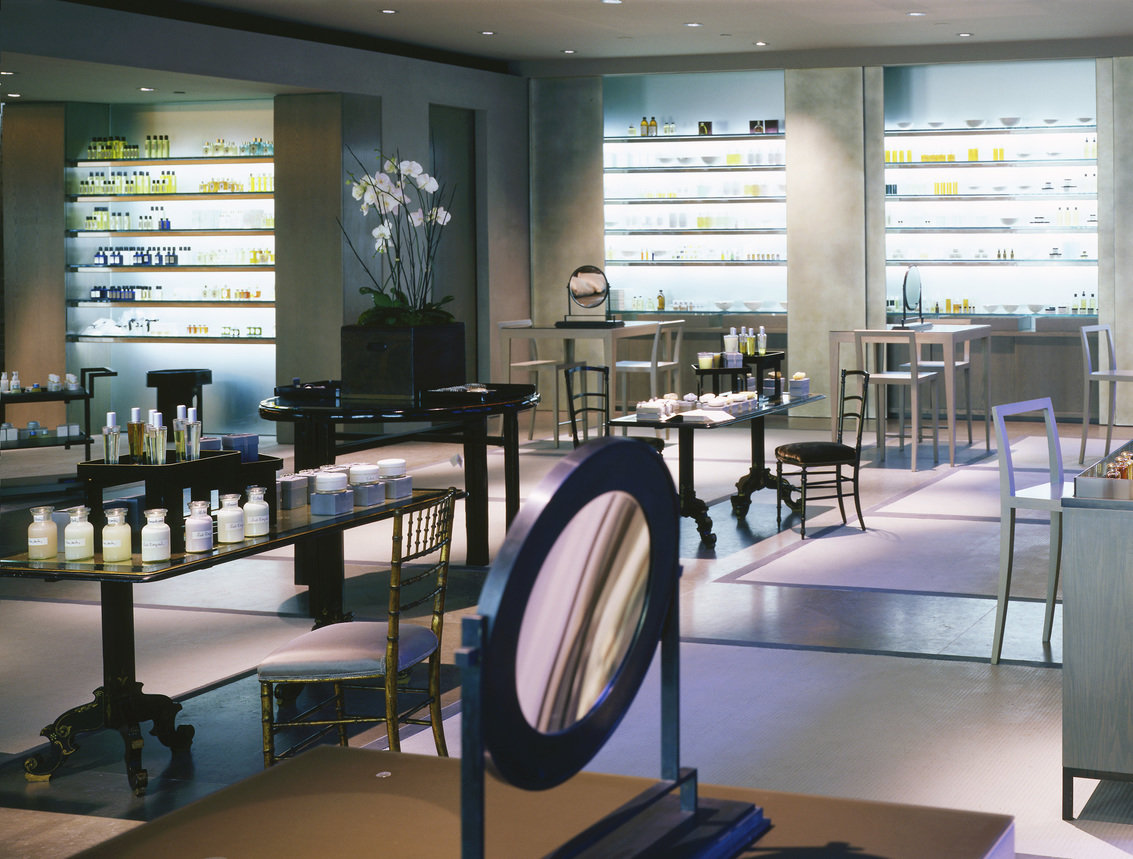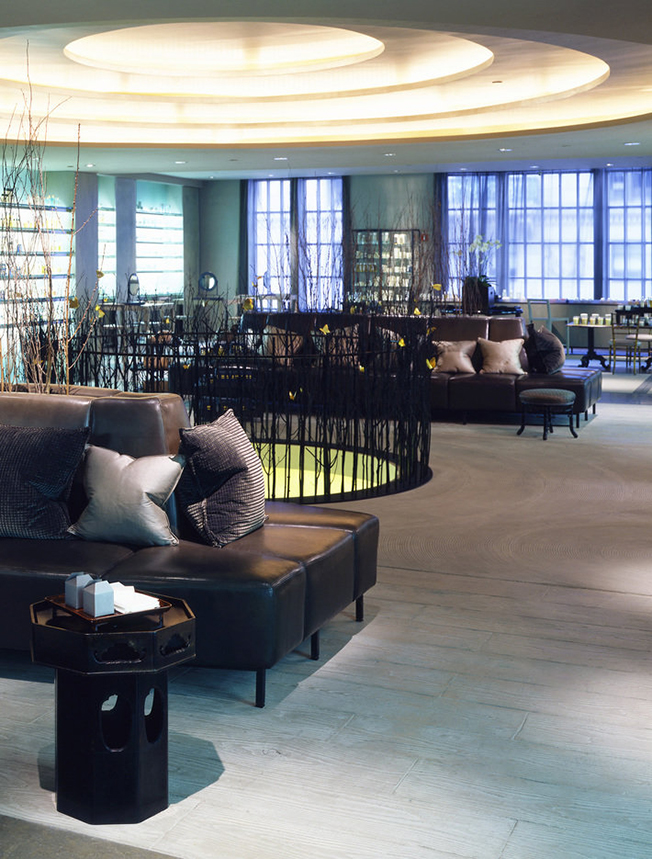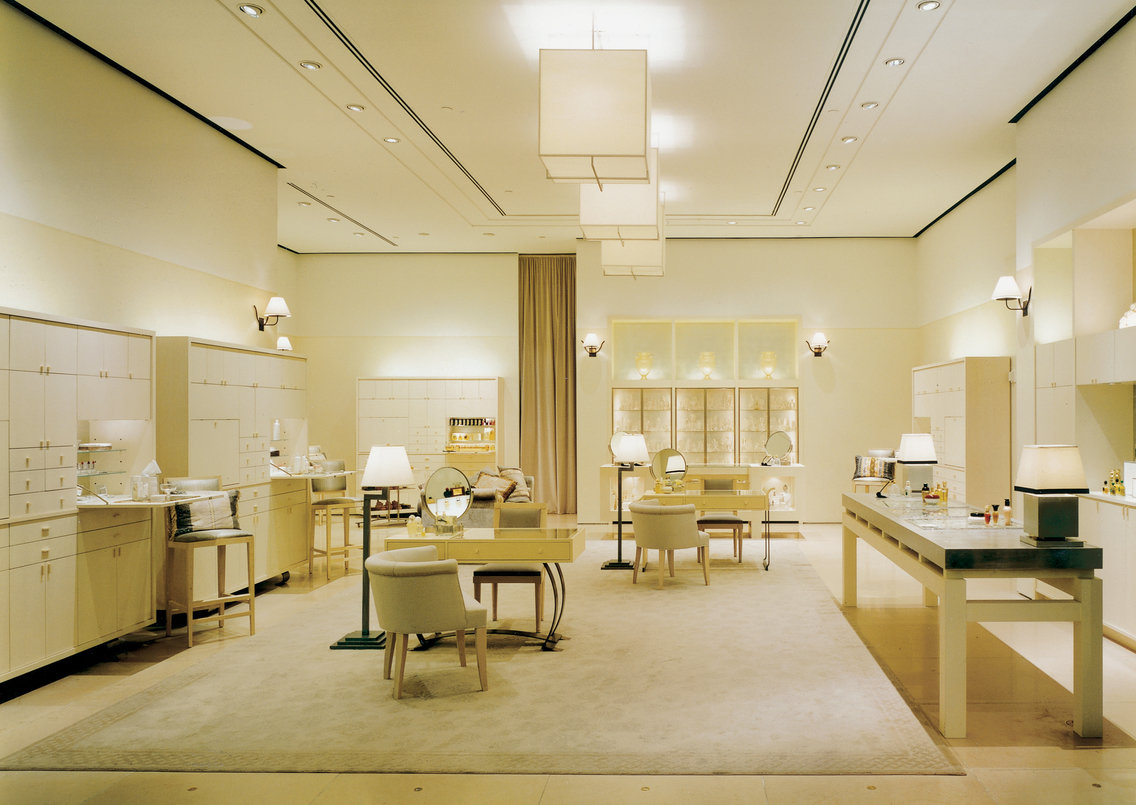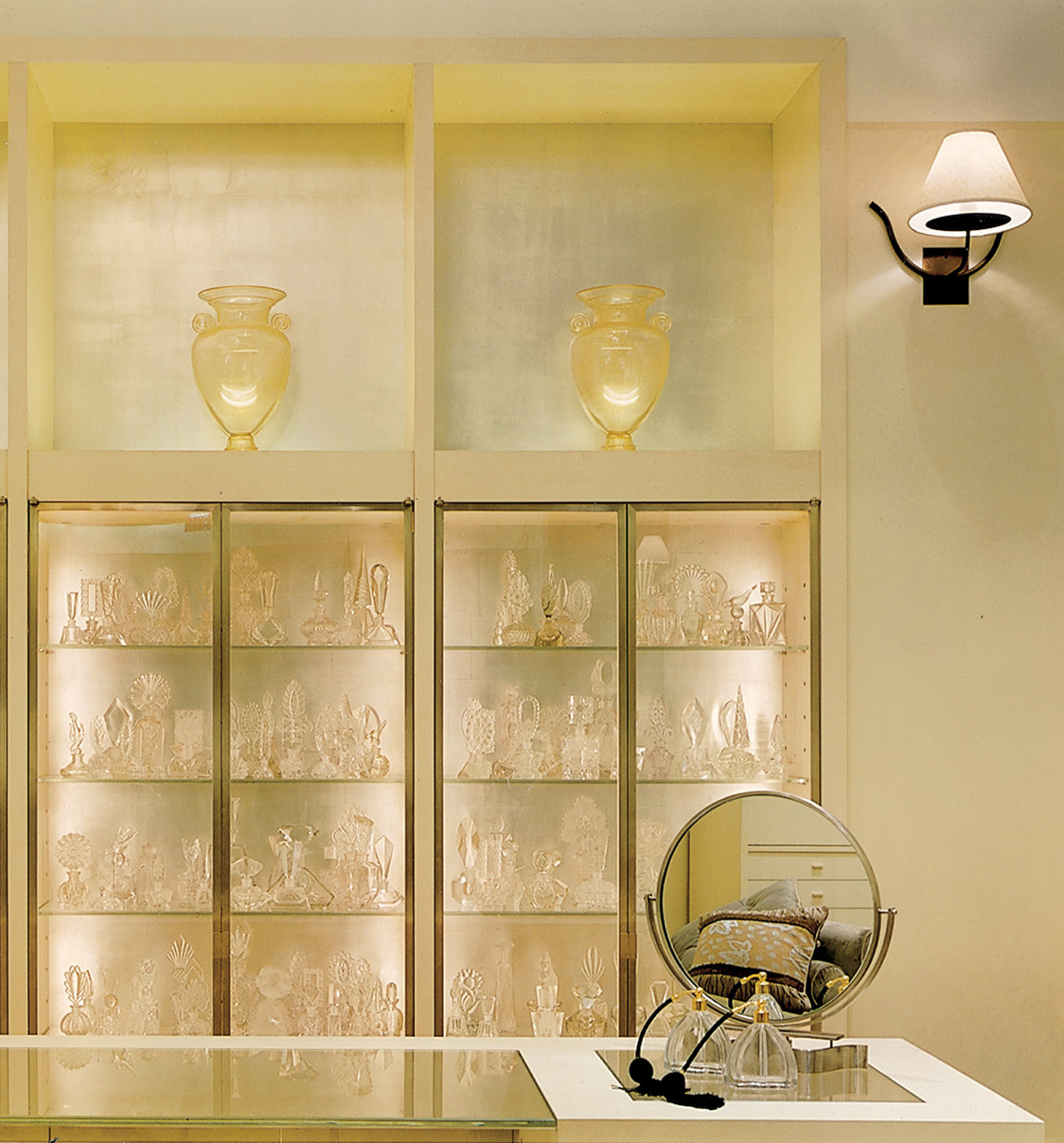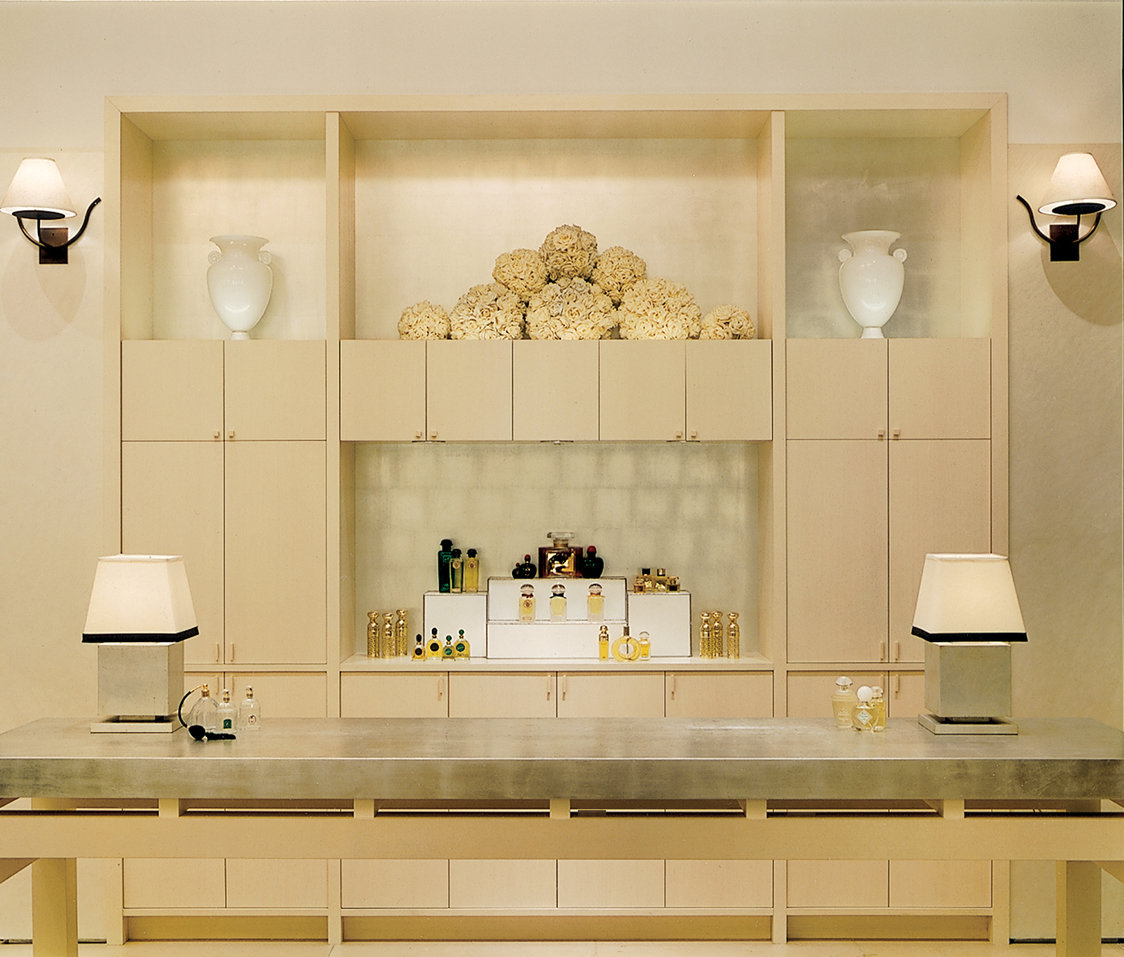 ON TWO OCCASIONS, JAPANESE RETAILER TAKASHIMAYA COMMISSIONED DAVID MANN TO DESIGN THE COSMETICS FLOOR OF THEIR FIFTH AVENUE DEPARTMENT STORE. THE FIRST TIME WAS WITH HIS PREVIOUS FIRM MGR AND THE SECOND WAS A DECADE LATER, WITH MR ARCHITECTURE AND DECOR.
THE ORIGINAL DESIGN WAS INSPIRED BY OLD HOLLYWOOD GLAMOUR. CUSTOM-DESIGNED FURNITURE AND DISPLAY FIXTURES WERE MOSTLY FREESTANDING TO ALLOW FOR SALESPEOPLE TO WORK ONE-ON-ONE WITH SHOPPERS. THE MATERIALS AND FINISHES INCLUDED PEARLESCENT PAINT ON THE WALLS, BLEACHED CABINETRY THAT WAS STAINED WHITE AND FINISHED IN SILVER LEAF, GLASS, SILK AND VELVET. THE PALE BLONDE COLOR PALETTE WAS A NOD TO JEAN HARLOW.
THE GOAL FOR THE NEW DESIGN WAS TO CREATE A SOPHISTICATED AND SPA-LIKE ENVIRONMENT. THE FLOORPLAN WAS LOOSELY DIVIDED INTO THREE AREAS. AT THE CENTER, A ROUND OPENING IN THE FLOOR WITH A RAILING MADE OF BRONZE TWIGS BY JEWELRY DESIGNER GABRIELLA KISS, CONNECTED THE SPACE TO THE LEVEL BELOW. ON EITHER SIDE OF THE OPENING, LEATHER BANQUETTES PROVIDED SEATING FOR SHOPPERS AND A WAITING AREA FOR GUESTS WITH APPOINTMENTS. DIRECTLY ABOVE, THE CEILING WAS A SERIES OF RECESSED CONCENTRIC CIRCLES. THE INTENT OF THIS CENTRAL SECTION WAS TO CREATE AWE UPON EXITING THE ELEVATOR ON THAT FLOOR. THE WEST SIDE OF THE SPACE, WITH A WALL OF WINDOWS, WAS DEDICATED TO COSMETICS, AND THE EAST SIDE TO BEAUTY, WHERE A PARTITION SEPARATED PRODUCT DISPLAY FROM TREATMENT ROOMS. SUBDUED LIGHTING AND MATERIALS INCLUDING WOOD, PLASTER, CONCRETE, GLASS, STONE, BRONZE, LEATHER AND SILK WERE EMPLOYED TO ACHIEVE A SERENE ENVIRONMENT WITH NATURE AS A PROMINENT THEME.
PHOTOS: FORMULA Z/S (1-4); PETER MAUSS / ESTO (5-7)