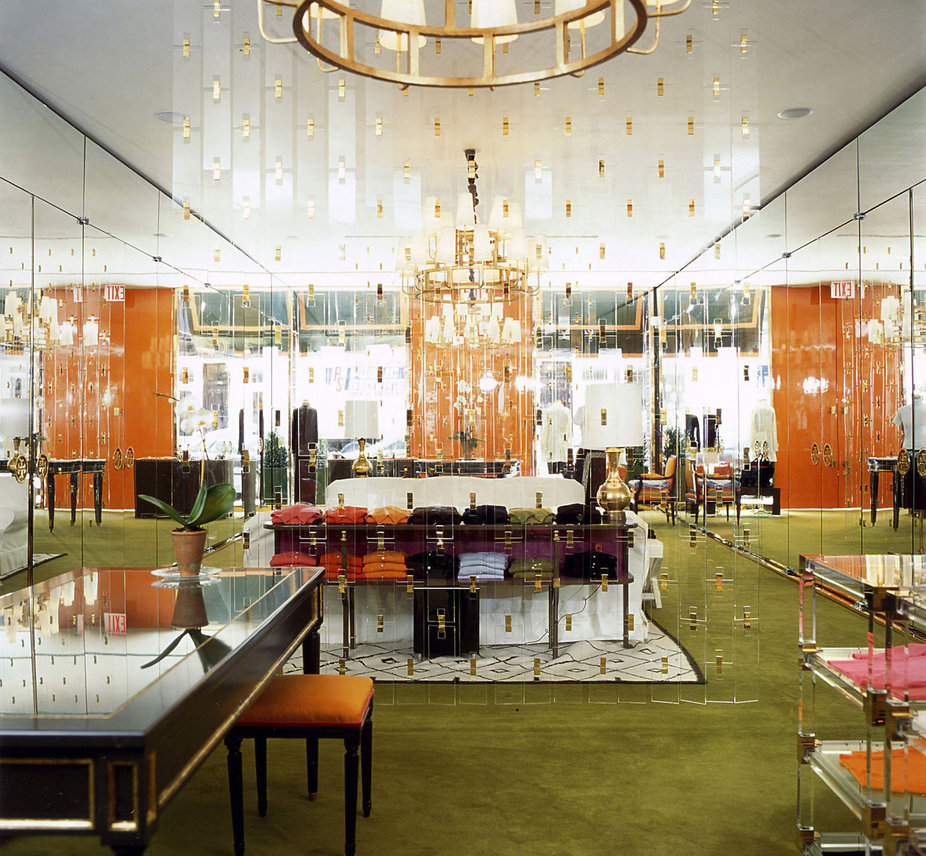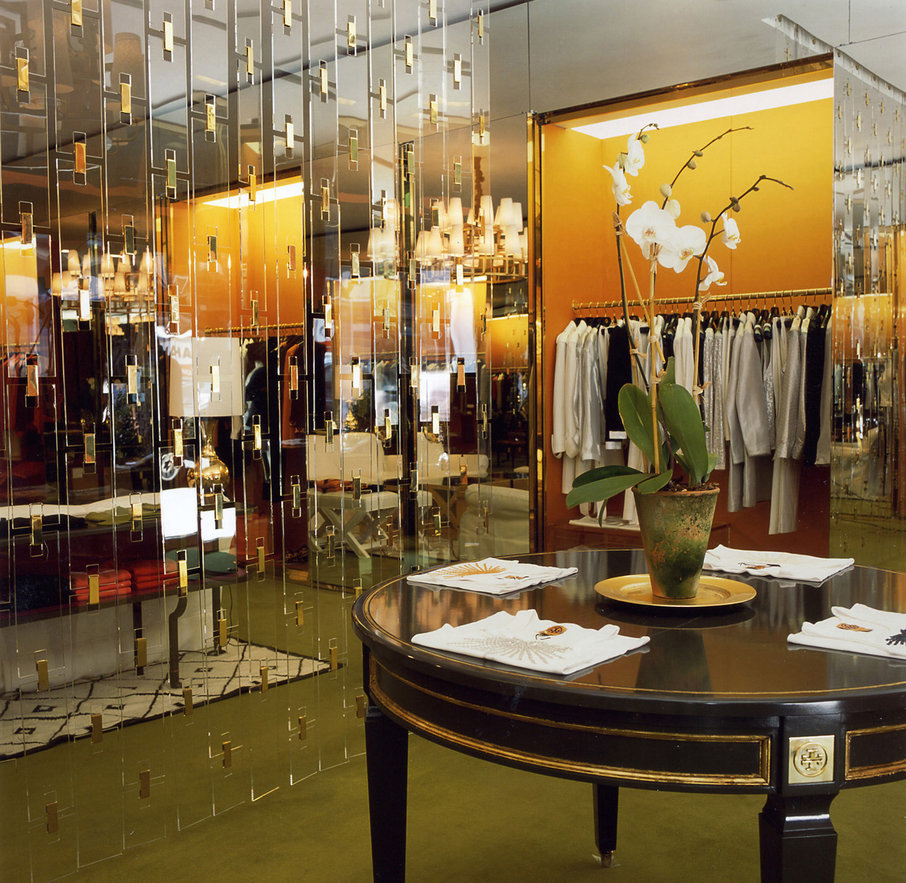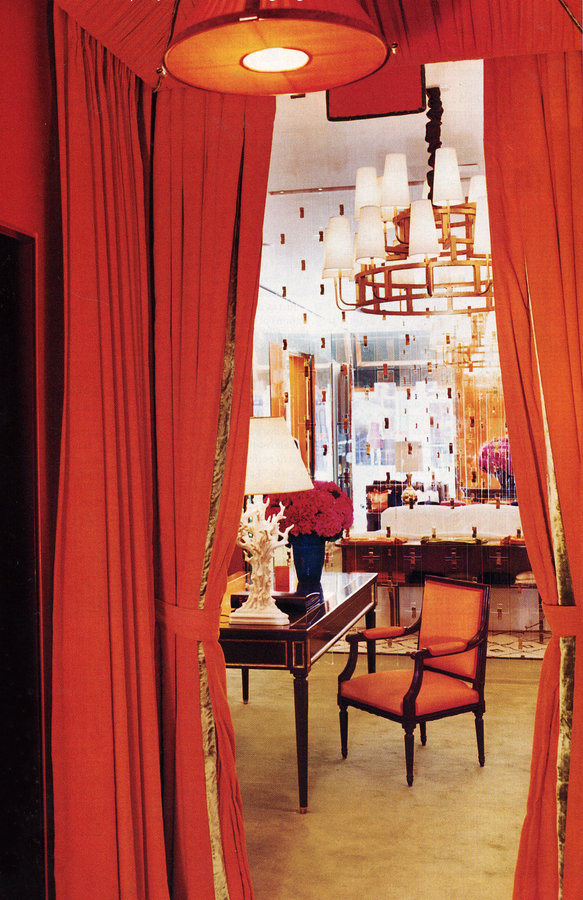 IN 2004, WHEN FASHION DESIGNER TORY BURCH WAS OPENING HER FIRST STORE, SHE COMMISSIONED MR TO DESIGN IT. LOCATED ON ELIZABETH STREET IN NOLITA, IT WOULD BE ONE OF SEVERAL BOUTIQUES SELLING HIGH-END FASHION AND ACCESSORIES, BUT ALSO NEIGHBOR TO SOME OF THE FIRST MOM-AND-POP SHOPS TO OPEN ON THE BLOCK. IT WAS AN OPPORTUNITY TO MAKE A STATEMENT.
IN WORKING WITH MR, THE CLIENT WANTED TO CREATE THE LOOK AND FEEL OF EARLY 1960S PALM SPRINGS, SPECIFICALLY INSPIRED BY THE WORK OF INTERIOR DESIGNER ARTHUR ELROD AND HIS FAMOUS HOME. THE SHOP'S ENTRY WAS THROUGH A PAIR OF GRAND, FLOOR-TO-CEILING DOORS FINISHED IN BRIGHT ORANGE LACQUER. ON EITHER SIDE, WAS A GLASS FAÇADE WITH HUNTER GREEN AWNINGS EMBLAZONED WITH THE ICONIC TORY BURCH TWIN T LOGO WHICH WAS INSPIRED BY THE DAVID HICKS LOGO FROM THE 1970S.
INSIDE, THE COLOR PALETTE WAS BRIGHT, WITH CHARTREUSE CARPETING AND TANGERINE-PAINTED DISPLAY NICHES WITHIN THE MIRRORED WALLS. IN THE CENTER OF THE SALES FLOOR, ON EITHER SIDE OF A SEATING AREA, FLOOR-TO-CEILING "CURTAINS" OUT OF LUCITE AND BRASS WERE SUSPENDED FROM ABOVE. TAKING CUES FROM HER MANHATTAN APARTMENT, WHICH WAS DESIGNED BY DANIEL ROMUALDEZ, THE CLIENT VEERED AWAY FROM MINIMALIST DECOR AND CHOSE FURNISHINGS WITH A NEO-REGENCY STYLE, RESIDENTIAL FEEL THAT INCLUDED MOROCCAN RUGS, SUEDE ARMOIRES AND GILDED CHANDELIERS. THE OVERALL OBJECTIVE WAS TO CREATE A SPACE THAT WOULD REPRESENT AN AMBITIOUS NEW LIFESTYLE BRAND.
PHOTOS: TORY BURCH