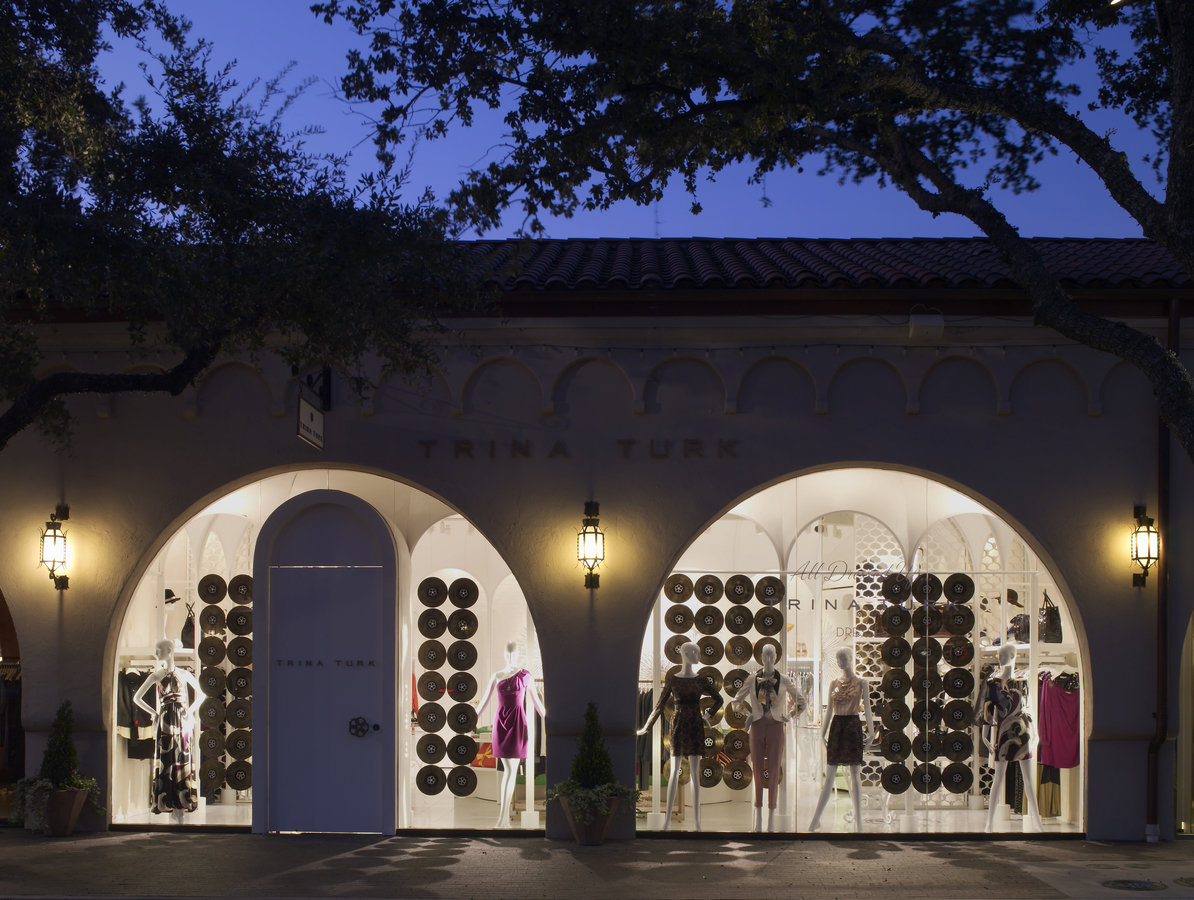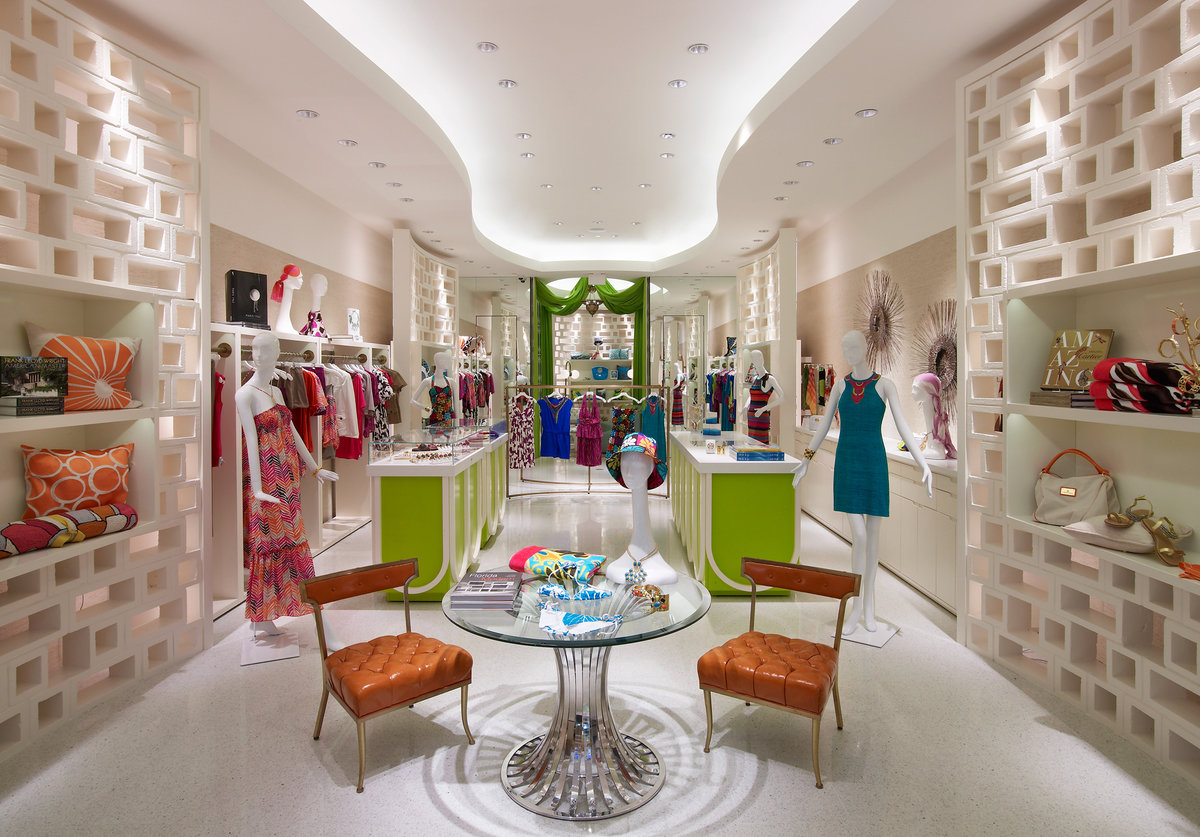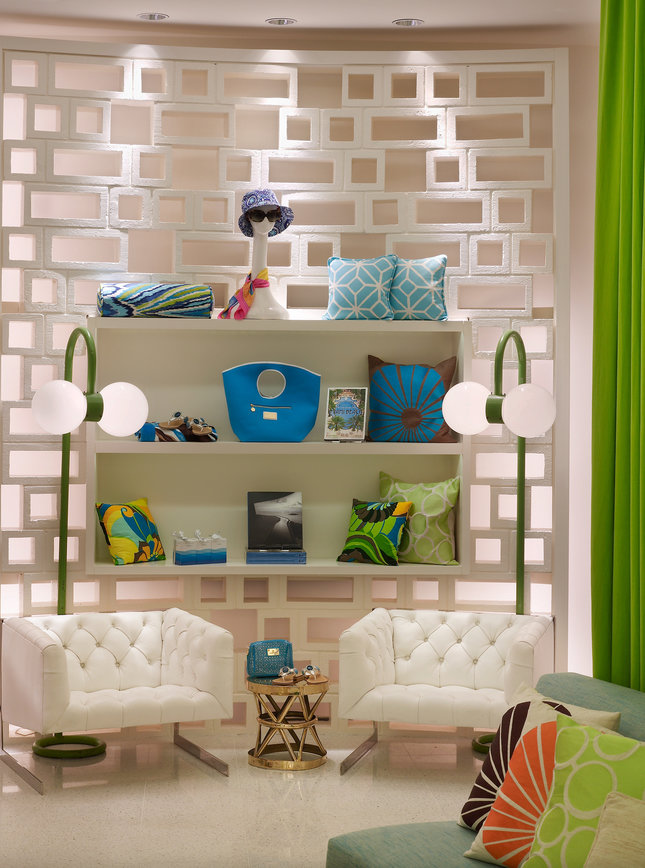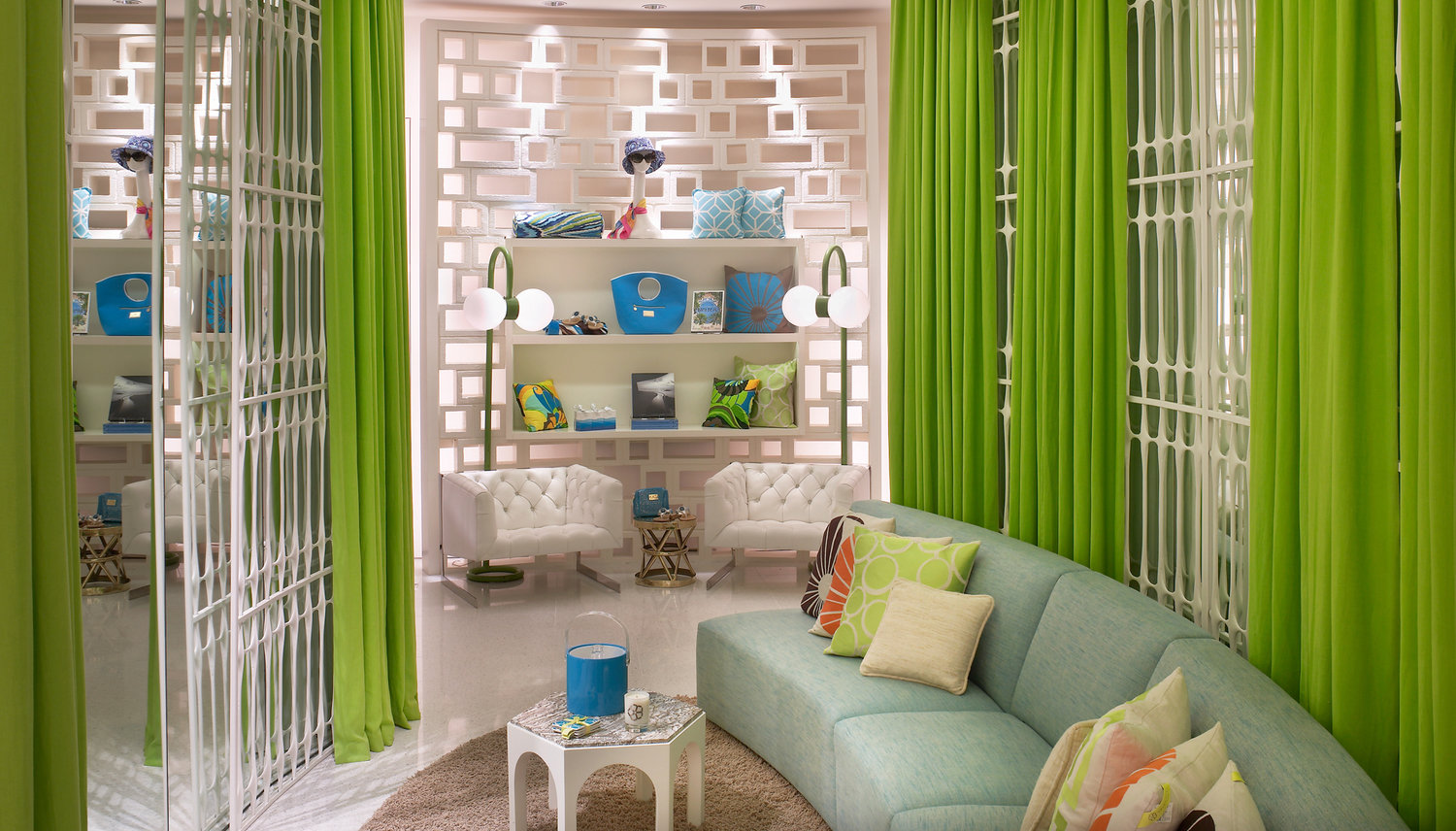 FASHION DESIGNER TRINA TURK FIRST APPROACHED MR TO DESIGN HER BAL HARBOUR, FLORIDA STORE IN 2009, LOOKING FOR AN ENVIRONMENT THAT WAS BOTH ACCESSIBLE AND FUN. IN THE YEARS THAT FOLLOWED, THE FIRM WAS COMMISSIONED FOR A FREESTANDING STORE IN DALLAS, A SHOP-IN-SHOP IN BLOOMINGDALES, AS WELL AS STORES IN ATLANTA, HOUSTON AND A SECOND MIAMI LOCATION. THE COMMON THREAD IN ALL IS AN AESTHETIC INSPIRED BY SOUTHERN CALIFORNIA MID-CENTURY ARCHITECTURE. INDIVIDUALLY, EACH STORE'S DESIGN GIVES A NOD TO LOCAL ARCHITECTURE.
A PALE MATERIALS PALETTE WAS CHOSEN AS A BACKDROP FOR THE BRAND'S CLOTHING AND ACCESSORIES THAT ARE BRIGHT IN COLOR, OFTEN WITH PLAYFUL PRINTS. CONTRASTING TEXTURES WERE USED THROUGHOUT, CREATING A SETTING THAT FEELS BOTH INDOOR AND OUTDOOR. WALLS WERE PAINTED WHITE AND IN VARIOUS LOCATIONS, LINED WITH A NEUTRAL SILK WALL COVERING. LATTICE WORK FEATURE WALLS WERE CREATED OUT OF CUSTOM-CAST CONCRETE AND PAINTED WHITE. TERRAZZO TILE WAS USED ON THE FLOOR. THE FLUORESCENT-LIT WHITE COVE CEILING WAS DESIGNED WITH A CURVED SHAPE REMINISCENT OF A PALM SPRINGS SWIMMING POOL.
AT THE REAR OF THE SPACE, A LOUNGE AREA WAS CREATED OUTSIDE OF FITTING ROOMS, WITH A CUSTOM CURVED BANQUETTE PROVIDING SEATING. BRIGHT GREEN FABRIC DRAPED FROM THE CEILING, MIRRORED WALLS AND A TRELLIS OF CAST ALUMINUM PAINTED WHITE, TOGETHER EVOKE THE IDEA OF A BYGONE ERA. FURNISHINGS BOTH VINTAGE AND NEW, INCLUDING STARBURST SCONCES, STONE-TOP SIDE TABLES, SHAG CARPETS AND LUCITE BENCHES UPHOLSTERED IN PATENT LEATHER WERE USED THROUGHOUT, ALONGSIDE CUSTOM MANNEQUINS IN WHITE.
PHOTOS: ERIC LAIGNEL