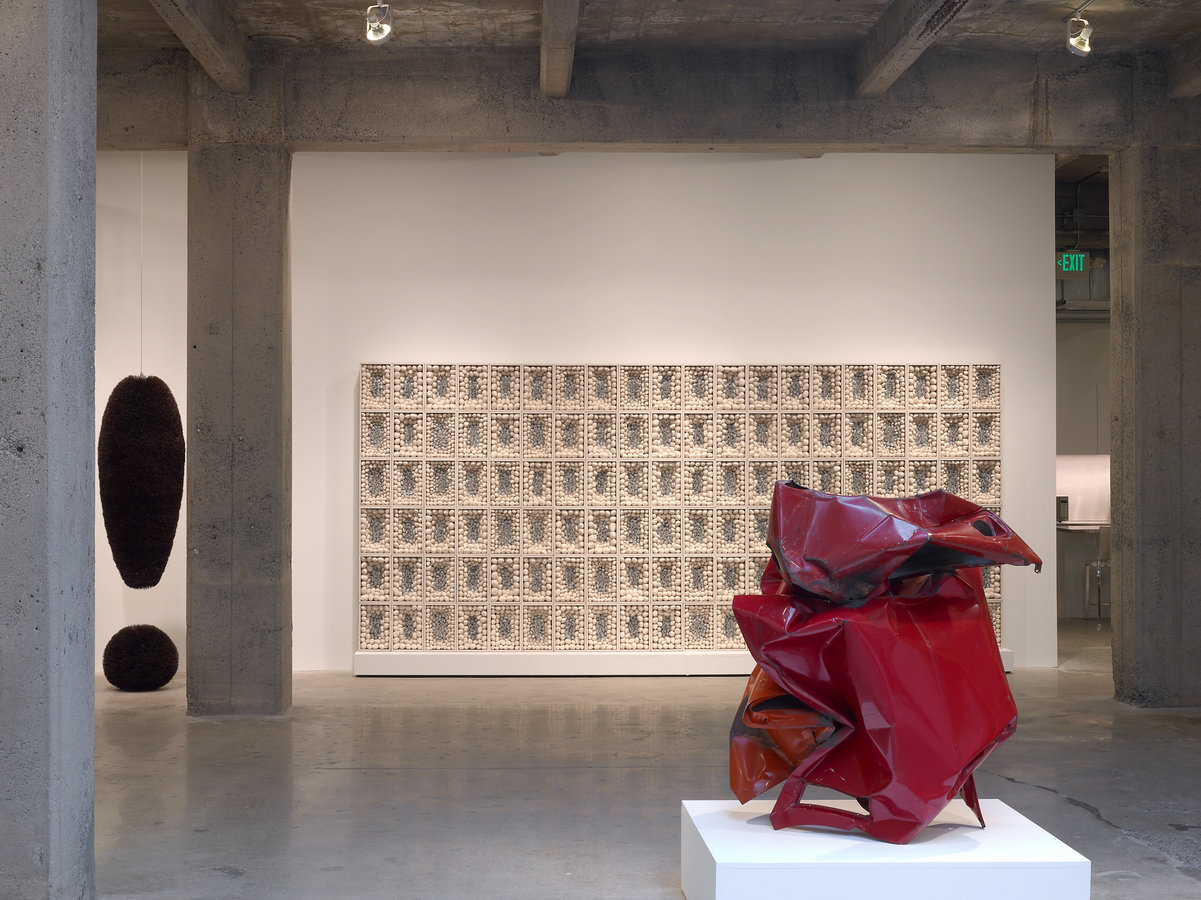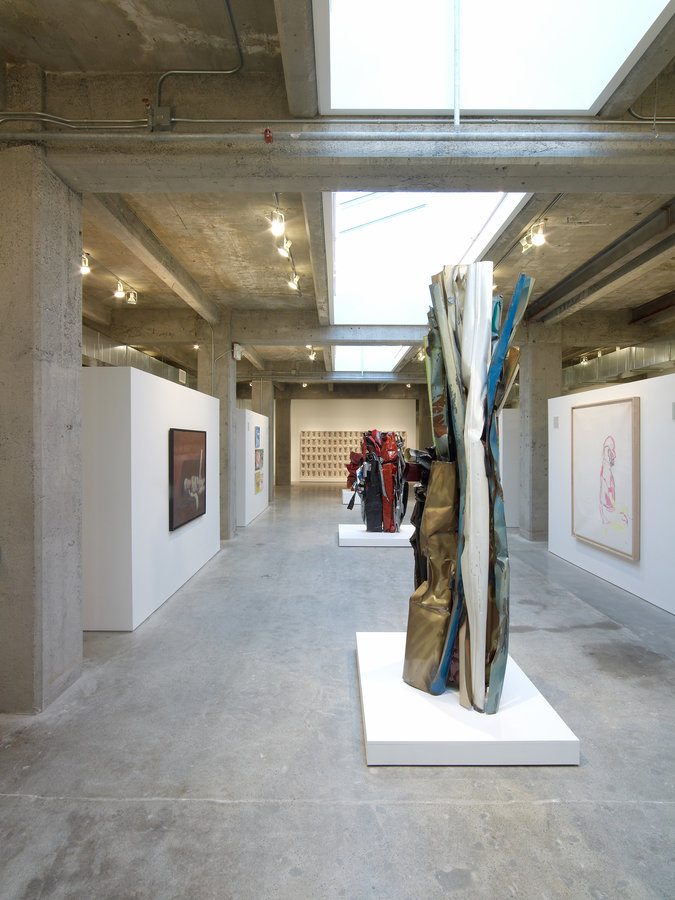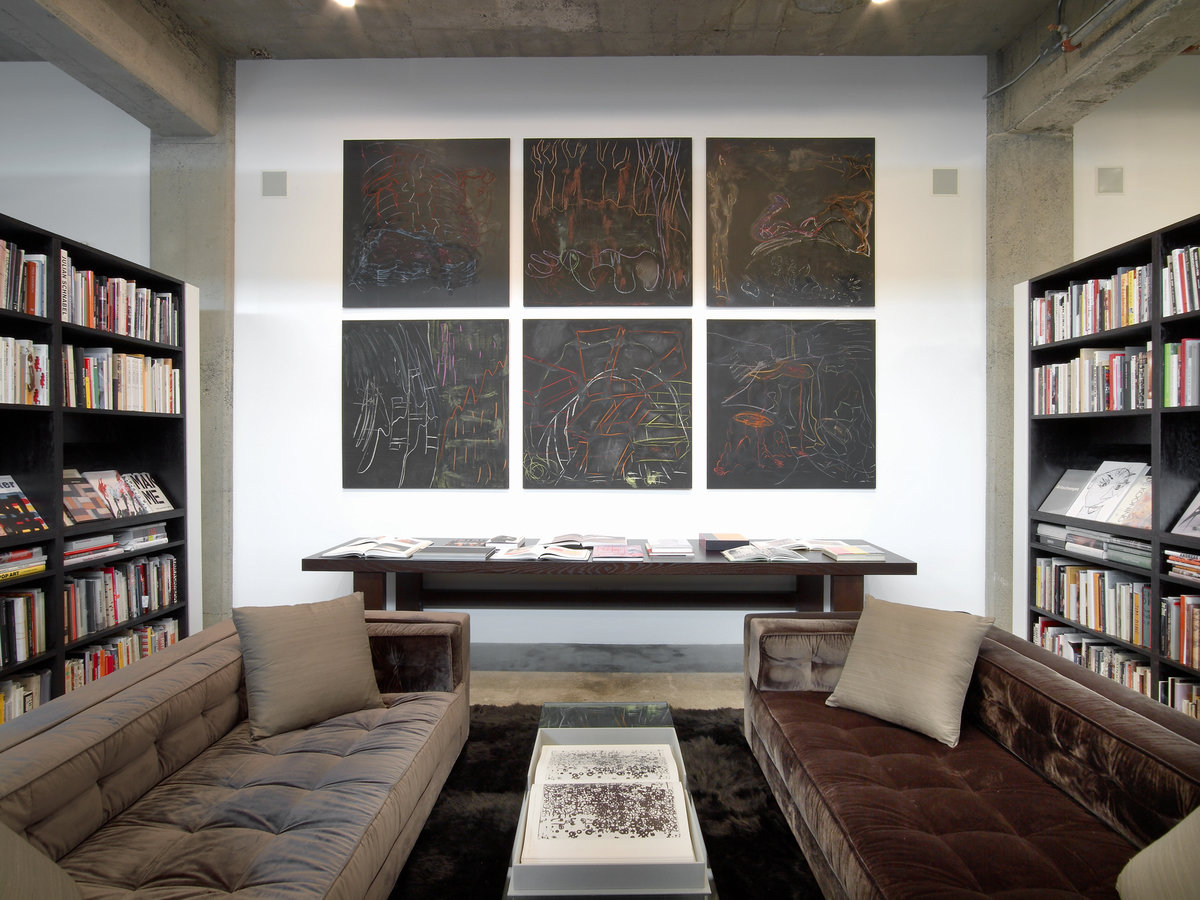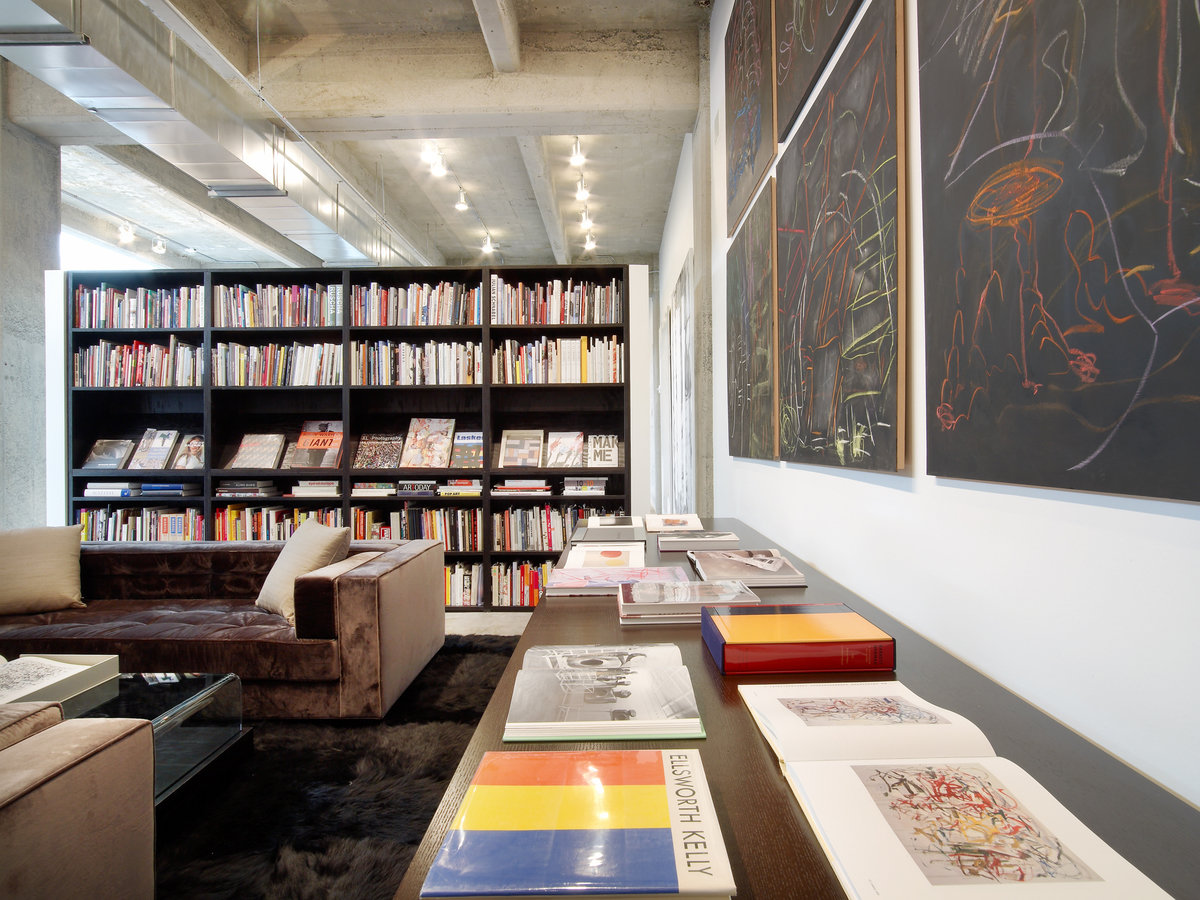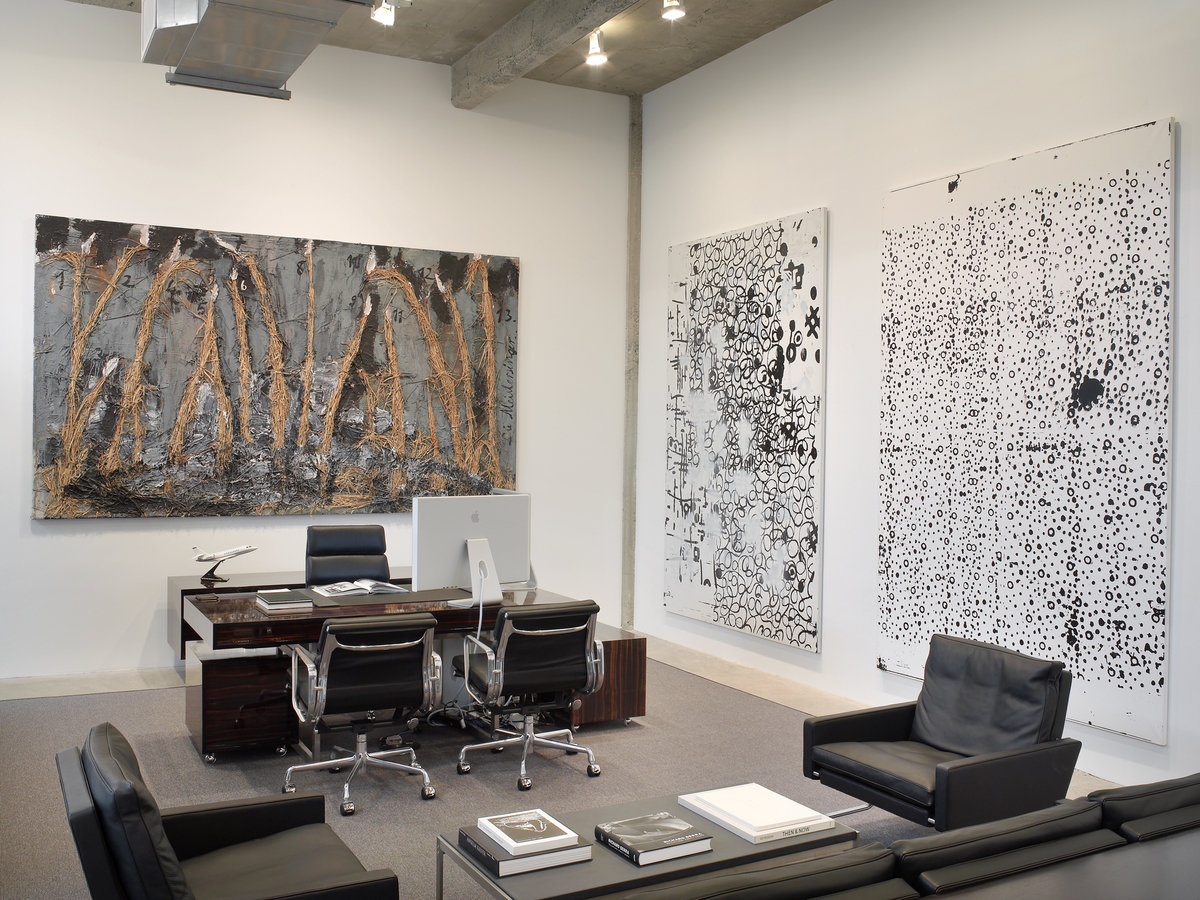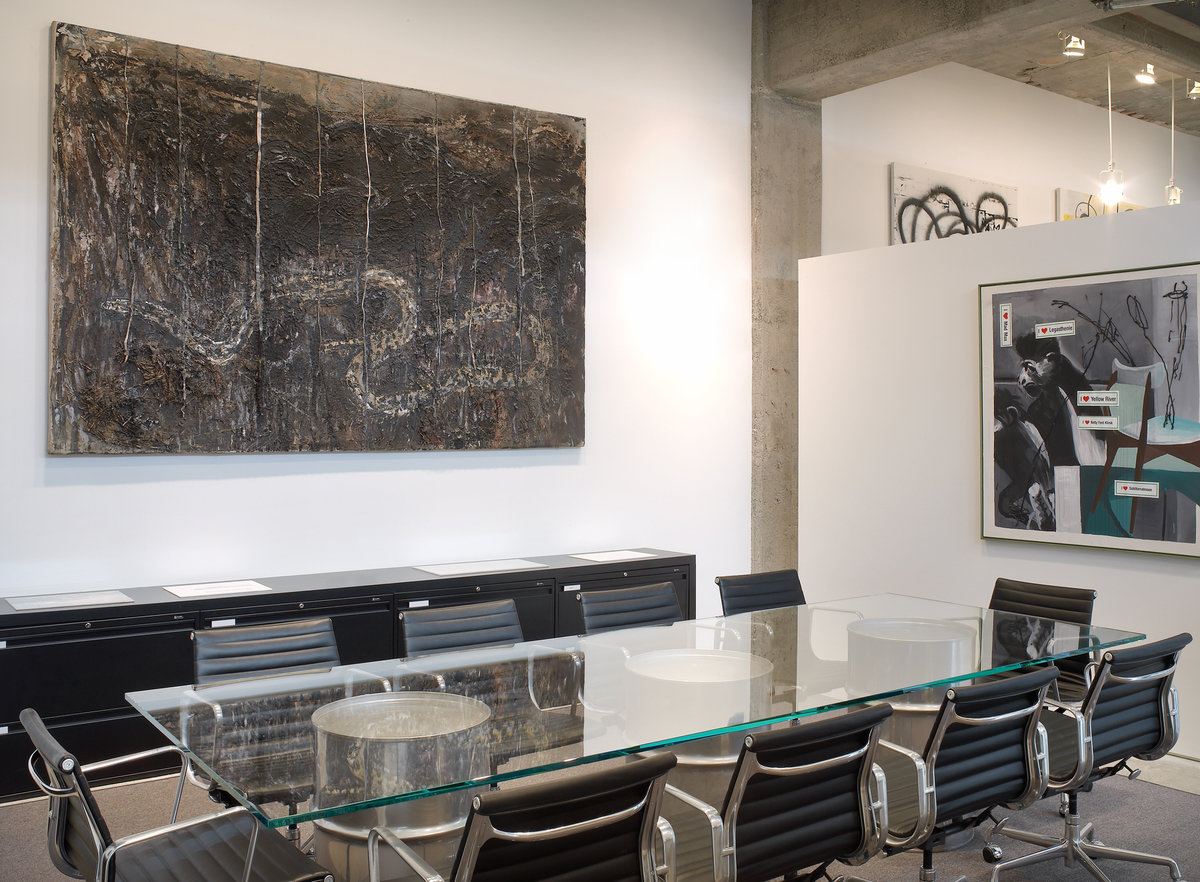 THIS WAREHOUSE IS THE PRIVATE GALLERY FOR A REPEAT CLIENT THAT WAS IN SEARCH OF A SPACE TO HOUSE HIS EXTRAORDINARY COLLECTION OF ART. THE BUILDING, LOCATED IN THE PACIFIC NORTHWEST, DATES BACK TO 1914 AND AT DIFFERENT POINTS IN TIME, WAS AN AUTO REPAIR SHOP, A BAKERY, AND A PRINT SHOP. THE EXTERIOR IS VISUALLY BLANK, WITH A STUCCO FINISH AND NO WINDOWS. ONLY A STEEL DOOR WAS ADDED IN FRONT AND SKYLIGHTS WERE ADDED TO THE ROOF. ON THE INTERIOR, AS A NOD TO THE BUILDING'S INDUSTRIAL HISTORY, MECHANICAL AND ELECTRICAL CONDUITS WERE PRESERVED AND OIL STAINS LEFT ON THE FLOOR.
AT ANY GIVEN TIME, 100 WORKS OF ART ARE ON DISPLAY, INCLUDING WALL-MOUNTED AND FREESTANDING PIECES BY ARTISTS SUCH AS JOHN CHAMBERLAIN, CHRISTOPHER WOOL AND RICHARD ARTSCHWAGER. HALF-HEIGHT PARTITIONS ON WHICH ART IS HUNG, SEPARATE THE PERIMETER OF THE BUILDING FROM A CENTRAL GALLERY. OFFICES, A LIBRARY AND A CONFERENCE ROOM ARE LOCATED IN THE PERIMETER; SEVERAL LARGE SCULPTURES, STAND IN THE CENTRAL GALLERY. THE SKYLIGHTS AID IN ILLUMINATING THE ART AND BRING THE OUTSIDE IN. FURNISHINGS IN THE SPACE ARE MINIMAL, AS IS THE COLOR PALETTE OF WHITE, GRAY AND BLACK. THE CONFERENCE ROOM TABLE IS A PIECE OF GLASS SET ON A TRIO OF POLISHED STEEL OIL DRUMS. BLACK-STAINED MARINE GRADE PLYWOOD IS USED FOR SHELVING.
EACH DECISION WAS DRIVEN BY THE IDEA THAT NO ATTENTION IS TAKEN AWAY FROM THE ART. THE CLEAR AND SIMPLE DESIGN, THE RAW QUALITY OF THE SPACE, THE ABSENCE OF WINDOWS, AND THE ACHROMATIC MATERIALS PALETTE, MUCH LIKE THE CHELSEA GALLERIES IN NEW YORK, ALLOW FOR THE ARCHITECTURE TO REMAIN IN THE BACKGROUND, AND THE ART TO BE THE FOCUS.
PHOTOS: ERIC LAIGNEL